This post may contain affiliate links. You can read the full disclosure policy, which is pretty dull, but
here it is.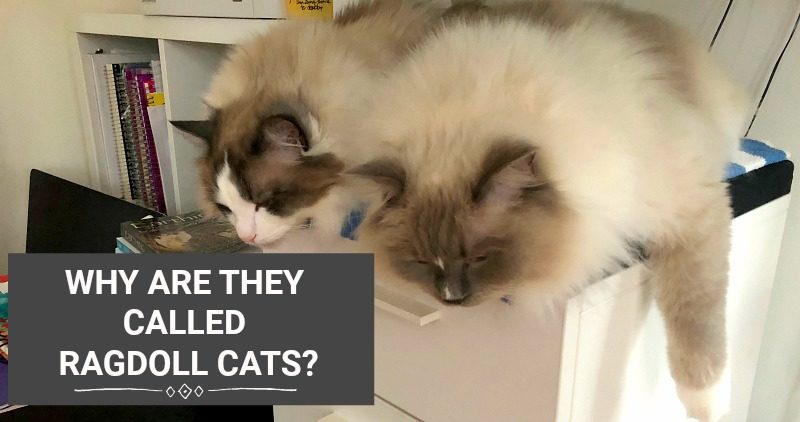 If you're interested in the Ragdoll breed, you are probably wondering why are they called Ragdoll cats?
Ragdolls are a fairly new cat breed. Most cat breeds are carefully selected in order to show off a distinct body type or unique fur pattern.
Ragdolls definitely have their own set of beautiful features but that wasn't the only reason the original breeder, Ann Baker, chose to start the Ragdoll breed back in 1963. The breed was special because they're so gosh-darn floppy.
The initial litters that Ann Baker used to start the Ragdoll breed had a calm personality and relaxed body. So relaxed, they would just go limp when picked up. They were as floppy as a ragdoll. So, the name stuck!
Related > The Unusual Story of the History of the Ragdoll Breed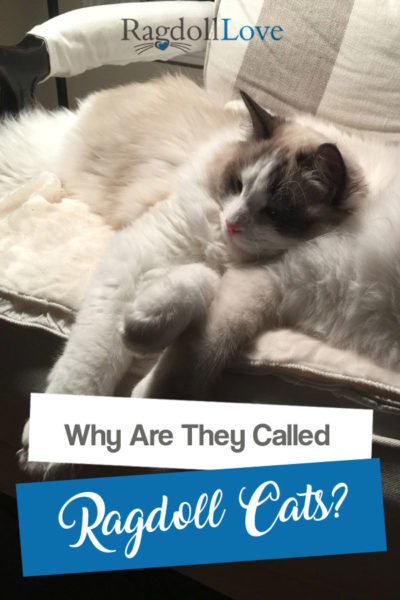 Why Do Ragdoll Cats Go Limp?
Allegedly, the mother of all Ragdolls was an exceptionally docile cat and passed that calm demeanor down to her offspring. However, before you decide to go and get a Ragdoll for yourself, keep this in mind: Not ALL Ragdolls will 'flop' or go limp when picked up.
I can say this from experience. One of my females would firmly plant her back feet against my chest when I would pick her up. Let's just say she was a little resistant to a hug or a cuddle. Eventually, her legs would loosen up somewhat, but she definitely didn't go limp and floppy.
On the other hand, her brother, MacIntosh, was the epitome of a Ragdoll cat. He had that awesome Ragdoll flop and was limp and floppy at all times. He certainly was the master of chill.
That being said, don't be disappointed if your newly adopted Ragdoll cat doesn't flop in your arms.
Thinking of adopting? The best way to determine if your cat will be true to the Ragdoll name is by asking about the breeding parents. It's still no guarantee that your adoptive baby will be limp like a rag doll but cats do inherit personality traits from their parents.
If this characteristic is very important to you then it's good to meet the litter and select your kitten based on your interactions with them. Keep in mind, some cats are more likely to go limp when they feel relaxed and they may need to get to know you first.
I cannot emphasize this enough. Do NOT adopt a Ragdoll with a high expectation for a floppy cat.
Every cat is an individual and will come with their own unique traits and personalities. Don't let this be the only reason you decide to get one!
Ragdoll cats are also astonishingly soft, incredibly loving, and breathtakingly beautiful. There are many, many reasons to love the breed!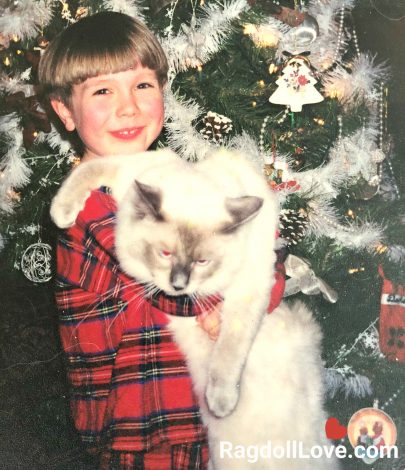 Related Articles
Return to Getting to Know The Ragdoll Breed