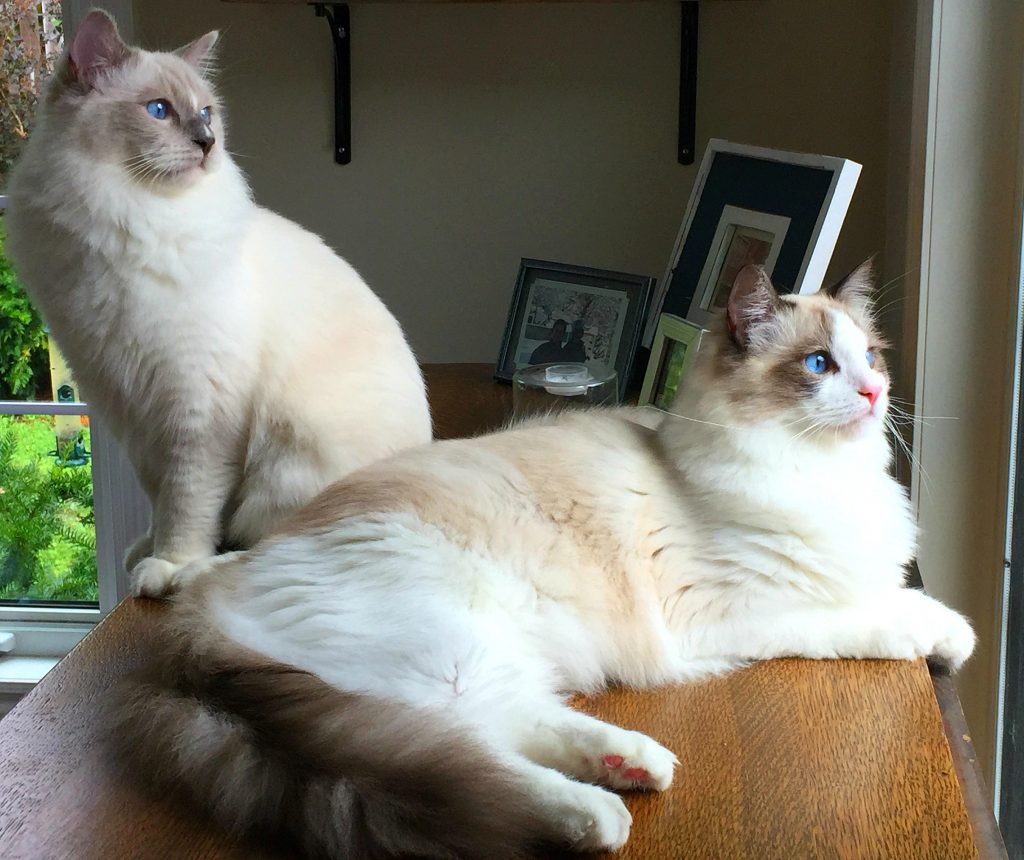 As a cat owner, I've experienced every aspect of the love, worry, comfort, stress, and joy that any cat parent feels.
I've adapted to the changing needs of my Ragdolls through every stage of their life and, as a result, have grown in my knowledge and approach to being a cat caretaker.
Watching my Ragdolls live long, healthy lives far beyond the average life expectancy is what I've striven for, and I have successfully seen several of my cats live into their 20s!
I've worked with vets, poured over research, tried every product, and created every cat meal – all with the desire to offer my fur children the life I'd want for any cat.
My love for cats is deeply rooted in my family history and my pastimes.
All of this experience and time has inspired me to offer up what I've discovered about cat health, lifestyle, happiness, and longevity to everyone so that other cats (and their people) can benefit from longer, happier lives.
Cats – My Origin Story
Cats are such a wonderful contribution to any style of family. They are unbiased listeners, comforters, cuddle companions, playful partners, and friends. They were an important part of my early childhood.
My mother was a loving person who poured that love into each and every cat she took into her care.
As a child, we brought in any injured cat that came our way and together we'd nurse them back to health.
Over the years, Mom and I brought home abandoned cats with frostbite, scars, and wounds. These rescue cats became part of our family.
My mom adored cats. She didn't just love them, she was a cat fanatic.
Her dad (my Grandfather) was a big strapping, Irish Canadian. Ironically, he had ailurophobia (fear of cats). In spite of his fear of felines, he allowed Mom to have a cat in their home…a loving Dad indeed.
I was born with a love cats in my blood.
Of course, I was obliged to love cats. However, I believe the moment I really knew my destiny as a cat mom was shortly after the adoption of a pregnant momma cat. She gave birth to 4 beautiful kittens.
I was truly in my element and had found my purpose!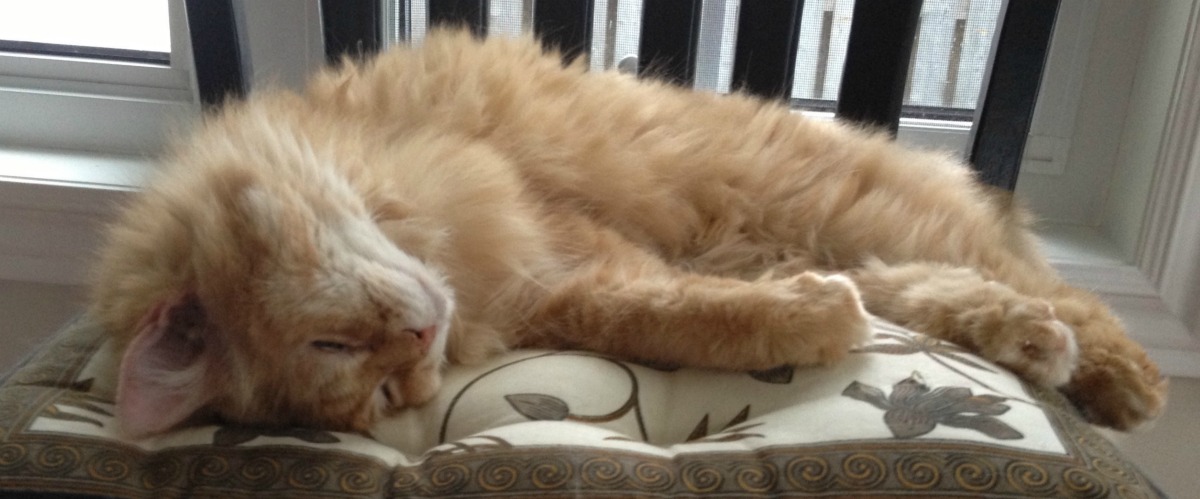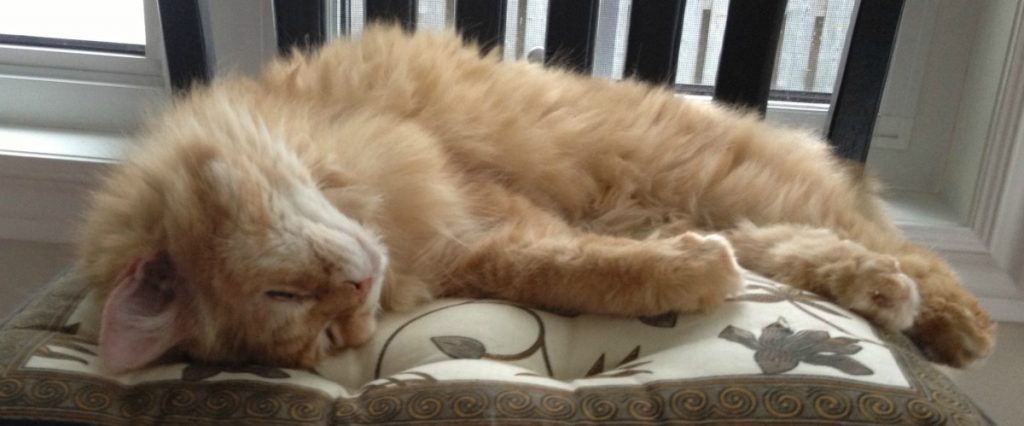 Why the Ragdoll Breed?
Let me tell you a secret….I adore Ragdoll cats. (The REAL TRUTH? I love ALL cats.)
While my site is dedicated to Ragdolls, most of the tips and advice for cat health and care can be applied to any breed.
Ragdoll cats hold a special place in my heart because of how they helped me overcome a major emotional hurdle.
In the year 2000, my Grandmother was dying of cancer. I had had a warm, loving relationship with her as did my children. I knew that losing her was going to be very difficult for the whole family.
I decided that adopting a kitten might help give my young kids (as well as myself) some comfort during such a difficult, emotional time. After a lot of research, I decided that the Ragdoll breed sounded like a good fit for my family.
Coincidentally, I found a Ragdoll breeder within 5 miles of my home! She had a new litter of kittens with a few babies still available for adoption.
When I visited the Ragdoll cattery, it was love at first sight. I was completely smitten by the cat of my dreams, a Seal Mitted little girl. Bailey. She was mine, forever.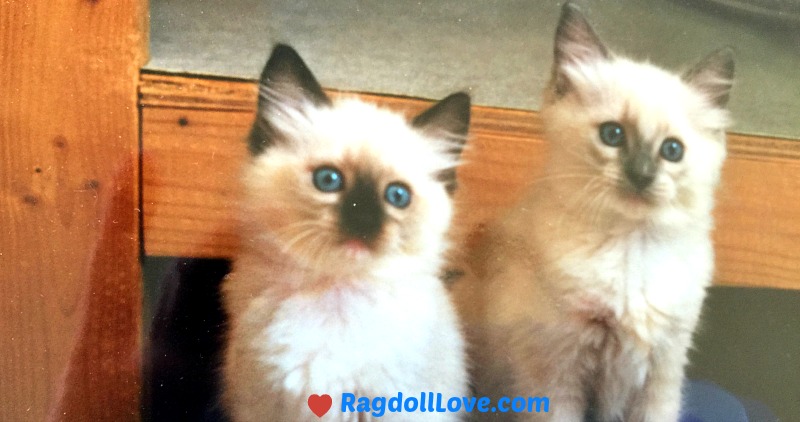 One week later, the breeder called and asked if I was interested in another kitten. The breeder confessed he was the only one left, as he was the 'runt' of the litter may have one defective 'lazy eye'. (Turned out he didn't have a defective eye.)
I hesitantly agreed to meet the little Ragdoll boy. I already had a full house with two young children, a home-based business, a rescue cat, and the new female Ragdoll kitten. What room did I have for another Ragdoll cat?
Needless to say, after the 'just to be polite' visit, the little fluff stole my heart and I walked out of the cattery with another Ragdoll kitten. MacIntosh.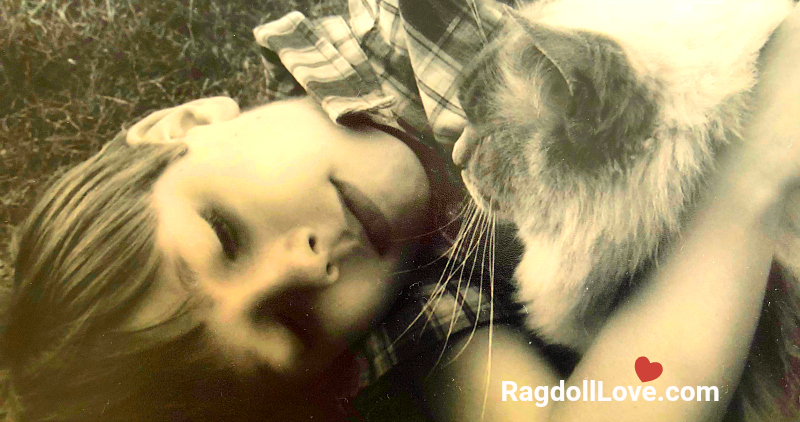 These two new additions provided our family with far more love and comfort than I could have anticipated. They were so affectionate, friendly, laid-back and people-oriented. They were a big part of my everyday life. Their gentle nature and desire to be near us provided a beautiful outlet for the sadness of losing my Grandmother. My whole family is eternally grateful to them for providing that comfort.
For new Ragdoll cat owners or those interested in owning a Ragdoll cat, I cannot recommend this breed enough. They are the most people-like, committed members of your family you can hope for. I am happy to share all of my experiences so you too can experience the love and joy of owning your own Ragdoll cat.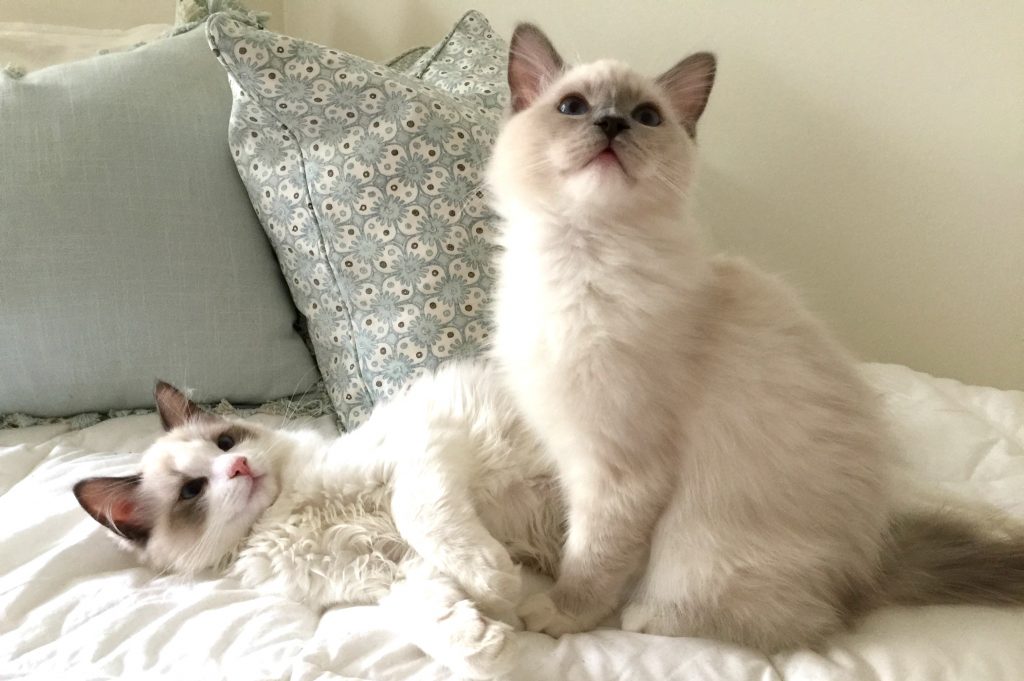 Ragdoll Cats – Eternal Kittens
With every stage of my cats' life, I've tried and tested what works best to improve their quality of life and provide them with longevity beyond what is typically expected. I grew up with these creatures as gentle loves that nurtured me as much as I nurtured them.
For 16 years, my first Ragdoll cats, Bailey and MacIntosh, were amazing. As I added a few more rescue cats to the mix, the Ragdolls graciously accepted each addition into the fold.
To this day, our family STILL refers to those Ragdoll cats as 'The Kittens'. We always called them kittens, even as adult cats, as they possessed such youth even in their last years.
After losing both of my Ragdoll "Kittens" at 16 years old – within 6 months of each other – as well as their 21-year old rescue sister, I swore off adopting another Ragdoll. Both of my babes died peacefully in my arms. It really ripped my heart out, as anyone knows who has ever lost a loving pet.
Our household was left with one cat, a rescue boy. I knew I would never have another Ragdoll cat. They were so personable and loving. I couldn't bear the heartbreak again. I held this mindset for nearly a year.
One morning I awoke with a different frame of mind. I sat bolt upright from a long night's rest and decided, "I AM going to do this again. I'm gonna be a Ragdoll Momma. Again."
After much research on the internet, emails and phone chats, I settled on a Ragdoll breeder.
As of May 25, 2017, I'm the proud Momma of 2 beautiful, loving Ragdoll cats. That's also when I decided to own my role as a cat momma and Ragdoll owner and start RagdollLove.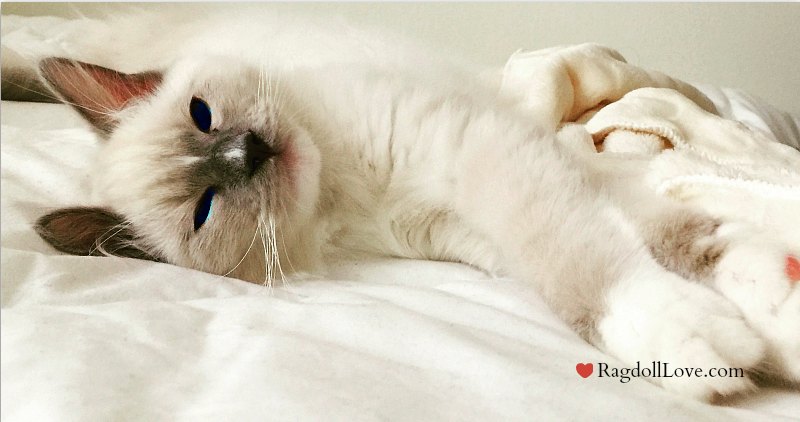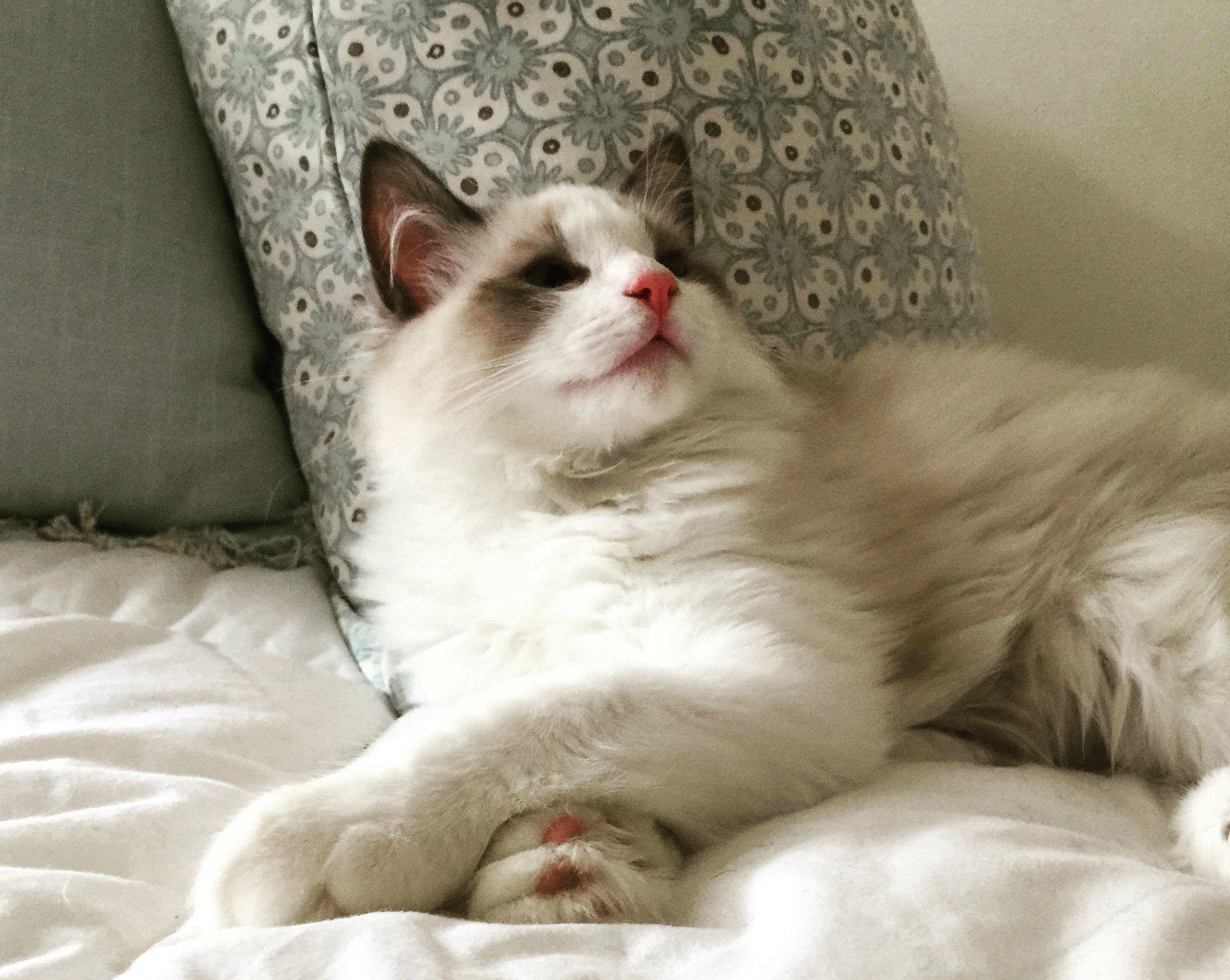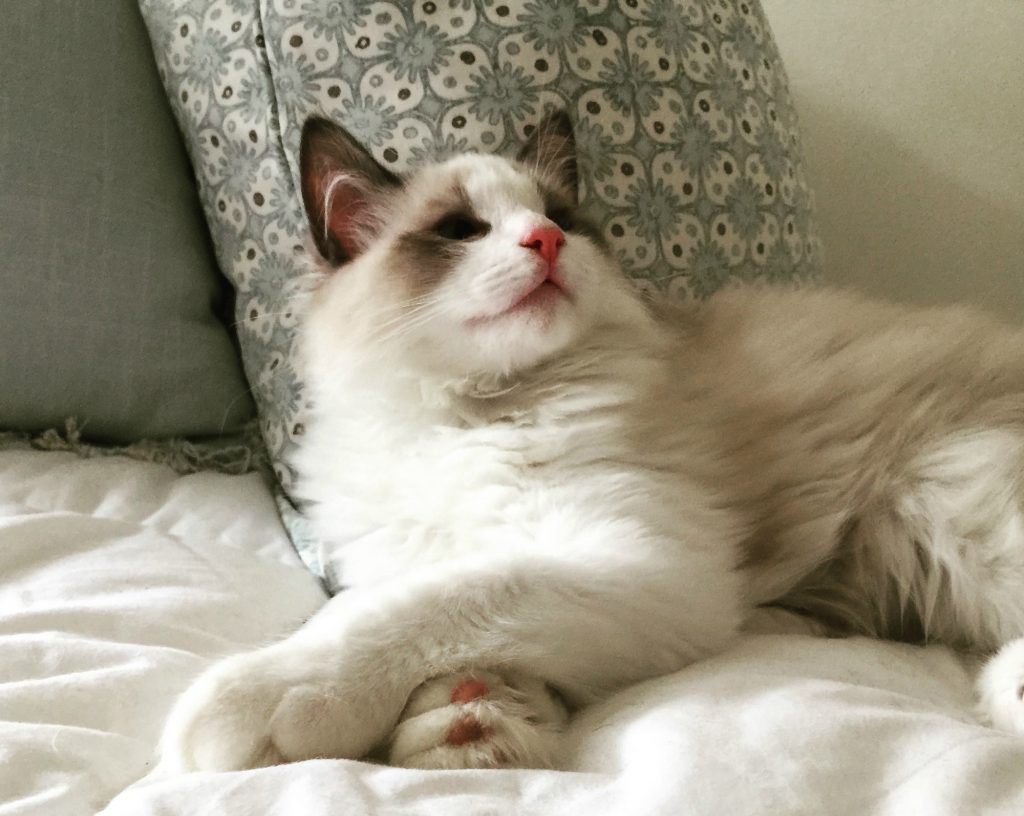 RagdollLove | Natural Cat Care and Genuine Love
My experience with not only Ragdoll cats but also many, many rescue cats spans every aspect of raising a cat to live a long, healthy, happy life.
Most cats that were raised and loved by Mom and I lived longer than average, healthy lives (all between 16 and 24 years of age). They also rarely saw the inside of a veterinary clinic.
I have almost always had multiple cats at varying stages of life. I have a mound of experience in introducing cats, picking an optimal diet, dealing with diseases in holistic ways, and improving the overall quality of life for your cat.
On this site, I lovingly share my knowledge and stories about the Ragdoll breed of cat and give a realistic view about what it's like to own and share life with Ragdoll cats. It's a chance to discover if this breed is the right fit for your household.
I will share with you my Ragdoll health and longevity tips as well as how I raised and nurtured my Ragdolls into the best they could be.
If you are contemplating bringing a Ragdoll into your life, you may find the site helpful in making your decision.
If you're already a Ragdoll cat owner, please consider sharing your experiences, stories, and photos with us. It will help educate others interested in the breed, as well as form a special bond between all Ragdoll owners, past and present.
Let the Ragdoll story begin. Again.
(In loving memory of Bailey and MacIntosh )
With love.
Catherine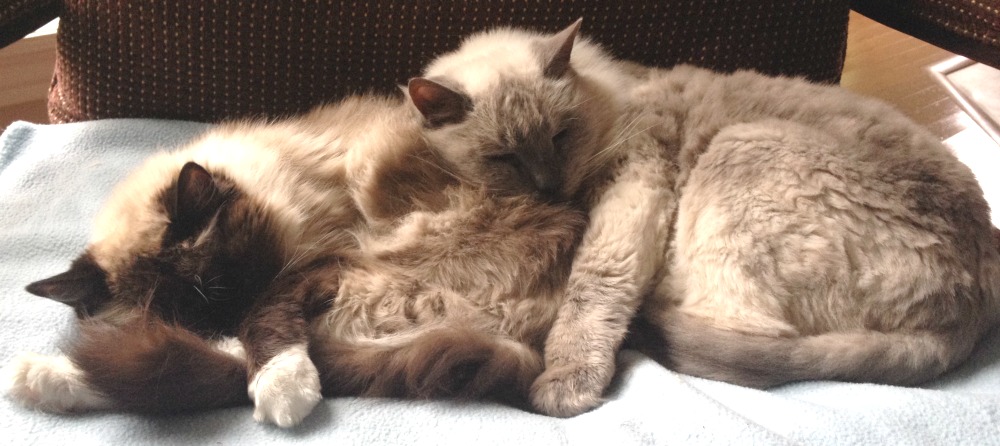 Articles You May Like