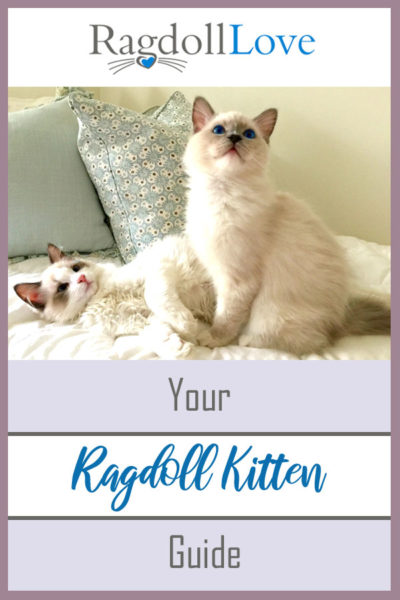 Still undecided about adopting a Ragdoll kitten?
Or maybe you've made the big step and ALREADY brought a new Ragdoll kitten home!
Either way, this guide will help you care and nurture your kitten like a pro!
Is a Ragdoll Cat Right For You?
5 Things You Need to Know About the Ragdoll Breed — Are you absolutely sure the Ragdoll is your cat breed of choice? Don't be guilty of making an quick, uniformed decision and then finding out that a Ragdoll doesn't meet your expectations. Learn what the Ragdoll cat is all about.
The Ragdoll Cat — A Superb Kid-Friendly Breed — If you're wondering if a Raggie will be a good fit into your family which includes kiddies, YES, Ragdoll kitties are a super kid-friendly breed.
10 Reasons We Love the Ragoll Cat Breed — There's so much to love about this wonderful breed of cat.
The Differences Between The Ragdoll Breed & The Domestic Cat — Learn how a Ragdoll differs from the average domestic house cat. This breed possesses special traits which separates them from the average cat.
How To Choose a Ragdoll Kitten
How to Find a Great Ragdoll Cat Breeder – Things you'll need to consider before choosing a Ragdoll breeder, where you'll purchase your new kitten. Selecting a breeder can be a challenge. important to get to know the breeder and their philosophy about what constitutes the ideal Ragdoll cat. What you are looking for and what your breeder offers, can be very different. Educate yourself about the breed.
Checklist of Questions to Ask Ragdoll Cat Breeders — There are many breeders to chose from, but unfortunately, they aren't all created equal. Most breeders are honest. But, not all breeders are ethical and trustworthy. Breeding purebred cats is a profitable business. Be an informed buyer and ask questions BEFORE buying a kitten. We've provided a comprehensive checklist of questions to ask breeders, in order to help you find a good, ethical honest breeder with healthy kittens. Make a serious effort to ensure the health of your kitten.
10 Ragdoll Cat Behaviours Raggie Parents Can Expect — Some of the typical behaviours of the average Ragdoll cat.
The Real Price of a Ragdoll Kitten
The Real Costs of Owning a Ragdoll Cat — Find out all of the costs you'll incur by owning a Ragdoll cat. The purchase price of a Ragdoll kitten is just the beginning! It's vital that Ragdoll owners know that the cost of their new kitten is just the beginning. There are MANY other costs involved in the ownership of a purebred cat. Find out about the realistic long term costs of owning a Ragdoll cat.
Bringing Home Your New Kitten – Travel
Travel Tips + Care For Bringing Your New Kitten Home — Hitting the road with your new fur baby can be a scary experience for the little one. Some tips on making your Ragdoll kitten comfortable and less stressed on that initial trip home.
Preparing For the Arrival of Your New Kitten
How to Kitten-Proof Your Home — Learn how to make your home Ragdoll kitten proof! Ensure your new sweet fur baby is safe and doesn't destroy things in your home.
How to Create a Safe Space For Your Ragdoll Kitten — Learn how to set up a safe room in your home for your new bundle of fur! Keep your Ragdoll baby safe and secure, until he feels confident to be part of your household.
Basic Stuff You'll Need For Your Ragdoll Kitten
Basic Stuff Your New Ragdoll Kitten Needs — There are some things your new fluff ball will need, when he arrives at your home for the first time.
Your New Kitten Arrives at His FurrEver Home
10 Tips For Keeping Your Ragdoll Baby Happy in Your Home — Learn what your Ragdoll kitten needs to be happy and contented in his new furever home.
Practical Tips For Transitioning Your Ragdoll Kitten Into Your Home — Some easy to follow tips and advice to make the transitioning from the breeder to your home, easier on your little one. Ease the stress on everyone, by making your kitten feel comfortable and welcome in your home.
Introducing the Newcomer to Your Other Cats
How to Introduce Your New Ragdoll Kitten to Your Other Cats — Introducing your new little bundle of fur to your already established house cats can be quite a challenge. Learn ways to ease the transition and learn the steps to help your babes be the best of FUREVER friends.
Are Two Kittens Are Better Than One?
Should I Adopt One or Two Ragdoll Kittens? — Yep, 2 Ragdolls ARE better than one. But, there are some important factors to consider her. This decision involves more than if you have the money to purchase 2 Ragdoll kittens. Learn what's really involved in Ragdoll ownership.
Establishing a Relationship With a Good Veterinarian
How to Choose a Vet — It's important to choose a vet before purchasing your new kitten. Take the time to investigate and find a reliable, knowledgeable vet to have on your team.
Why You Should Consider a Holistic Cat Vet — Learn the benefits of natural vet cat care for your Ragdoll cat. It's definitely worth learning about and considering for the health plan of your Ragdoll kitten.
A Typical Wellness Check With a Holistic Vet — Learn what a typical wellness check is like with a holistic cat care vet. You may be pleasantly surprised.
Pet Health Insurance Coverage For Your Ragdoll
Do I Need Health Insurance For My Kitten? — Getting health insurance for your kitten is a personal choice. Learn the pros and cons of cat health insurance coverage and decide whether or not it's right for you.
Developing Routines
The Benefits of Developing Routines — There are 7 important routines it's wise to develop when your kittens are young. These routines will help keep them healthy and safe in the long run. It's easiest to get them into the groove when they are young!