This post may contain affiliate links. You can read the full disclosure policy, which is pretty dull, but
here it is.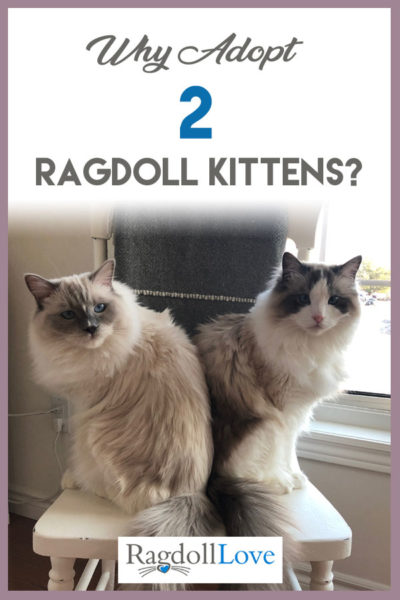 Are two Ragdoll cats better than one?
I may not be the right person to answer this question, as I'm such a huge fan of the Ragdoll breed. I tend to be just a 'little biased'. 
But my answer is "YES" two Raggies are awesome! However, there are some things you ought to consider before adopting MORE than one Ragdoll cat.
Considering Adopting a Ragdoll Kitten?
If you're contemplating bringing a Ragdoll kitten into your life, there's a pretty good chance you are considering adopting two kittens.
Every breeder I've ever spoken to, promotes the practice of adopting two! So be prepared when you talk to breeders, to get the usual sales pitch about adopting 2!
I adopted Ragdoll kittens in pairs, even though I didn't need two to play together, as I am self employed and work from my home and so a solitary cat wouldn't be lonely.
My first Ragdolls, brother and sister were very closely connected and did most everything together, especially when they were young. They played together, slept side by side and were great cuddle buddies.
Same goes for my present Raggies, half brothers.
Related > The True Cost of Owning a Ragdoll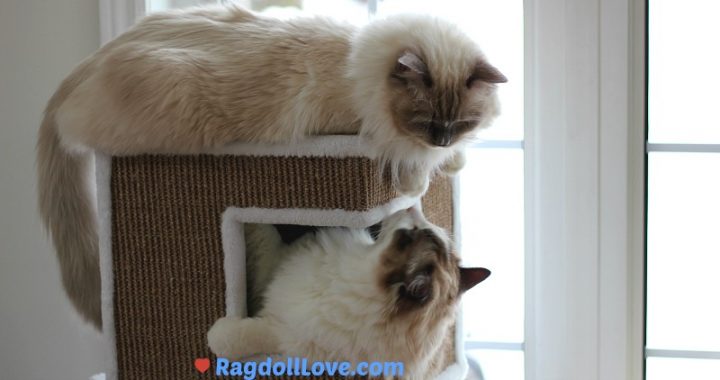 Why Adopt Two Ragdoll Cats?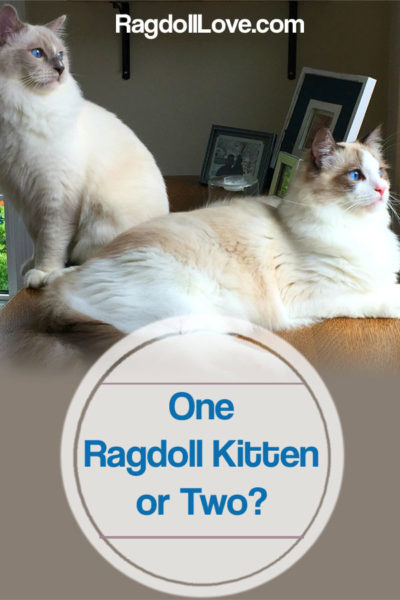 They keep each other company. No doubt about it, Ragdolls are people cats. If you are away from your home all day, a single Ragdoll kitten can get lonely. They are known to miss their people more than most cat breeds. 
They won't annoy your established cats. Ragdoll kittens are by nature very people oriented felines. They can be somewhat silly, crazy, nosy and persistent with their behaviours.  Having 2 Ragdolls can be a benefit if you have other established cats in your home. Spunky little kittens can be a major annoyance to established cats in your household.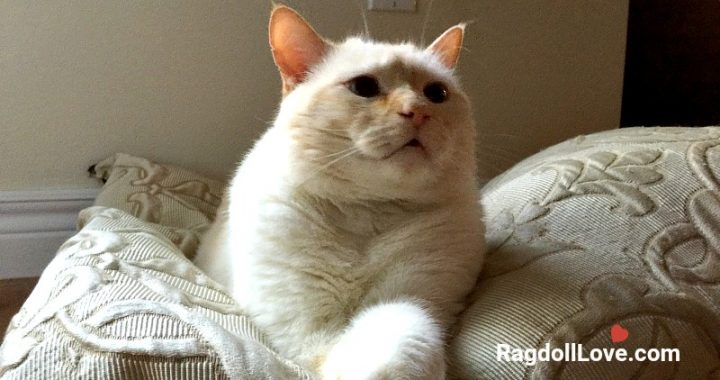 They may tend to constantly annoy and pester the resident kitty in your home, if they are an 'only kitten'.
A single kitten can certainly cope for sure, but 2 kittens will keep each other company and most likely leave the other cats in your home alone.
In order to keep the peace and foster a healthy long term relationship with your resident cats, two Ragdolls will tend to play and hangout together and not pester your other cats and insist on non-stop attention from them.
Ragdolls can be needy and they can easily make a nuisance out of themselves! It's good to avoid fur fights when possible.
Related >Pet Insurance For My Ragdoll Cat – Is It Worth It?
DON'T BARGAIN HUNT!
In a perfect world, I say 'Hey, why NOT have two Ragdoll cats, or even more?"
Being the owner of any purebred breed of cat is an expensive venture and well bred Ragdoll cats from ethical breeders are not cheap.
Consider the cost of one Raggie, then multiply it by two or three or more.
A healthy, top quality Raggie from a reputable, ethical breeder comes with a hefty price tag.
The cost of my current kittens were as follows (purchased May, 2017)
Duffy, Blue Mitted Male, with Hour Glass Blaze – $1808 CDN, including tax, not neutered.

ZeeZee, Seal BiColour Male,

 

$1695 CDN, including tax, and neutered.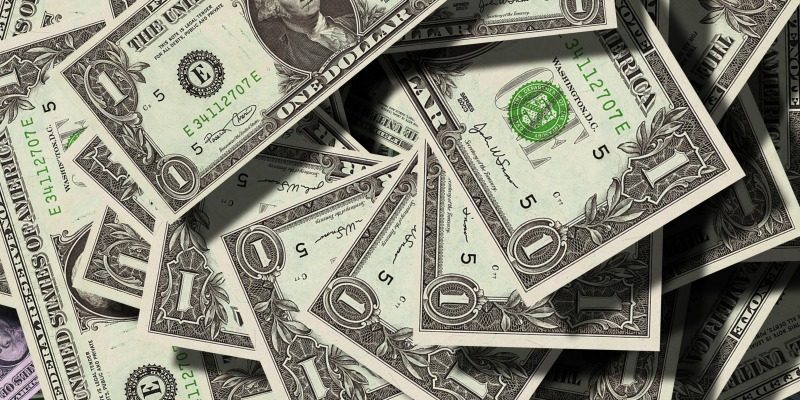 And the cost of the kitty just is just the beginning.
There's the cost of quality cat food, cat gear, health care – wellness visits and emergency care, toys etc.
So everything you need for your babes, multiply by two (or three or four or ..!) It's plain to see that it wouldn't take long for the dollars to add up!
Ragdoll cat ownership isn't cheap if you're going to do it right. Chances are, you've specifically chosen this breed for a number of reasons. In order to have the greatest possibility of getting the traits you adore in this breed, it's vital to buy from a good breeder.
Don't be guilty of buying amazing, registered purebred high dollar cats and then cheaping out with their care.
Oh sure, I could have had 4 Ragdoll kittens for the same price I paid for my boys, from another breeder.
But I was shopping for excellent quality, well bred cats.
Buy From the BEST Breeder You Can Find
Don't get me wrong. There's nothing wrong adopting non-registered Raggies or cats that are part-Ragdoll, if you're ok with that and that's what you want. It will save you a lot of money on the initial purchase price, that's a given.
When purchasing Ragdolls by taking into consideration cost only, you may find yourself in the future, experiencing a great deal of heartache. There's a greater chance with low grade breeders that your kitties may have or may develop health issues. And I KNOW you don't want that.
I'd much rather you bought one Ragdoll kitten of good breeding, than two of poor breeding, just because you got a good $ deal and really wanted two cats.
PLEASE, PLEASE DO NOT BARGAIN HUNT when looking to purchase your Ragdoll kittens. You could easily be setting yourself up for heartache when you find out the breeder has taken short cuts, in order to keep the price on their cats low. By purchasing cheap cats, you are supporting these bad breeders.
Well bred cats from ethical breeders do not come cheap.
Related > Checklist of Questions For Your Ragdoll Cat Breeder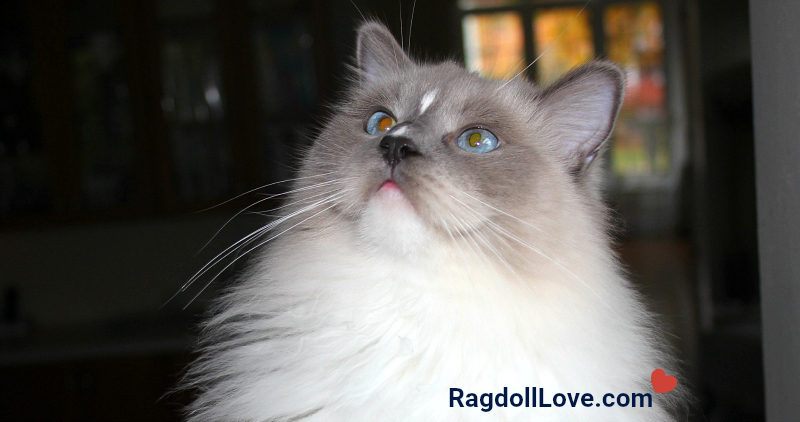 One Cat is Perfectly Fine
If your budget only allows for one cat, hey that's PERFECTLY FINE.
15 years or so of health care costs, vet bills, gear and food, can be pretty high.
It makes a LOT more sense to have one cat and do your best by him, than have two purchased from a low grade breeder and having to cut corners with costs, or worse still, not being able to give him the care he needs.
The health status of the kitten you choose is much more important than a playmate for him.
Don't set yourself up for a major heartache by choosing a kitten that is not healthy.
There are no TRUE DEALS for a well bred purebred Ragdoll cat.
Your cat will adjust to being an "only cat. 
More Articles You May Like
Return to Getting To Know Your Ragdoll