This post may contain affiliate links. You can read the full disclosure policy, which is pretty dull, but
here it is.
Ragdolls are easily recognized by their luxurious coat and bright blue eyes.
It may come as a surprise that they come in so many varieties!
Ragdoll coat patterns and colours come in several different combinations.  
The combinations can be a little confusing if they haven't been explained to you before but once you understand the terminology it makes a lot more sense.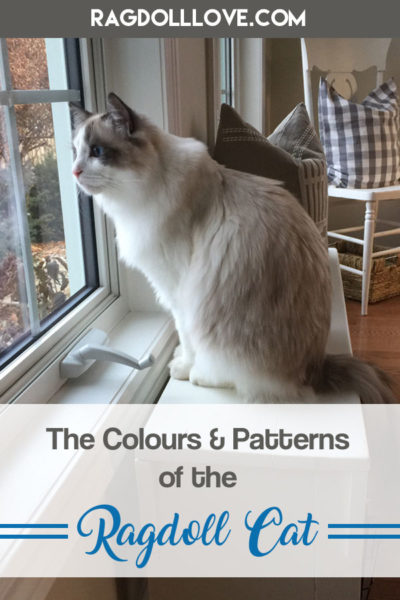 Ragdoll Coat Patterns and Colours
Keep in mind that your kitten is born white. Ragdolls are considered "slow-maturing" cats. This means that they do not reach adulthood until 2 or even 3 years old.
During this time, their coat will darken. A good breeder will have the experience to tell what their kittens' coat patterns will look like as they get older.
Picking the best coat pattern for you depends on whether or not you are a casual owner or want your cat as a show cat.
Get to know the beautiful varieties before you choose.
Related > How to Choose a Breeder For the Ragdoll Kitten of Your Dreams
Ragdoll Coat Colours
Ragdoll colours are fairly straight forward. I have them listed here from darkest to lightest.
Seal – Seal is a very dark brown. Ragdolls with this in colourpoint are very reminiscent of Siamese cats.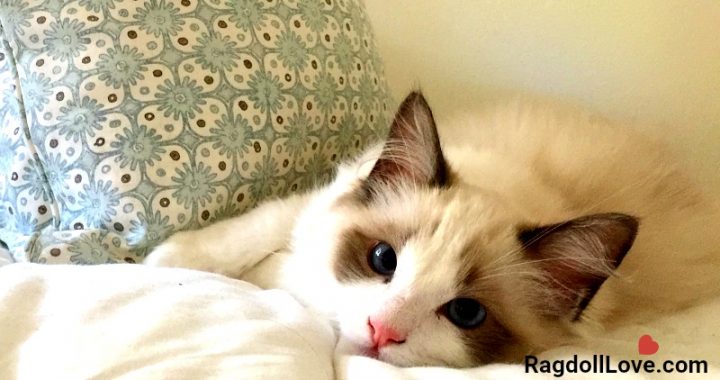 Chocolate – Chocolate Ragdoll coats range from a light brown to dark, chocolate brown. This is often complemented by Lilac or Cream in bicolour Ragdolls.
Blue – Blue is a medium to light gray. This could also be described as a blue-grey. It is delicate and gorgeous. They have a gentle wash of their point colour over their back.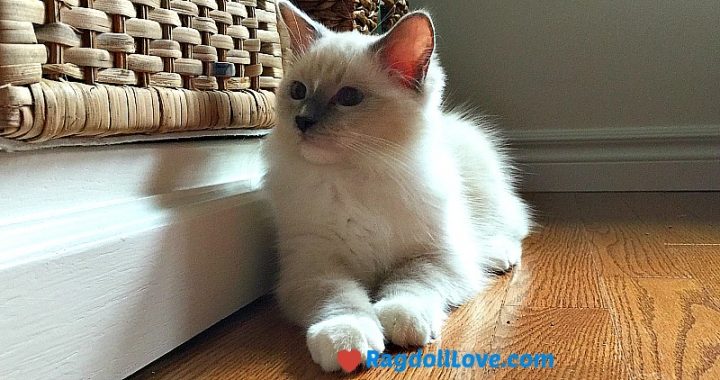 Lilac – Lilac is similar to blue, however, it is much lighter and has a pink hue. It can be described as a very light gray. They have a very pale colour wash over their back of their point colour. They have more white than a blue.
Red – Red or "flame" Ragdolls have a fiery orange colour to their coats. It is most common to see Ragdolls with a red mitted coat.
Cream – Cream is a similar colour to red although it is much lighter. It is somewhere between a light brown and a red.
Related > Want to Buy a Ragdoll? Know the True Cost of Owning a Cat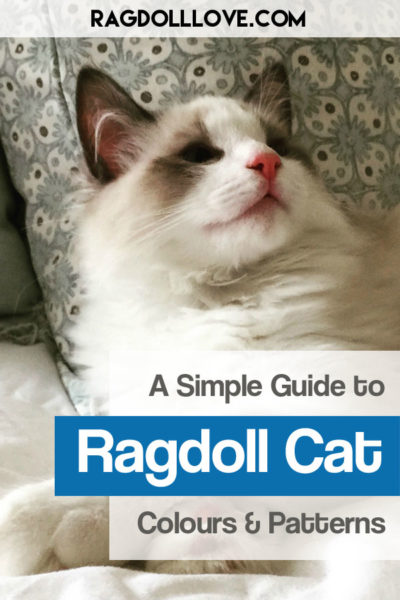 Ragdoll Coat Patterns
Colourpoint Ragdoll Coat Pattern
Colourpoint, as the name implies, has coloured markings on the cat's points. The points, in this instance, are the paws, ears, face and tail. This shouldn't be confused with a mitted Ragdoll which is explained below. The important distinction is that colourpoints have the same colour accenting the tips of their frame.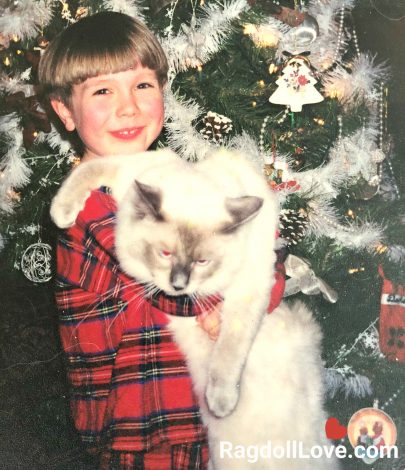 Mitted Ragdoll Coat Pattern
The mitten coat pattern is named after the idea that the cat is wearing "mittens". I personally think this is the most adorable way of identifying a coat pattern. Kitten mittens!
In order to be considered mitted, your Ragdoll must have a solid white stripe that runs from the hindquarters to the chin along the belly.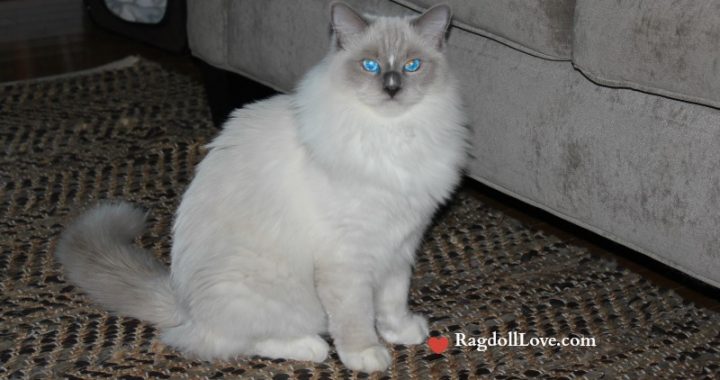 BiColour Ragdoll Coat Pattern
Bicolour coat pattern in Ragdolls is a beautiful, classic Ragdoll coat. It is hallmarked by an inverted "V" on the face that is white as well as white legs and belly. In this instance, the back and sides of the face are coloured. Minimal bicolours will be mostly white with light colouring.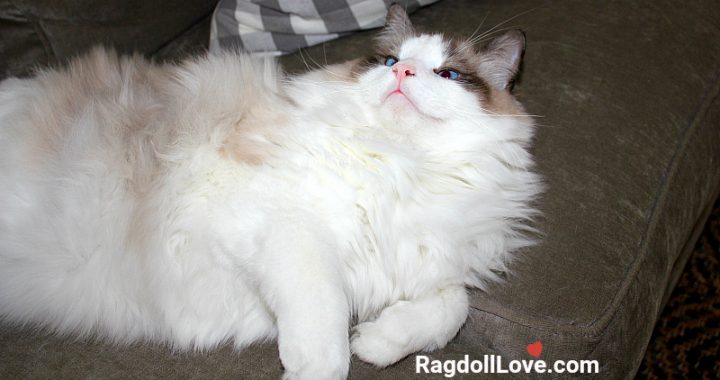 Lynx Ragdoll Coat Pattern
A lynx pattern in Ragdolls is very similar to tabby markings – a classic "M" outline on the forehead and stripe patterns on the legs. This is most often seen as a complement to pointed Ragdolls.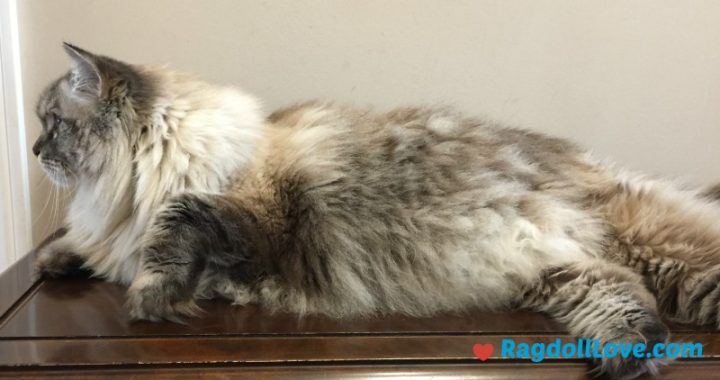 Tortie Ragdoll Coat Pattern
Tortie Ragdolls are similar to calico patterns seen in domestic short hairs. Ragdolls don't often show as pronounced variety of colours in their tortie coat. You can expect to see the same colours as listed above, with typically lighter shades than in DSH calicos. Like in DSH, tortie Ragdolls are always female.
Ragdoll With Blaze
A Ragdoll coat will sometimes be defined as "with blaze". A blaze is a white line or spot on the face. This is described with mitted Ragdolls. This spot is often in the shape of an hourglass following the bridge of the nose.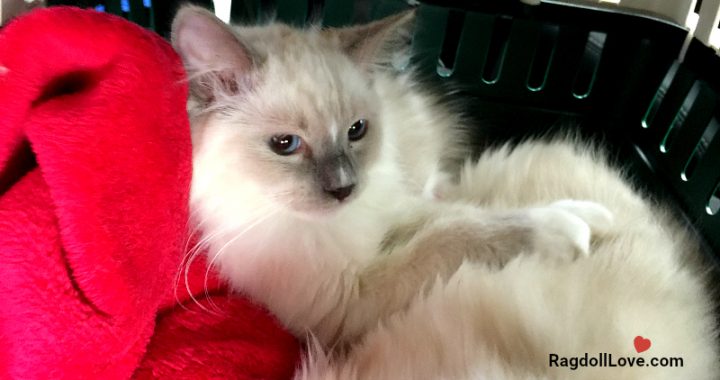 Mixing Ragdoll Patterns & Coats
Here's where things can get a little confusing.
For example, you can have a chocolate mitted lynx Ragdoll or a seal bicolour lynx. This is when your cat demonstrates both types of coat pattern.
Patterns like colourpoint and mitted focus on the accent points of your Ragdoll like the ears, paws, face and tail.
Patterns such as bicolour, lynx and tortie focus on the overall pattern of your Ragdoll cat's body.
Therefore, your cat can show both types of patterns at the same time. Confusing, I know.
Related > The Amazing Ragdoll Coat – Things You Need to Know
Picking Your Ragdoll Coat Pattern
As mentioned above, your Ragdoll kitten's coat will darken as they mature. Your kitten could look quite different as they age.
Lighter coloured coat patterns are harder to see when they very young but darker colours such as chocolate can be visible within the first few weeks.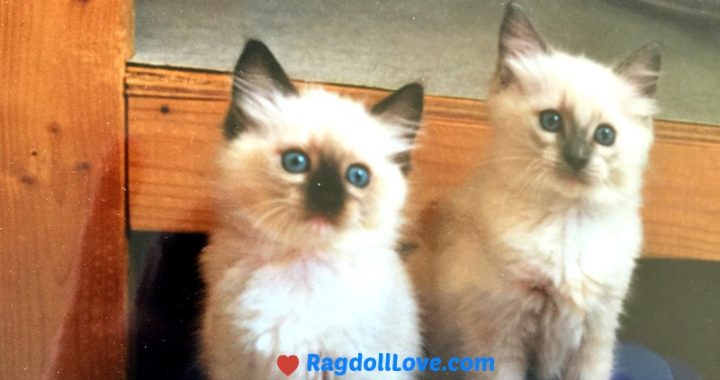 Choose a breeder who has established a history of consistent litters if you're focused on getting a particular colour or pattern.
If you are interested in owning a show cat then this can be of vital importance.
If you really love the Ragdoll breed, you'll be happy with their beautiful pattern and colours, no matter what!
Return To Getting to Know the Ragdoll Breed