This post may contain affiliate links. You can read the full disclosure policy, which is pretty dull, but
here it is.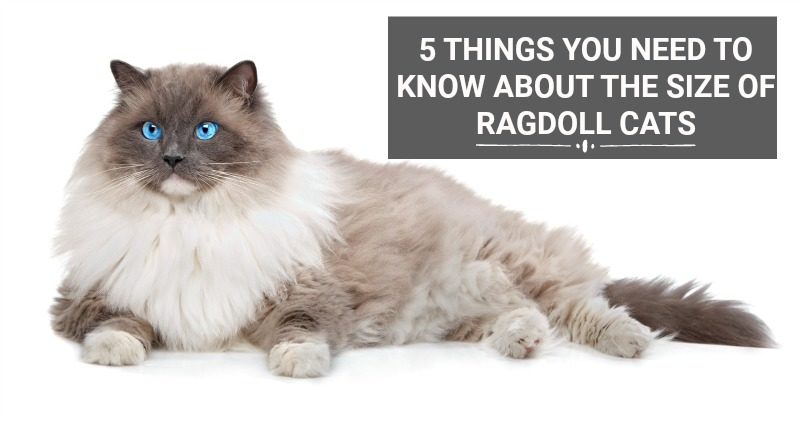 Ragdoll cat size is probably this breed's second well-known and beloved trait after their friendly temperment.
Ragdoll cats grow anywhere from 10 to 20 pounds.  Females should weigh between 10 and 15 pounds while males can weigh as much as 20 lb+. They reach their full maturity and size later than most cats, around 4 years of age.
You might have many questions like, are there special requirements because of their size? And does this affect their relationships with other animals?
Their size does impact Ragdoll cat ownership in both delightful and important ways.
Read on to find out more.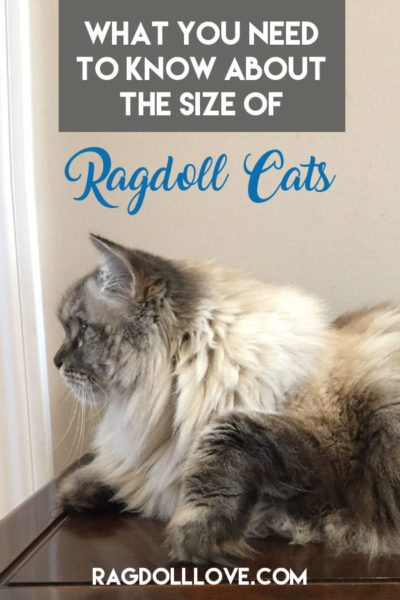 What You Should Know About Ragdoll Cat Size
1. The Larger Ragdoll Cat Size Makes Them Even More Cuddly
To complement that amazingly docile and affectionate personality, Ragdoll cats come in a size that makes them super cuddly, downright teddy-bear like. They're great to hold and to snuggle with.
They are masters at relaxation, a perfect picture of comfort and their size makes them even more inviting for affection.
Just make sure to hold them with both hands, to provide adequate support while carrying or holding them.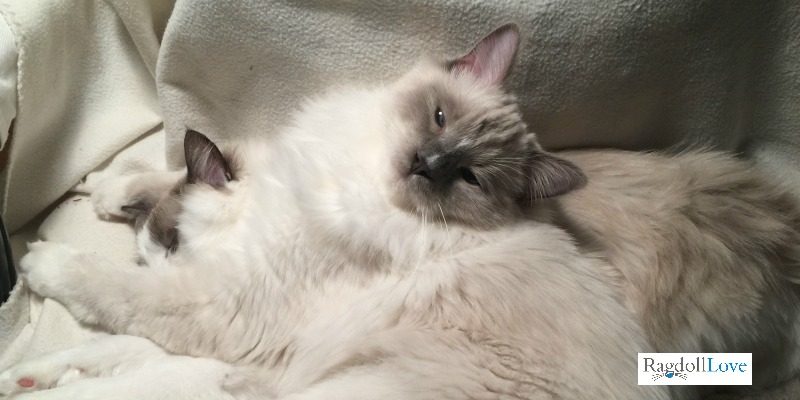 Related > Ragdoll Cat Characteristics – 10 Reasons To Love the Ragdoll Breed
2. Ironically, Their Size Doesn't Help Them Protect Themselves
We all normally assume that a larger animal is better able to defend itself than a smaller animal, but that logic does not apply with Ragdoll cat size.
They are so trusting and docile that they can easily be attacked or harmed.  You may not even be aware that your poor Ragdoll is under threat to be able to stop it because they are also quiet kitties.
Never let them outside or leave them unattended with animals, children or adults who can't be trusted to be gentle with them.
Related > Ragdoll Cats and Children – Best Kid-Friendly Cat Breed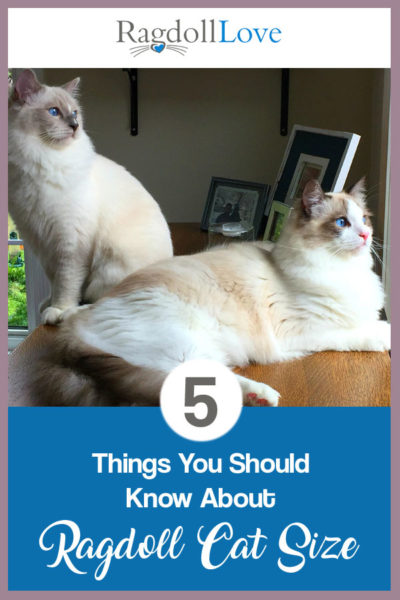 3. Create A Living Space Designed For Their Size
Ragdoll cat size exceeds normal cat dimensions so all cat litter boxes, beds, and climby-toys may not fit them.
Buy the biggest litter box you can, consider that a covered one is probably not going to be an option, buy a bigger bed, and prepare for the fact that you might have to choose climby-toys without cubby holes. Or go for a custom made climber.
If you're providing special cat napping places in front of windows or around the house, make sure they are strong enough to support the kitty. Any cat-napper might not do.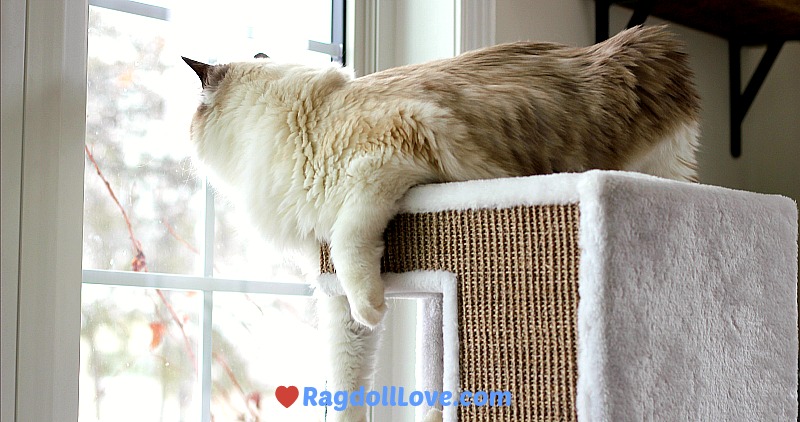 4. But Don't Let Them Get Too Big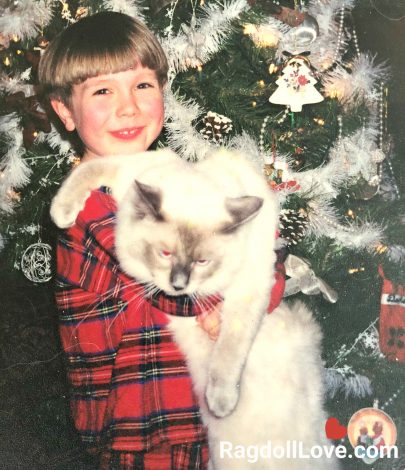 While Ragdoll cats are larger than your average cat, and their size makes them both extra cute and cuddly, that doesn't mean it is impossible for them to get too big.
Even Ragdolls can be overweight.  In fact, it's more common than it should be.
They mostly stop growing at around 4 years and reach their full maturity.
However, at one year of age, you should be maintaining their weight as they have more or less officially reached adulthood.
The volume of food they are given, needs to be controlled at this point.  As kittens, they needed the extra calories and volume of food for growth.
The mistake many Ragdoll owners make, is continuing to feed them large volumes of food after one year of age.
That food was to help them grow.  They don't need that much anymore, and well, the same thing happens to them as it does to us when we eat too much.
A Ragdoll cat is supposed to have a muscular, rectangular body with semi-long fur.  This makes them plenty cuddly.  They don't have to have fat to be cute or soft.
In fact, excess fat is very bad for them.  Being overweight is not healthy for any cat, but because Ragdolls are already prone to heart conditions because of their size, excess weight is particularly unhealthy for these kitties.
Talk to your trained conventional or holistic vet about the best feeding schedule for their growing period. Stick to what the vet says.  Healthy is beautiful and gives you more time to love your Ragdoll.
5. Many People Do Let Ragdolls Get Too Big
Most other Ragdoll owners online and in person can confuse you because it is so common to let these plushy babies get too plushy!
Be prepared to differ from other Ragdoll enthusiasts about how to take care of them.  It can be quite frustrating.
Remember, only trust your trained vet to tell you what is a healthy weight and feeding program for your individual Ragdoll.
The norm is not always right, even if swimming against the stream is a pain.  Your Ragdoll will thank you and that's more important than anything.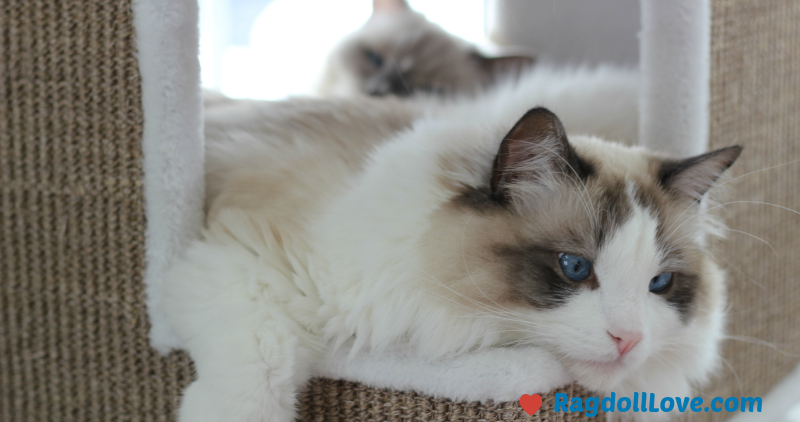 Remember, optimum Ragdoll cat size spans about 10-15 pounds for a female and can reach 20 pounds for some males.
Even this standard can vary depending on your particular Ragdoll.
Take the time to speak to your vet about feeding recommendations for your Ragdoll kitty.
Ragdoll cat size makes them a very appealing breed.  But this trait although appealing, can present some unique challenges.
More Articles
 Return to Getting to Know Your Ragdoll Cat