This post may contain affiliate links. You can read the full disclosure policy, which is pretty dull, but
here it is.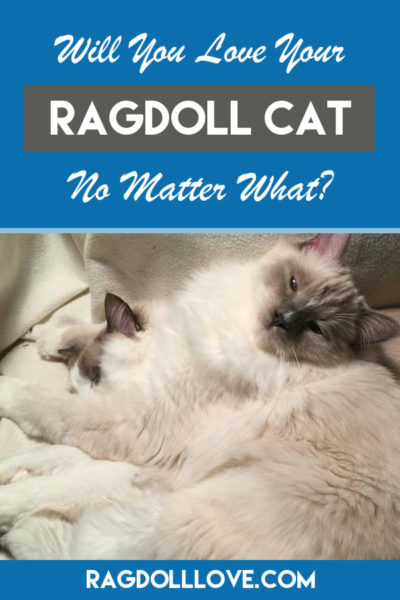 It is easy to assume that all adorable balls of Ragdoll fluff are near identical in appearance and personality, especially with breed descriptions lumping them together.
However, this is simply not the case. Like people, each animal has a unique demeanour that sets them apart from the stereotypes associated with their breed.
Take Duffy and ZeeZee, for example: half-brothers from the same father who not only have physical differences, but vastly different personalities.
This comparison of two Ragdoll cats, half brothers show how Ragdolls from the same breeder, the same father and being raised in the identical environment can have lots of similarities, yet many differences as well.
Comparison of Two Ragdoll Cats – Half Brothers – Duffy and ZeeZee
Duffy — From Introvert to a Real Go Getter!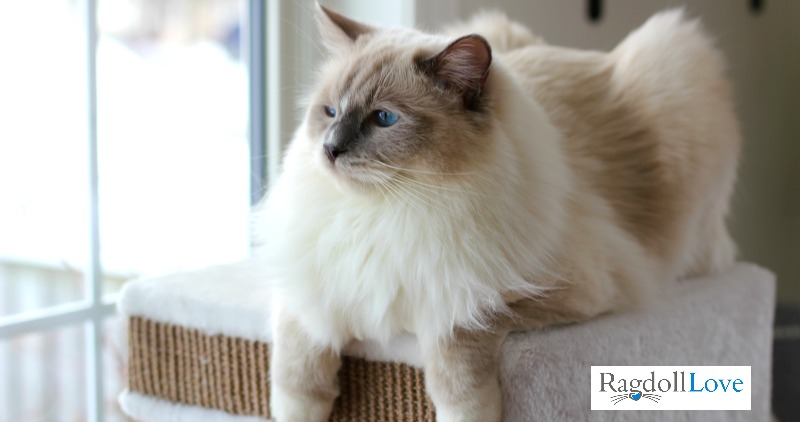 Duffy is a handsome male blue mitted Ragdoll, with an hour glass blaze. He is a show quality kitten who was, initially, a very shy cat.
It is not unusual for a pet of any kind to be introverted early in life, especially as they adapt to a new environment, so it is important that owners grow with their pets. Duffy, for example, would hide under beds and furniture, show displeasure when picked up and held, and was a bit of a pushover at meal time.
Given time, Duffy came into his own. He proved to be highly trainable, responding to even the words "spray bottle" when he knew he was in the wrong (such as climbing on the counters!).
Instead of hiding beneath furniture, he began to leap onto and over such obstacles—evidence of his super playful personality.
He now stands up for himself at meal time, not allowing other cats to approach his food. Perhaps the biggest change in Duffy, however, is how affectionate and social he is.
Whether it is the expectation of attention when sitting with one of his humans or his insistence on being within six feet of me while I work, Duffy loves being in close proximity to the people he cares about.
Another quirk unique to Duffy is his distinct moods when it comes to being picked up and cuddled. While Ragdolls are known for being floppers—going limp and relaxed when held—Duffy is more of a flip flopper.
Sometimes he enjoys being cuddled and will allow his body to relax, but other times he stiffens and straightens out his legs. Just another example of how each Ragdoll is different, regardless of commonly-held assumptions!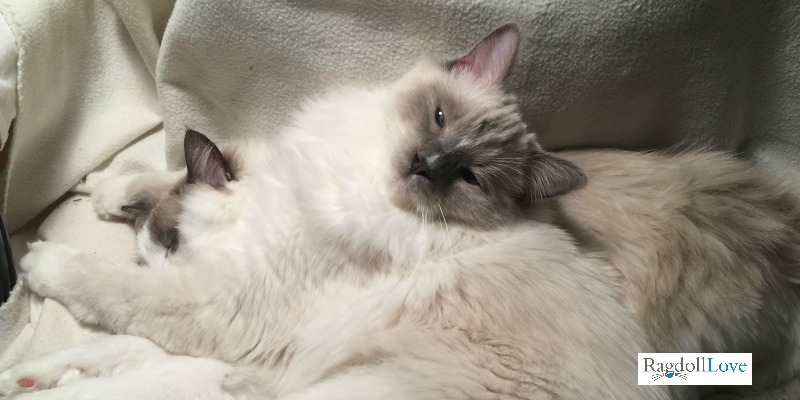 Related > Ragdoll Cat Facts – 12 Things You Probably Didn't Know About Ragdolls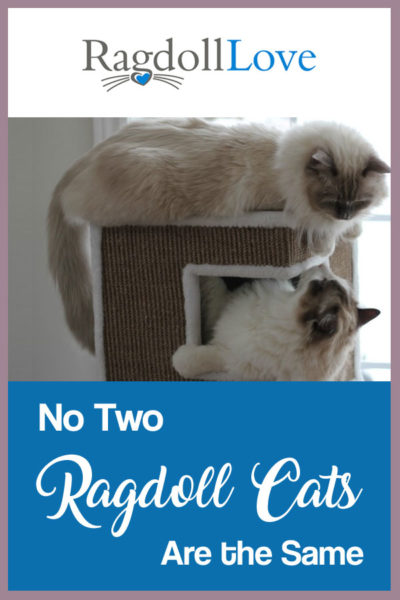 ZeeZee — Mayhem Topped with a Bow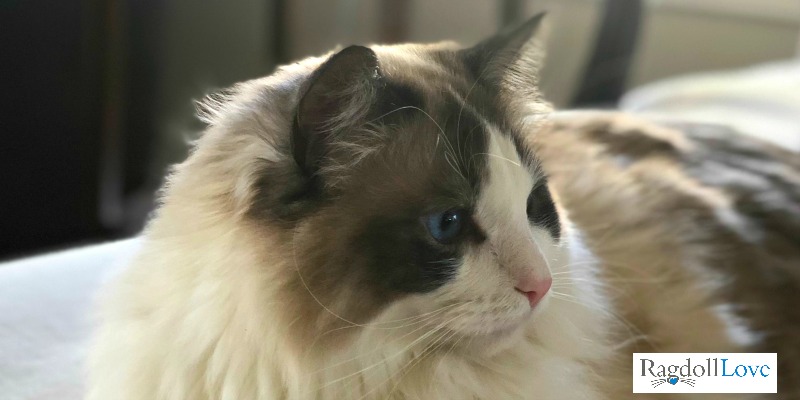 ZeeZee, a gorgeous perfectly marked seal bi-colour male Ragdoll, is full of mischief.
While he was still skittish when first brought home from the breeder, he has never been short on personality.
Part of this pseudo-shyness is likely due to the confined room he was accustomed to as a young kitten—a testament to how important early training is in early development.
Thankfully, while ZeeZee still occasionally runs from being picked up, he has really developed a sense of confidence.
He plays just as hard as Duffy, is an absolute wild man when playing laser tag, and is extremely clever, even opening doors and sliding closet doors. 
In contrast to this untamed enthusiasm for life, ZeeZee also tends to be a bit of a pacifist. When picked up, he loves to flop over my shoulder like a big baby. If bullied at the food bowl, he will step aside.
Overall, he is an explosion of personality with a definite sweet streak!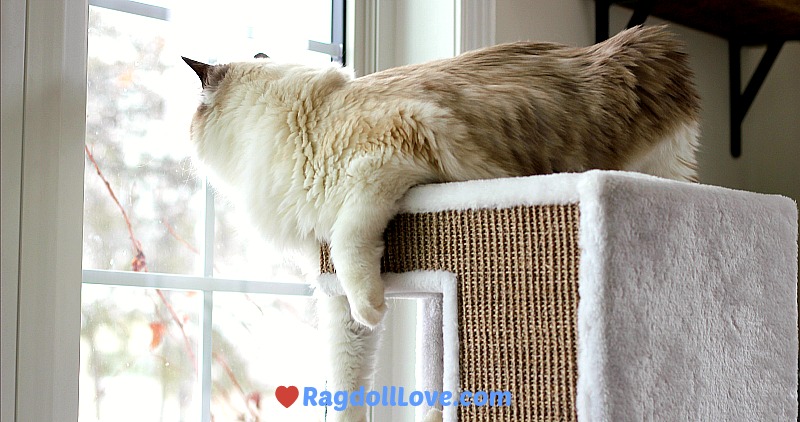 Related > Ragdoll Cat Characteristics – 10 Reasons I Fell in Love with the Ragdoll Breed
The Same, but Different
While both Duffy and ZeeZee are beautiful purebred Ragdolls registered with the Canadian Cat Association, and despite having the same father, these two half-brothers are very much their own selves.
From subtle physical differences, such as ZeeZee's darker, more intensely blue eyes and Duffy's incredibly soft coat reminiscent of rabbit fur, to the stark contrast of personalities that have emerged as each cat has grown into their own, these siblings prove without a doubt that you cannot predict how a pet will be based on the stereotypes associated with their breed.
The best way to ascertain how your pet will be is to simply wait and allow them to develop!
Both Duffy and ZeeZee are show-quality Ragdolls in spite of their physical differences. While Duffy's tail is not as fluffy as ZeeZee's it is a beautiful shape. The markings of both cats are perfect.
One thing you may notice from the stories of these lovely siblings is that they both took time to grow into their unique personalities.
It is important to realize that all pets, no matter how similar or closely related, will have an adjustment period during which they transition from where they lived the first few weeks of their lives to their new home.
This may manifest itself in a form of shyness, as it did in the cases of Duffy and ZeeZee, but each pet will adjust differently. It is imperative is to allow this phase to happen—spend time with them, train them appropriately, and encourage them to feel comfortable being themselves!
Chances are you will grow to love their individual quirks more than you could ever imagine.
Related > Is a Ragdoll Cat Right For You? 5 Things You Need to Know About the Ragdoll Breed
Love Your Ragdoll Unconditionally
Be prepared to accept your Ragdoll as is. There are no guarantees for how the cat will develop or act.
Try not to get wrapped up in falling in love with the 'ideal Ragdoll look and personality', only to be disappointed that they aren't falling into the stereotypical description of a Ragdoll cat.
Not all Ragdolls have all of the wonderful qualities that you read about…. following you around like a puppy, playing fetch, flop over your shoulder while super rela

xed and a super chilled out personality. 

They may not be perfect in appearance or have all of the typical Ragdoll traits. But these qualities are not so important for a wonderful loving pet.
If you adopt a Ragdoll, it must be FOREVER. Your home should be his/her forever home without question.
Take the good with the bad.
Love them as they are. Because one thing for sure, they will love you, just the way you are.
More Articles
Return to Getting To Know Your Ragdoll