This post may contain affiliate links. You can read the full disclosure policy, which is pretty dull, but
here it is.
I'd be willing to bet that the magnificent Ragdoll coat, was one of the qualities which attracted you to the breed.
The Coat of the Ragdoll Breed
This stunning cat breed sports a soft silky fur coat. It is very similar in texture and feel to rabbit fur. The Ragdoll breed is essentially a medium – long haired breed of cat.
Their luxurious Ragdoll coat is one of their finest and most sought after features.
The Ragdoll coat however, may differ from other cats of this breed. There are slight differences between the look and feel of their fur. The differences are subtle. But nonetheless, there are differences.
Some Ragdolls have long guard hairs. The guard hairs may be just part of the make up of the coat. However, I have noticed that the guard hairs on my cats disappeared over time.
Raggies have a wonderful big, floofy ruff around their neck. This features usually becomes more pronounced as they mature. I think it makes the cat look very elegant and proud.
Their coats are really not prone so much to matting. However, as my Ragdolls aged, they did develop some matts on their tummy area. I suspect it was because they couldn't reach some of the spots to work out the knots.
I simply would help them out, by carefully and gently, cutting out the mats. When they were older, my groomer shaved them and gave them a lion cut. This not only helped with getting rid of those nasty belly knots. It also helped them remain more comfortable in the heat of the summer.
This breed boasts a nice variety of colours and coat patterns.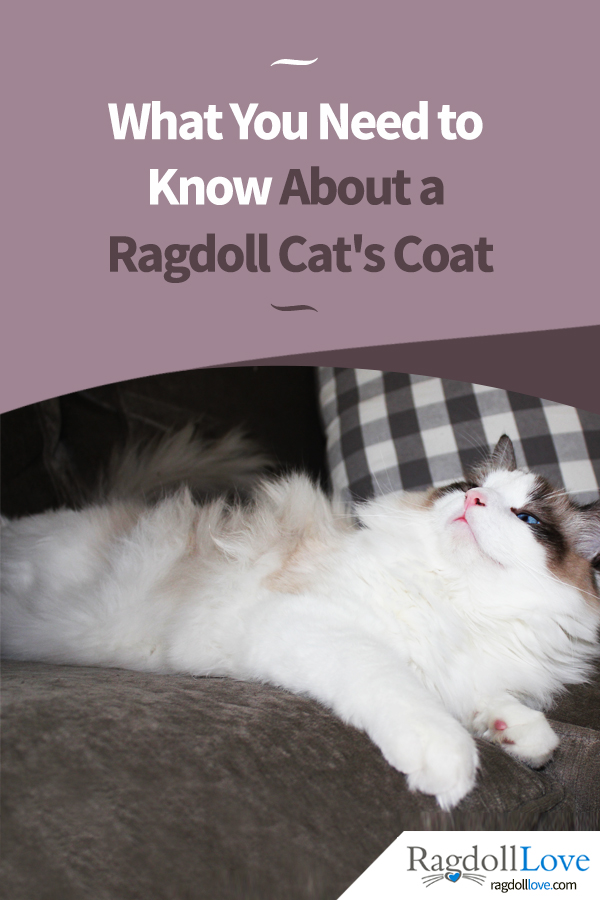 Related > Ragdoll Cat Characteristics – 10 Reasons I Fell in Love with the Ragdoll Breed
Ragdoll Coat Comparison
These are my two kittens. You'll notice that their coats are different.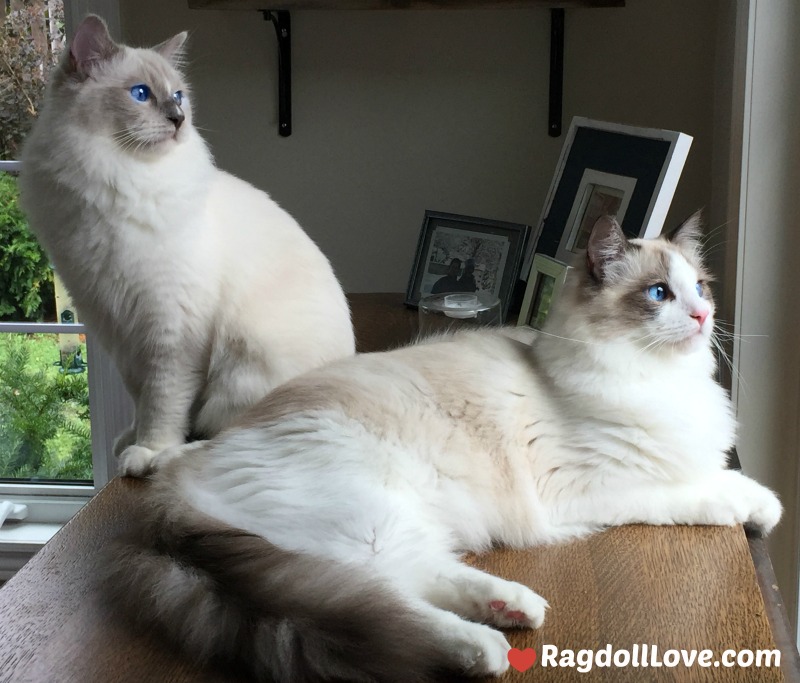 Although not from the same litters, they had the same father.
Their coats and colouring will change over the next few years as they mature.
Related > Are Two Ragdoll Cats Are Better Than One?
Do Ragdoll Cats Shed?
The bottom line is this. The Ragdoll cat is essentially a long haired cat. And long haired cats shed, period. It goes with the territory.
However, they don't shed as much as you may expect, given the fact that they have such a thick, lux abundant coat.
Yep, you'll find furry dust bunnies rolling around under the furniture at my house!
We also sport a light coating of fur on most of our clothing too.
I have noticed the amount of shedding from cat to cat can vary.
The climate, change of season and their diet will also significantly affect the amount of shedding. If you live in a warm climate, there's a good chance your Ragdoll will shed more often.
My babes develop a thicker, heavier coat in early winter. So of course, they get rid of that heavier coat in the spring season. So shedding is a bit more prevalent in the spring season.
Really, shedding really makes for a healthier looking quality coat. Your cat is simply getting rid of old fur, no longer needed.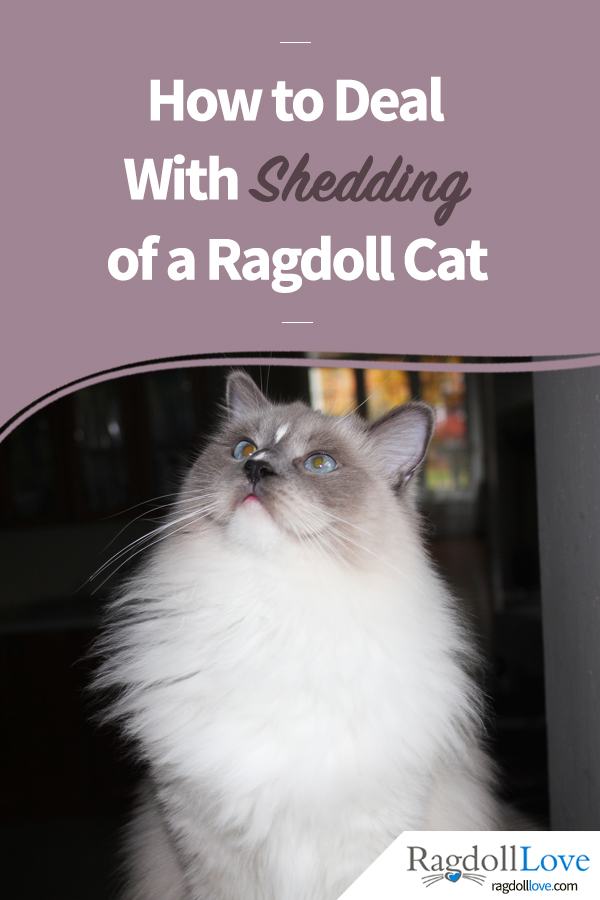 How Can I Deal With Shedding?
Haul out that vacuum cleaner. Every other day (most weeks), I grab my faithful Dyson and do a quick spin around the house. NOTE: I do not have carpeting in my home.
But, I have three cats in my household: 2 Ragdolls and one Heinz 57 variety. Takes 5 minutes to vacuum the house. End of problem.
To be perfectly honest, my Heinz variety short haired boy leaves more of a fur trail than the long hair Ragdolls. Go figure.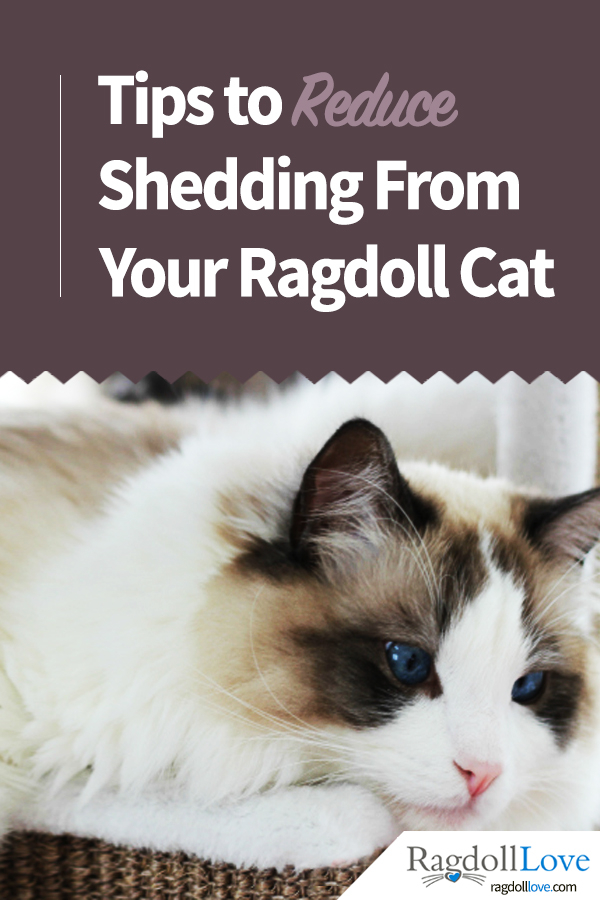 What Can I Do To Reduce the Shedding From My Ragdoll Cats?
To reduce shedding and enhance my Ragdolls's stellar fur coat, I regularly add a supplements to their diet.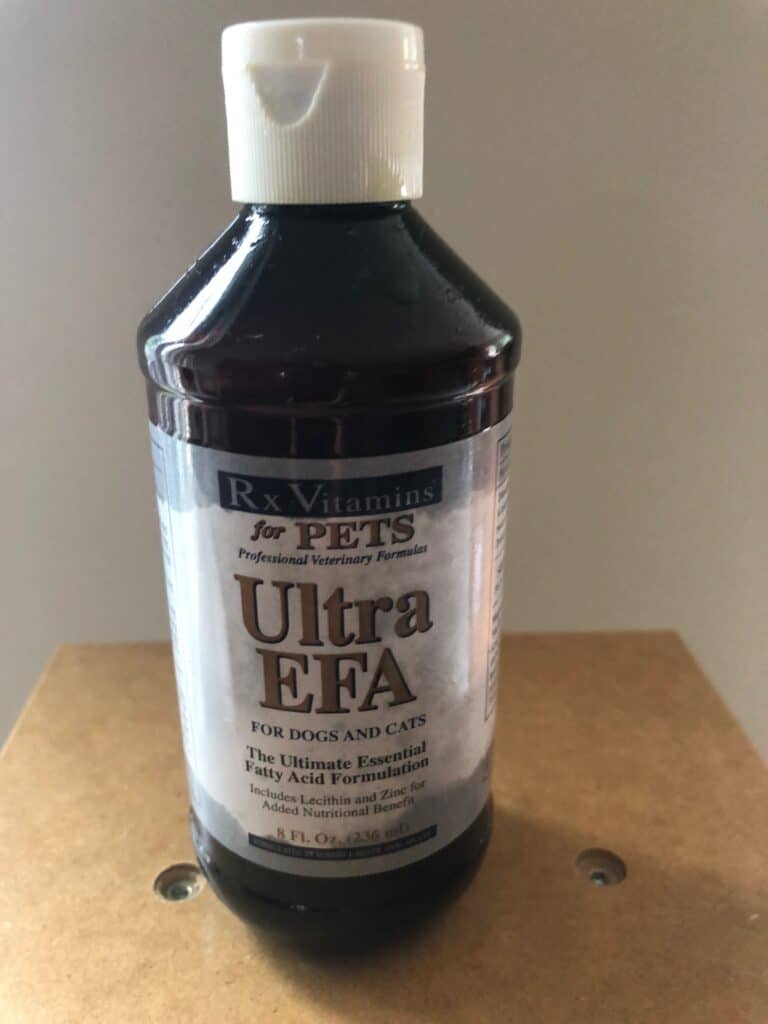 TOP QUALITY FISH OIL
Good quality Fish Oil – Omega 3 fatty acids will help to reduce shedding and help keep your Raggie's coat looking amazing. Great for shine and luster.
I give my boys RX Vitamins, ULTRA EFA daily, as recommended by my holistic veterinarian, as per bottle instructions. There's a pretty good chance that your cats won't dig the taste of fish oil, especially if it's something new you are introducing to their diet.
I suggest adding only a teeny tiny drop mixed into wet food to hide it, until they get accustomed to it (IF EVER! CATS CAN BE SOOOO FINICKY!)
Another trick to mask the flavour is to sprinkle Nutritional Yeast on the food with the hidden fish oil. Hopefully, they'll love the nutritional yeast more than they detest the taste of the fish oil! My lads love it. They now ask for 'SPRINKLES' on their food!
But What About Cat Fur on My Furniture?
There are some easy fixes to defurring your furniture.
Put a rubber glove on your hand. Slightly dampened the glove. Go over your upholstered sofa and chairs with the damp rubber glove. This will nicely remove the kitty fur.
I like the Lily brush. It's not expensive. It's easy to use. It does a pretty decent job in removing cat fur from furniture.
Just grab the Lily brush and give it some good passes on the your chair and it will nicely grab the fur your babes have so kindly deposited on your nice furniture! Works well.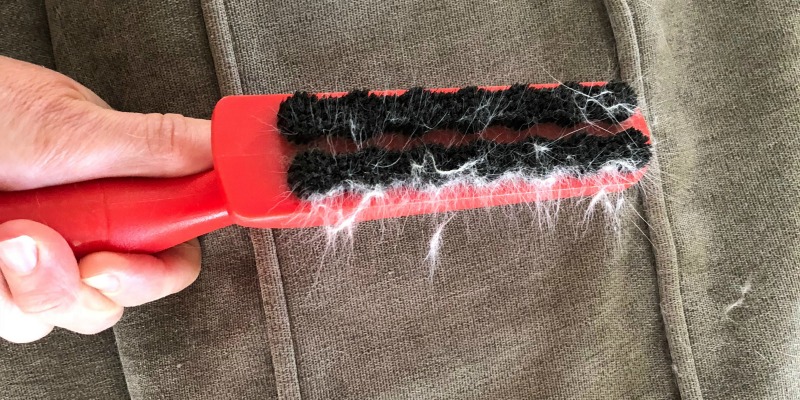 LILY BRUSH – DOES A GOOD JOB FOR A FAST CHAIR CLEANUP!
Should I Get a Ragdoll If I'm Sensitive to Cat Fur?
I've heard that allergic people are less sensitive to Ragdoll coat fur. But, I cannot confirm this for certain.
I was tested and found I had a mild allergy to cat fur/dander many years ago. Recently, I was retested, and show absolutely no allergies at all. Go figure.
If you are in doubt, get tested (and your kids too), for cat allergies and sensitivities BEFORE adopting a Ragdoll cat or ANY CAT.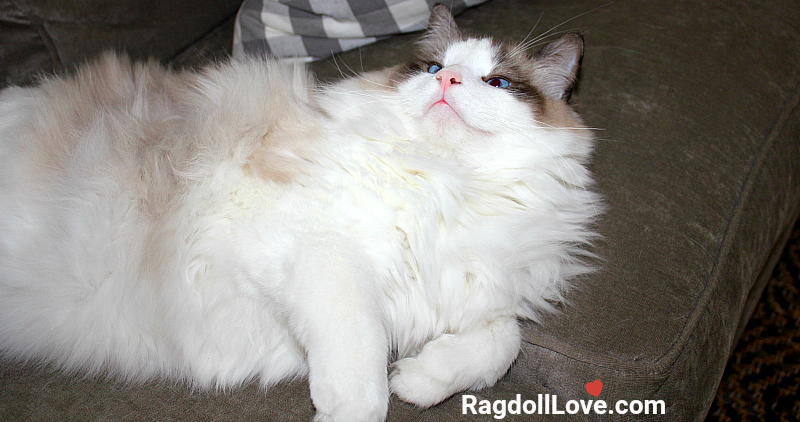 Grooming Your Ragdoll
My Raggies do a great job looking after their coats. My guys are wonderful groomers, as are most cats.Even though they are long haired, I haven't found it to be necessary to brush them very often. (Maybe I'm just lazy.)
However, a quick once over with a brush, really fluffs them out. Makes them look more floofy. I love the floofy look.
I just use a simple metal comb for grooming. I also really like a little slicker brush. My boys love the feel of the slicker brush.
Tip – The key to make grooming quick and easy is to start a routine when they are young. Most will like the feel of the brush or comb and quite enjoy it.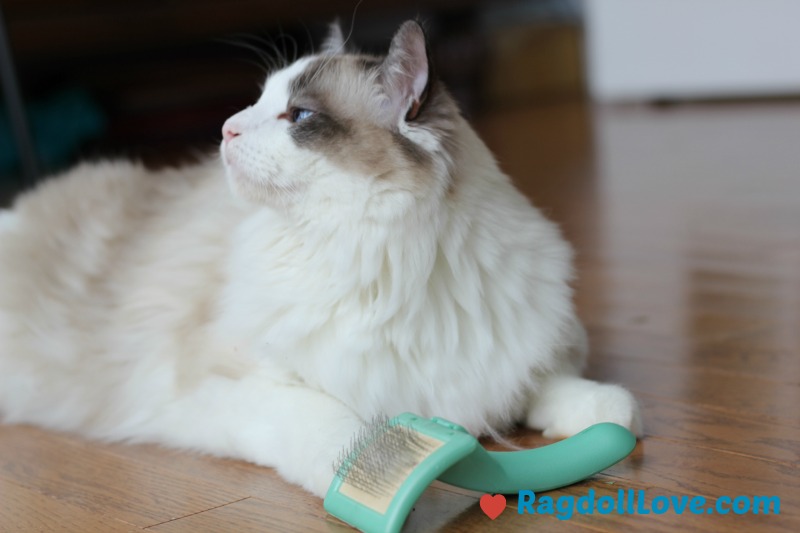 I give my boys a treat when they are finished with a quick brushing session. Regular quick brushing will also help to control the fur dust bunnies in your home. Also will reduce the fur deposits on clothing and furniture.
Related >Establishing Routines For Your Ragdoll Cat
Bathing Your Ragdoll Cat
When I would take my guys in my backyard and they would get super dirty, I'd give them a quick bath.


However, I never found bathing IMPROVED the appearance of the Ragdoll coat. However, it does freshen up their 'scent' and make their fur more fluffy.
If you do want to give your babes a bath, I would not recommend bathing them too frequently. Unless you have a specific reason to.
Brushing will improve their coat more than bathing. Excessive bathing can make their skin dry.
Use a shampoo recommended JUST FOR CATS. Dog shampoo IS NOT OK FOR A CAT. I do like EarthBath products as they don't have the chemicals and nasty junk in their formula.
Hairballs
Yuk. Hairballs.
I have not found that my long haired cats have any more hairballs than any other short haired cat I've ever owned.
I believe that hair balls are cause by a dietary upset. Cats ought to be able to process and digest the hair they take in from grooming.
I add a high quality fish oil to my boys' food each day. It assists with digestion and hair ball production. It also helps produce a shiny healthy coat, reduces shedding, itchy skin, allergies and dandruff.
My two Ragdoll kittens are nearly 10 months old and neither of them has ever made a hairball. My 7 year old rescue cat has only ever upchucked 2 hairballs (that I'm aware of).
If your cat has hairballs, check with your vet. They may have some suggestions as to why this is happening.
Are Dirty Pants An Issue For the Ragdoll?
Long haired Raggies have very floofy pants. SOOO, are dirty butts a problem with this breed?
Nope.
If their butts are consistently icky, look at changing their diet. They may not be digesting well. Or they may have a food sensitivity, but as a rule, there shouldn't be 'stuff' hanging on their pants after they use the litter box.
If their pants are icky, they are great groomers. They'll take care of it.
If you are finding it necessary to remove DOODOO's from their pants often, you may need to look at adjusting their diet.
In the mean time, your babe may need a little assistance with cleaning their dirty pants, if they haven't managed to get those nasty DOODOO'S off.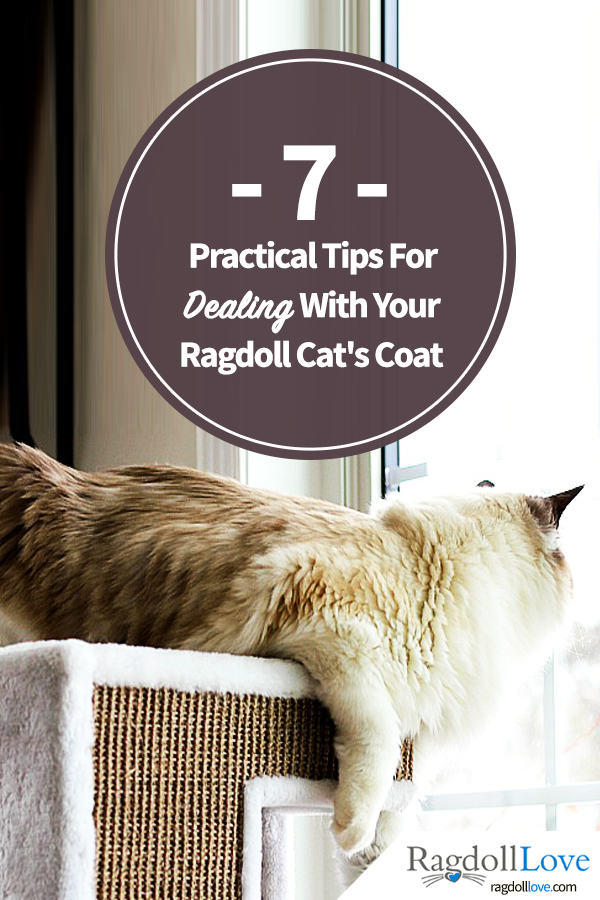 7 Tips To Deal and Get Real About Your Ragdoll Cat's Coat
If you are considering bringing a Ragdoll cat into your home, there's a few basic concepts you will need to adopt.
Get used to having at least SOME fur stuck to your clothing. Get used to fur dust bunnies which will roll and gather under your furniture. Don't be guilty of rehoming your RAGDOLL because you've just discovered Ragdolls SHED! Live with it. Jeez, it's just cat fur.
I keep a lint roller in the mudroom for last minute de-furring before going out! Works great.
Vacuum your home regularly or at least where your Raggies sleep. Just takes a few minutes.
Feed your guys the very best quality food you are able. Still shedding excessively? See your vet for suggestions to help reduce the shedding.
Brush your babies regularly. It helps to control the shedding and pick up the excess fur and besides they love the feel (usually!)
Defur your furniture at least weekly.
Check for matting regularly, before it gets out of hand. CAREFULLY try to get the mats out with a brush/comb or gently cut them out, especially in older Ragdolls.
—————————————————————————————————————-
The Ragdoll coat is one of this breed's finest features: stunning, thick and luxurious. With a little effort, a regular simple grooming routine, you can help him keep his coat at it's best.
When they are in the best of health, their coats will not only look healthier, they will shed less.
But don't hold me to that!
WATCH THE VIDEO VERSION OF THE ARTICLE!