This post may contain affiliate links. You can read the full disclosure policy, which is pretty dull, but
here it is.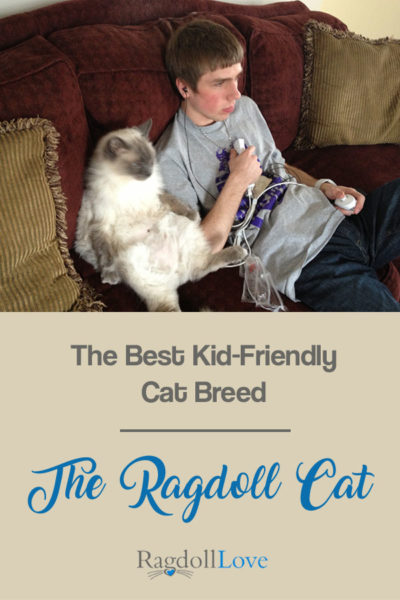 My kids were pretty young when I brought home our first Ragdolls. Since they were fairly far apart in age, they each handled the tiny eight-week old kittens very differently. But they all fell in love instantly.
My son quickly bonded with the male Ragdoll, while my daughter bonded with the female. They built a good relationship over the years because they both respected one another's boundaries.
I attribute a lot of this to the fact that Ragdolls are such a kid-friendly breed. But it was also helpful that we always had cats in our home, so the kids knew how to treat them. In fact, in my opinion, the relationship between your kids and any animal begins with the kids.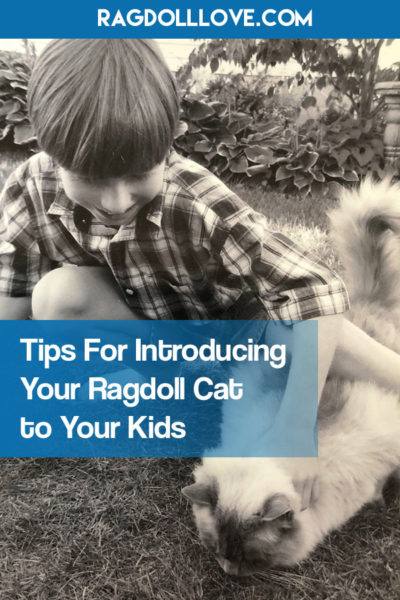 Introducing Your Ragdoll to Your Kids
For these reasons, it's best to have a plan when introducing your cat to your kids. Both the kids and the cat will be excited, so it's important to set some ground rules and boundaries. Ask yourself the following questions:
Are you adopting a kitten or a full-grown cat who may not be experienced interacting with children? A cat may require more supervision than a kitten.
How old are your children? How will you control interactions with younger kids until they understand how to play carefully?
 Are your cats indoor only? Do your kids know to be careful when opening doors?
Answering these questions will help you come up with more appropriate rules and limitations for your kids. But the following are the best place to start.
Create a safe space for your cat.
It's important for your cat to have a safe space to retreat to if it feels threatened or uncomfortable. Let your kids know that if the cat goes to this safe space, that it's time to leave him alone. It's important that they know to respect this boundary and do not force the cat out or chase them into it.
Supervise their meeting carefully.
Unless you have older children who have already been around cats and know how to treat them, it's very important that you supervise this meeting. Give your kids toys to play with the new kitten and allow them to bond through play. If your kitten becomes tired or agitated, take them back to their safe space and let them rest. Keep your children far away from this safe space initially to give the cat time to adapt.
Don't introduce your cat to too many kids at once.
Your cat or kitten can be overwhelmed by too much noise and excitement. This could make it hard to build a good foundation of trust and comfort in your home. One or two children at a time are probably fine as long as you can keep them fairly calm in that first interaction. More than that should probably be divided up.
Cats older than two may not have the same play drive that younger cats do. This will affect how a cat will interact with your children and their excitement. Don't be surprised if they are stand-offish or even scared of young children. Again, this is not common with Ragdolls but it is still possible. Follow the same introduction as you would for a kitten but pay close attention to older cats with young children (toddlers) until your child understands the cat's boundaries.
Kid Behaviours to Watch Out for Around Your Ragdoll
As I'm sure you know, new kittens are very playful. And most of them don't start calming down for at least two years. They are not only able to keep up with active kids, but they thoroughly enjoy the attention.
But it is also easy for tiny kittens to get hurt in all that activity. This is especially true with very young children who may not even realize they are playing roughly or holding on too tight. Just because the Ragdoll breed is more tolerant than many other breed, it doesn't make them a good choice as a cat which will take abuse and unnecessary rough handling.
In the same regard, an older cat could end up hurting your child if they're not educated on appropriate behaviors. Even though Ragdolls are a particularly tolerant breed, there are some things that any cat has trouble dealing with. Pulling tails, yelling, or excessive petting can easily overwhelm your cat and cause him to lash out.
Teach Your Kids to Respect Your Ragdoll
To avoid any negative interactions, it's important that you teach your kids how to respect your cat. Very young children will have to be trained very differently than older children. And if you've had cats in your home before, it's a much easier task. But keep in mind that no matter what age your children are, it's up to you to enforce positive behaviours.
Carefully monitor how your child interacts with your cats or kittens and explain what behavior is inappropriate. Toddlers don't usually have the capacity to understand how to behave and respect a cat on their own. Don't leave them alone with the cat until they learn how to respect your cats' boundaries.
Do you have the time to ensure that your young kids are supervised when they are with the Ragdoll? If not, then separate the two. Keep your cat in a separate room. This protects your child as much as it protects your cat.
Do your kids have past experience with pets or is this their first pet? You still should explain to your child that not all cats are the same. Some cats like to be cradled like a baby and others like to have their legs supported. Some are very sensitive about being touched on the feet or tail, while others will go belly up for love. Every cat is different and your children need to understand that.
Help Your Kids Recognize Your Ragdoll's Boundaries
MacIntosh, my male Ragdoll cat, loved any attention from the kids. He adored being decked out in baby clothes and driven around in doll strollers. My kids would dance with Mac and he LOVED it.
MacIntosh tolerated EVERYTHING. It was just his sweet nature. He just wanted all the love and attention he could get, even if it meant being dressed up in Teenage Mutant Ninja Turtle clothing and pulled around in a little wagon. It was all worth it for the love and attention he craved!
However, I suspect though not all Ragdolls would love this. My female liked being dressed up, but she was not quite as fond of being driven around. She preferred to make the decisions, not to have the 4-year old make them for her! Her tolerance level was definitely lower than MacIntosh's.
You will learn your cat's tolerances over time. If you have a kitten, these tolerances may change with age. Gently tell your kids if they need to give your cat space. It helps to give your Ragdoll a cat tree. These spaces naturally create "safe spaces" for your cats that make them feel comfortable even in very active or social environments.
In Conclusion
The overall success of mixing cats and kids relies heavily on YOU as the pet owner. What you allow, your time available, your child-rearing philosophies, your pet-rearing philosophies etc.
There are no guarantees, but with Ragdolls, if the situation is handled correctly, the odds are in your favour that your children and your Ragdoll cats will live together in harmony.
More Articles