This post may contain affiliate links. You can read the full disclosure policy, which is pretty dull, but
here it is.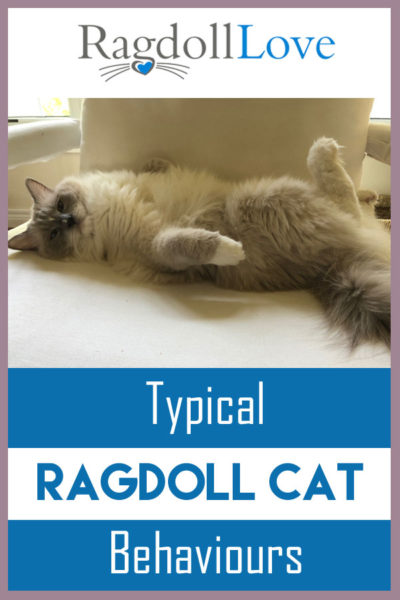 Knowing typical Ragdoll cat behaviour is important to owners of this breed and especially to anyone considering becoming a Ragdoll parent.
Here are some of the typical behaviours of the Ragdoll breed, to help owners and potential owners better relate to and understand their Raggies:
Typical Ragdoll Cat Behaviours
They Often Lie in Highly Undignified Poses
Ragdolls are known for lying in some of the most undignified positions.
For example, they will often lie in the most unladylike poses (or ungentlemanly poses for the boy cats) on their back, back legs wide open, front paws open and limp. This is a pretty typical Ragdoll pose. Being a long-haired cat, they will sometimes strike this super chilled out pose to cool off their jets. But most often, it is just a pose that is a result of their laissez faire, laid-back, relaxed attitude.
Carried Around Like a Baby
Most cats do not much like being carried or picked up, but the Ragdoll cat loves being carried.
They tend to go limp and totally relax and go floppy like a ragdoll, as their name implies. They are great cuddle bugs.
A few of my Ragdolls really loved being draped over my shoulder while I went about house chores and cleaning.
Related > Why Are They Called Ragdoll Cats?
It's not unusual for this breed to follow throughout the day in your home, whether you like it or not!
Ragdolls are very interested in what their people are doing and long to be with them always, much like the behaviour of a dog. Ragdoll cats REALLY dig their people.
This breed is not as independent as the average domestic cat. They are much more needy and require more attention than most other cat breeds.
Related > 10 Reasons I Fell in Love with the Ragdoll Breed
I personally find that Ragdolls play hard. When my boys get wound up and are slapping a toy across the room, they really give it all they've got!
And considering the size and weight of a Ragdoll cat, that's a lot!
They're big cats, with a good bone structure, so when you've got a few of them playing hockey in the middle of the night, NO ONE sleeps through THAT hockey game!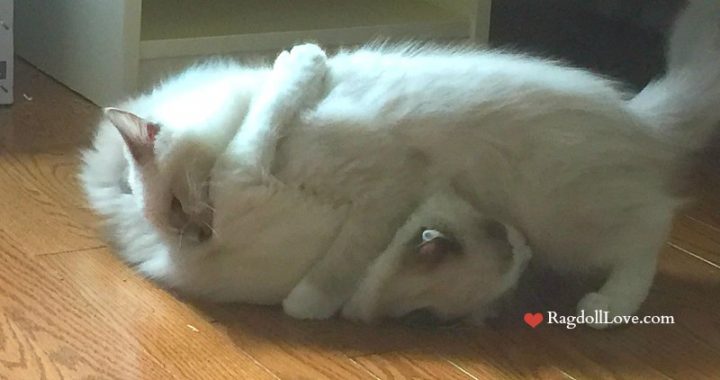 Fascinated By Running Water
Don't be surprised to see your Raggie is attracted to the tiny drip out of a household faucet.
Mine are quite fascinated whenever anyone runs the shower. ZeeZee will stand outside the shower and try to get in by scratching on the glass door and attempting to slide the door with his paw.
My boys love to play fetch. Doesn't really matter what I throw for them, they're really into a good game of fetch, just like a dog!
I can throw a small stick, a dixie cup or a ball of paper and they are ready for some action!
Related > Is a Ragdoll Cat Right For You? 5 Things You Need to Know About the Ragdoll Breed
Many say that this breed aren't particularly good hunters, due to their gentle personality. Well for the most part I believe that is true.
However, Bailey, my Seal Mitted female Ragdoll, took off like a rocket from my daughter's knee on our back deck one day, when she spotted a pigeon on the lawn. Bailey nailed that pigeon in a flash! She grabbed it in her teeth by it's neck and used her paws to hold it to the ground. Then she looks over at us staring at her from the deck as if to say, "Well NOW what?"
Instinct told her to nail that bird, but then as a domestic purebred spoiled cat, she didn't know what to do with it!
As a rule though, Ragdolls don't have the hunting instinct nor the attitude to protect themselves outside, unsupervised as wanderers, so truly they are indoor cats.
Ragdolls are smart cats. For example, they can be trained to fetch without much effort.
My ZeeZee can easily open sliding closet and hall doors without any effort whatsoever. When I play laser light tag with my boys, they will chase the laser light, but they will periodically stop and stare at the light in my hand. They know that it's me making the laser bug run on the floor!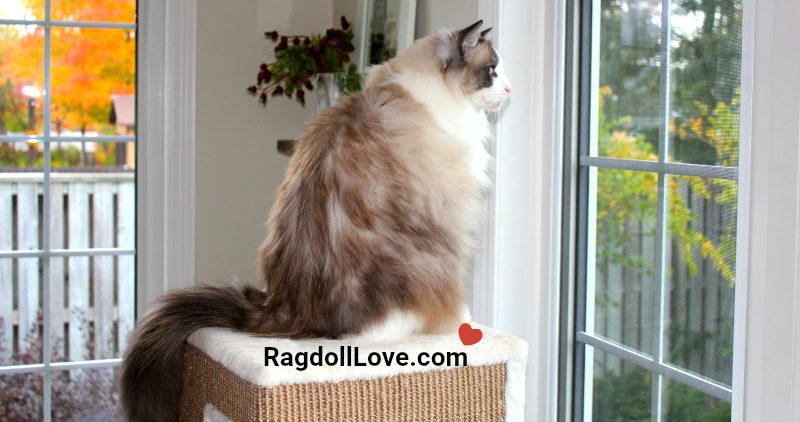 Generally speaking, they do have a gentle, sweet way about them.
They seem to know when they play with each other or with their people, that using their claws isn't necessary.
My domestic short hair cat will play but he almost always has those sharp claws extended, especially when the game gets heated up!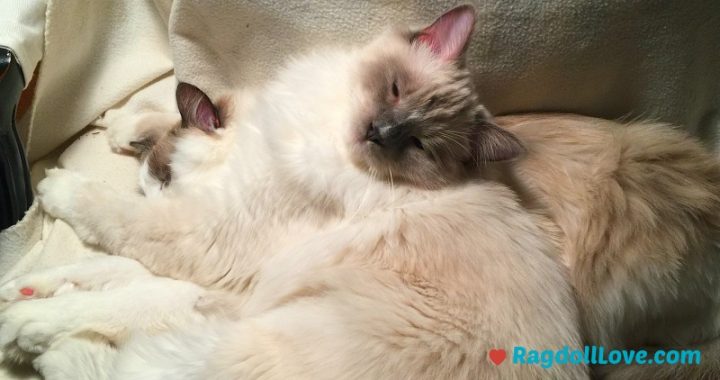 Related > Checklist of Questions For Your Ragdoll Cat Breeder
Ragdolls Aren't Made From Factory Molds
Yes the above behaviours are typical of the Ragdoll breed.
But that certainly doesn't mean that EVERY Raggie will possess all of the behaviours or any of them for that matter. Genetics, upbringing, varying circumstances and the individuality of each cat will determine their behaviours and nature.
However, the majority of Raggies, do possess that wonderful, much sought after gentle, friendly disposition and behaviours, that make them a joy to share your life with.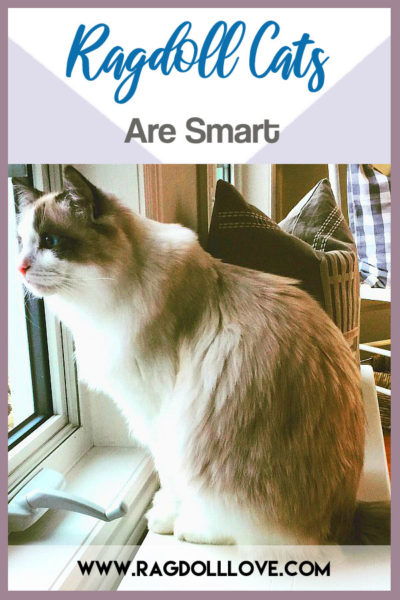 Will You Still Love Your Ragdoll Cat If He's NOT a Floppy Cat?