This post may contain affiliate links. You can read the full disclosure policy, which is pretty dull, but
here it is.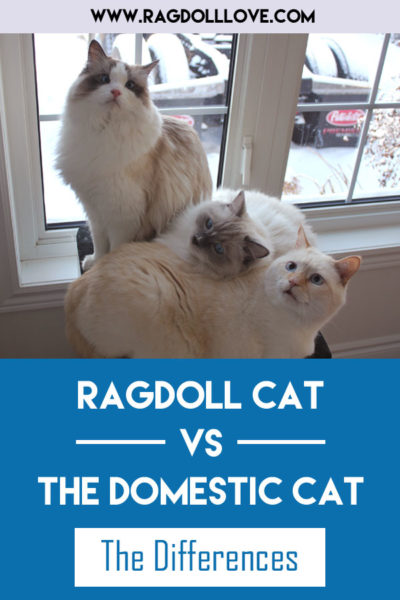 There are some distinct differences when comparing the Ragdoll cat and the domestic cat.
I've owned many domestic rescue cats over the years and purebred Ragdoll cats.  There are many similarities between the average domestic cat and Ragdolls.
However, there are some distinct differences I've come to notice about the Ragdoll breed.
Ragdoll Cat Vs The Domestic Cat – How They Differ (Other Than Appearance)
These traits and habits of the Ragdoll are common but do remember that not EVERY Raggie will have these traits.
They are not manufactured in a factory, they are cats!
However, these characteristics are generally quite common with this breed.
But nothing is written in stone! They will be what they will be!
Related >Introducing Your Ragdoll Kitten to Established Boss Cats in the Household
They are Larger Than the Average Domestic Cat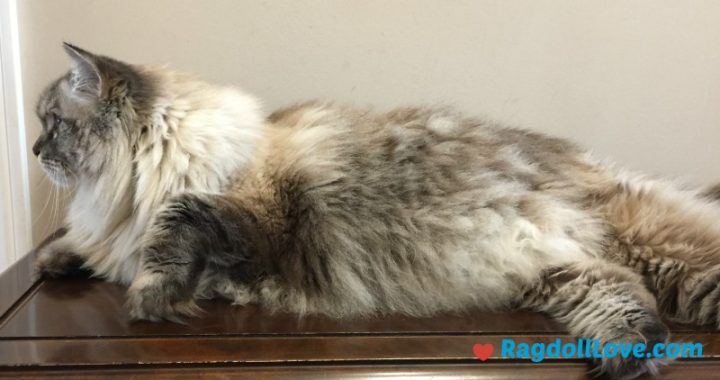 The Ragdoll breed is known to be one of the largest breeds of cats.
The average cat weighs in or around 8-10 lb, while a Ragdoll cat can weigh in on the average from 12 lb up to about 20 lb, depending on the bone structure, diet, activity level  and several other factors.
Males are typically heavier and bigger than the females. Along with the 'fluff' factor, this long haired cat definitely has the appearance of a big cat!
Related > What You Need to Know About Ragdoll Cat Weight 
Ragdoll Cats Are Like Dogs
A Raggie's behaviour is often more similar to a dog's behaviour, than that of the average domestic cat.
Will play fetch
Follow their owner around
Quite personable, forming strong attachments with the owner
Loyal
Related > Ragdoll Cat Characteristics – 10 Reasons I Fell in Love with the Ragdoll Breed
Ragdolls Present a Limp, Laid-Back Attitude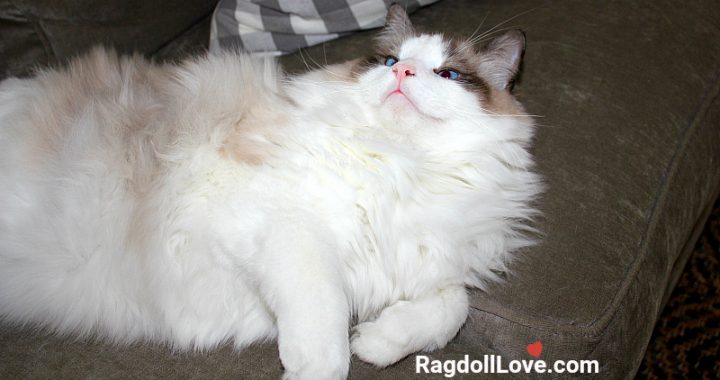 They are typically a lovable, huggable and sometimes docile natured cat.
It's not unusual to for them to strike some pretty relaxed postures when chilling out and napping!
Lying on their back, with legs wide open is a very typical pose for this breed! Or sit in a chair much the same way a human sits, just relaxing and enjoying life.
They are known to 'hang' and go limp when picked up too, as their name implies.
Related > Ragdoll Cat Facts – 12 Things You Probably Didn't Know About Ragdolls
Raggies Are Known Not To Express Pain
Ragdolls don't display pain or discomfort, nor are they vocal about their pain, as much as the domestic cat.
Typically, most cats hide their pain by instinct. Pain and disability in the wild makes the cat vulnerable and a target for their enemies, so they hide their health issues pretty well.
Some say the Ragdoll doesn't feel pain like most cats. I don't agree that this is the case.
By nature they are a cat, so of course they feel pain, but I believe the Ragdoll is better at coping with pain better than most cats.
Ragdoll Cats Are Really Into Their People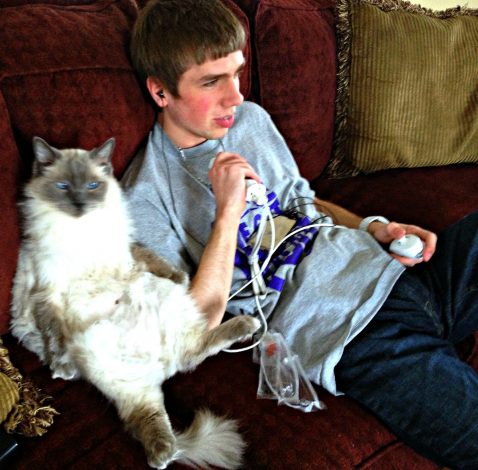 This is the biggest difference between the average domestic cat and a Ragdoll cat: Ragdoll cats are REALLY into their people.
One of the things people say who don't like cats is that they don't like the fact that cats are independent and aloof and don't care much about their owners. The cat does his own thing and that's that.
NOTE: You can bet the farm that when someone has the nerve to tell me they don't like cats, they get quite an 'earful' in return!!!
Ragdolls are not typically aloof. They are much more dependent than the average kitty, which can be a good thing if that's what you are looking for.
They are very loving cats which adore being held, cuddled and patted and interact with their people. Raggies love to be in your face as they crave attention!
All of my Ragdolls have shown a great interest in every single thing I do. They follow me EVERYWHERE in the house and are quite vocal especially when they are unable to see me if there's a closed door between us!
Don't Get Me Wrong, Domestic Rescue Cats Rock!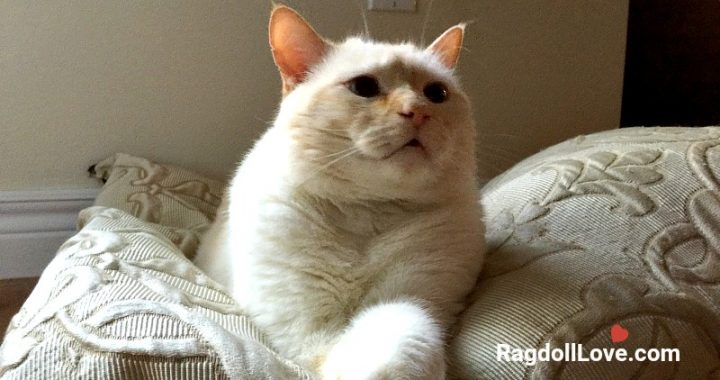 Bottom line? All cats are great cats in my opinion.
Given the opportunity to feel safe, secure and have food in their bellies, will often bring out the best in even the wildest of feral cats.
Don't get me wrong. I completely adore the domestic house cat.
I've owned dozens and dozens of them in my life.
I presently have a domestic short hair cat, Jack, who is non-officially a brother to my Ragdoll cats. They get along famously and adore one another.
However, the Ragdoll cat possesses traits and characteristics which are more specific to a companion cat.
The Perfect Companion Cat
If you are looking for a companion cat, a Ragdoll cat is the perfect choice.  They are a great match for the discriminating cat owner looking for a breed of cat that thrives on being part of the family!
They are big and cuddly cats with huge personalities.
If this sounds like your kind of cat and you decide to adopt a Ragdoll cat, I can promise you, you will NOT be disappointed.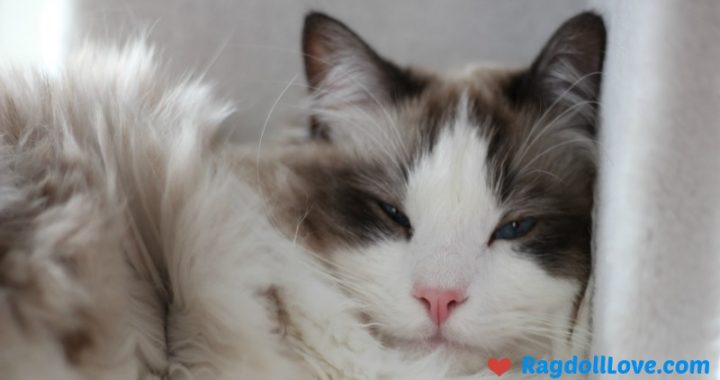 More Related Articles
Getting to Know Your Ragdoll Cat | Home