This post may contain affiliate links. You can read the full disclosure policy, which is pretty dull, but
here it is.
Compared to exotic pets, reptiles, birds, and the like, owning a cat is relatively easy and low cost. But don't be mistaken! The cost of owning a cat goes well beyond the initial purchase price – especially if you want to give them the proper care they deserve.
Initial costs are even higher when you purchase a purebred cat. Ragdolls are low-maintenance compared to some cat breeds but you should be prepared for on-going costs.
Before buying your Ragdoll kitten, get an idea of whether or not you can afford a cat for the long-term.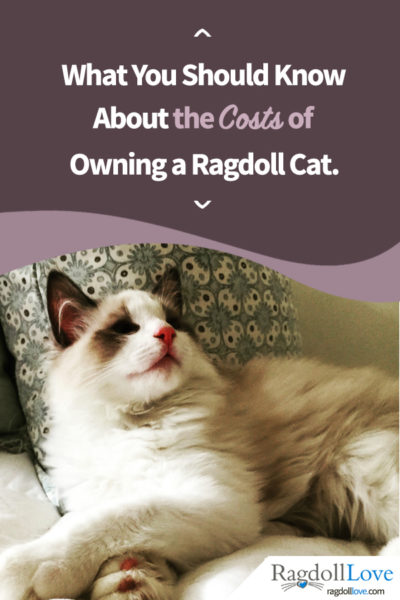 Purr-chase Prices – How Much Do Ragdolls Cost?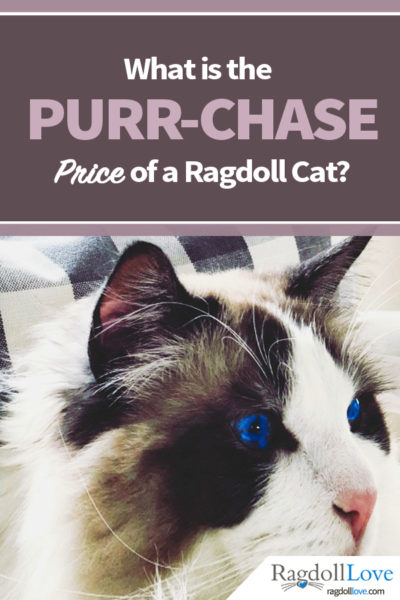 Initial Costs for Your Ragdoll Cat
The initial cost of owning a Ragdoll starts at the breeder.
Depending on the style and location of your breeder, you can expect the cost to vary from a few hundred dollars to thousands of dollars.
Before purchasing your cat, research your breeder and find out if the higher cost is worth it. Some breeders may not be as reputable as others and often a "better deal" may come with potential health issues.
On the other hand, a higher ticket price doesn't necessarily mean a healthier or better quality kitten.
Don't be afraid to ask your breeder detailed questions but also don't be surprised if some are very offended by your "prying".
A big influence in pricing is if your kitten is considered show quality. Most Ragdolls are beautiful but ones with desirable features and pedigree will cost extra.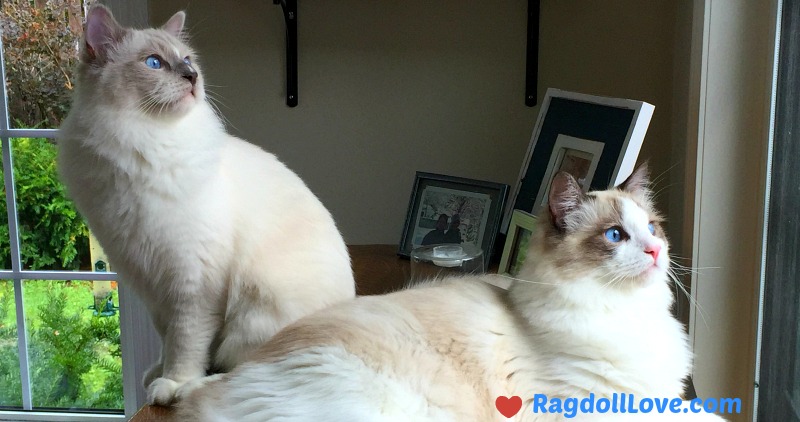 Duffy, my blue mitted with blaze Ragdoll cat (left in photo) cost $1808 CDN (including taxes) in May of 2017.
He is considered show-quality (perfect markings), so the cost was slightly more than his half-brother.
He was also not neutered which can increase cost. Duffy came with a bit of a discount since I bought 2 cats from the breeder.
(Note: I did NOT choose Duffy because he was show quality. I lucked out on this little guy as someone else had cancelled their order for him AND he was half brother to ZeeZee.:))
ZeeZee, my seal bicolour Ragdoll cat (right in photo), cost $1695 CDN (including taxes) in May of 2017.
He was neutered and microchipped and is a pet quality cat.
My boys are of good breeding and come with health guarantees for 2 years.
I spoke extensively with the breeder before choosing to buy my boys from her.
I felt confident that it was a good choice and they were worth every penny.
Related >Bringing a Ragdoll Kitten Home – Practical Tips
Travel Costs
There isn't a breeder in every city and chances are high you'll have to travel to pick up your cat. If your breeder is a long distance from you then you should include the cost of gas, meals and possibly a hotel in your estimate.
I drove 18 hours round trip, to pick up my kittens. I stayed the night in a hotel and had eaten out 3 times before the trip was done.
The alternative to this is having your cat shipped to you by air freight. Depending on distance, this can be a more affordable option. (Note: I do not support shipping kittens in this manner, but many people do it).
However, you should expect to spend several hundred dollars at a minimum. Airlines require specific shipping containers be used for live animals that include water and food bowls. Of course, you will be required to purchase these accessories unless your breeder is kind enough to do so.
Related >Bringing Home Your Ragdoll – Travel Tips and Care
Veterinary Costs for Your Cat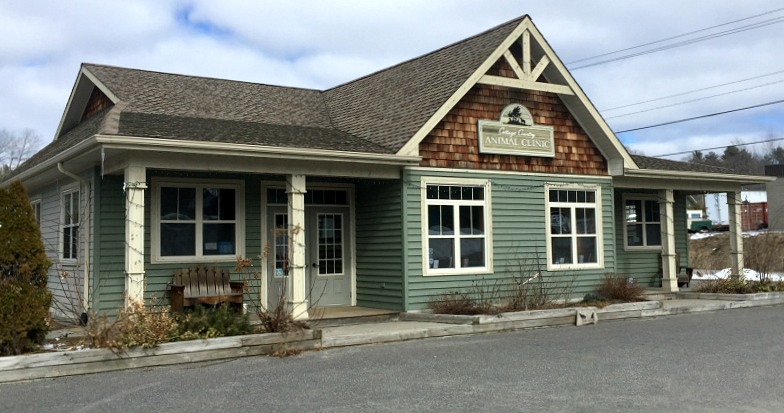 As with any purebred breed, there are costs beyond the ticket price. Even a perfectly healthy cat will accrue a litany of veterinary expenses throughout their lifetime. Here are a few to consider.
Wellness checks. There are regular wellness checks, at least annually. I take mine two times per year for mini checks and blood work, just to keep tabs on what's going on with them.
Dental cleanings. Unfortunately, cats are very prone to dental issues including resorption and tooth decay. These usually result in a need for surgery.
My last experience with a dental cleaning involved the surgical removal of a few teeth for Jack. It totalled to $2006.96 in June 2017. (He underwent a 2nd surgery as stitches on one tooth came loose). Not to mention that the dental solutions to add to their drinking water $80 for the container!
This is quite a hefty price tag for dental work but is not that uncommon. It should absolutely be something you plan for later in your cat's life. Some cats experience dental issues as early as 4 years old.
This is one of the most expensive not life-threatening expenses you should expect with your cat. My advice is to start saving now.
Just an FYI – I have found pet insurance plans to be sticky when it comes to covering dental issues.
If the vet looks at your cat's teeth and says 'Your cat has some plaque", your cat could be excluded from the dental coverage, until:
He undergoes anesthetic and a cleaning
The cat goes one full year with a perfect teeth checkup from the vet
So all added up, there is the cost of the initial visit to check teeth, possibly a cleaning and polishing for your cat, and another vet visit to confirm no dental issues
This could add up to a lot of money to get dental coverage added to your plan. AND, if the cat has any less than perfect dental issues in future, you're back to square one without dental coverage for your cat.
Routine testing. Parasite testing, FIV, FeLV testing can cost more than $141.00 per visit depending on your vet. I have my cats tested and then treated if necessary, so there's an added cost for that.
Emergency veterinary care. Unexpected vet visits for illnesses, emergencies, and accidents – These visits can be over-the-top pricey especially if you have to visit an emergency vet instead of your usual vet. Blood tests, procedures, overnight stays, medicines, surgery and more can add up to a huge amount in a short time. These costs are completely unpredictable but having insurance or a savings account dedicated to these costs is highly recommended.
Related > How to Choose a Vet For Your Ragdoll Cat
Pet insurance. Some pet owners have good experiences with pet insurance. Others not so much. If you do find a reputable company with a plan to service your cat's needs, it is a good reassurance. Be sure to budget for the premiums which may increase as your kitty ages.
Related > Pet Insurance For My Ragdoll Cat – Is It Worth It?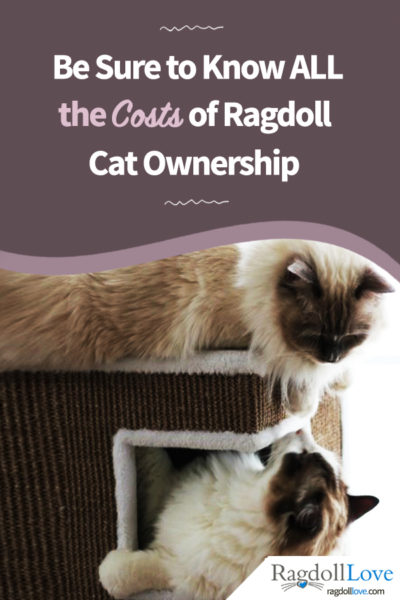 Necessities & Accessories for Your Cat
If you're like me, you like to spoil your cats and if your cats are anything like mine they get bored quickly.
Toys need to be cycled through.

Cat furniture gets destroyed.

Your cat can never have enough beds.

Climbers and condos are never built sturdy enough.

Blankets, scratchers, cat carriers, harnesses, leashes, special feeding bowls, litter boxes, kitty litter, water fountains, and so much more.
Spending in this category is really up to you. When you factor in the lifetime of your cat, you can expect to at least spend several hundred dollars at a minimum.
Food. You can spend a little or a lot here but it is a monthly expense.
Depending on your philosophy about food, you can spend as little as $20/month to hundreds each month.

Food costs can vary significantly. If your cat develops an illness like diabetes or kidney stones then they will most likely need to be put on a special diet that can be expensive.

I'm a big believer in putting forth the absolute best effort possible in choosing a species appropriate diet for your cat. This alone, in the long run, will reduce vet costs.
Litter. Litter boxes aren't a recurring expense but kitty litter definitely is. Kitty litter cost can vary depending on if you use clay, paper, pine, corn, or wheat.
If you want to skip the litter, they now make litter boxes that you never have to scoop. They cost a few hundred dollars and require a hook-up. Sounds nice, doesn't it?
Cat sitter. If you travel, you may need to pay someone to come into your home to care for your babies, or the costs of boarding them out can be quite costly.
Wrecked furniture. Prepare yourself for this one. Some cats never touch a thing. Some will never leave your furniture be. A fact of life as a cat owner.
Lint Brush Rollers . If you've ever owned a long haired cat, you'll understand this one. If you are going to be a Ragdoll owner, be prepared to invest in a truck load of lint roller brushes! I keep one hanging in the mudroom for quick brush ups before leaving the house.
Keep in mind, all of the above costs are for ONE kitten. If you have decided or are thinking about taking the plunge and getting two Ragdoll kittens, take all of the above and MULTIPLY BY 2!!
The True Cost of Owning a Cat
I have known so many people who are completely startled at the costs and expenses involved in cat ownership. The figures quoted above will apply to ANY cat. The initial costs of a purebred cat such as a Ragdoll, would be over and above the initial cost of a rescue kitty from a shelter.
But do keep in mind, that kitty you bring home from the shelter has an unknown health history. Cat owners need to be fully aware of what they 'may be getting into'. The health care bills for some illnesses and diseases can be crazy expensive. Not saying you won't run into this with a purebred, however the chances are less likely, IF you've purchased your Ragdoll (or any purebred) from a reputable breeder.
If you are entertaining adopting a Ragdoll kitten, be absolutely sure you are prepared for the costs involved with owning a Ragdoll. This includes not only the initial price of a purebred kitten but also their long term care.
If you've taken the time to select the best kittens available to you, you should also provide them with the absolute best life you can. They depend on you and they deserve a healthy life.
Your Furry Investment
What I'm really saying is, the purchase of a Ragdoll cat is an investment.
They'll pay you back in big dividends, with love, purrs, and affection, if they are cared for well and their needs are fulfilled.
Trust me. They are SO worth every penny.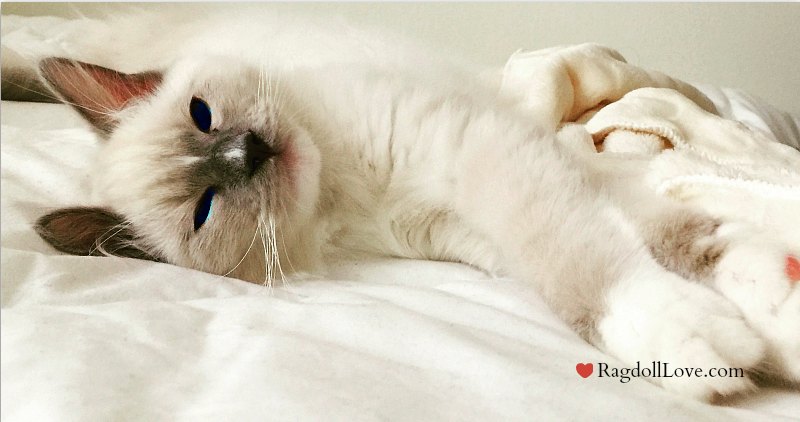 More Articles You May Like