This post may contain affiliate links. You can read the full disclosure policy, which is pretty dull, but
here it is.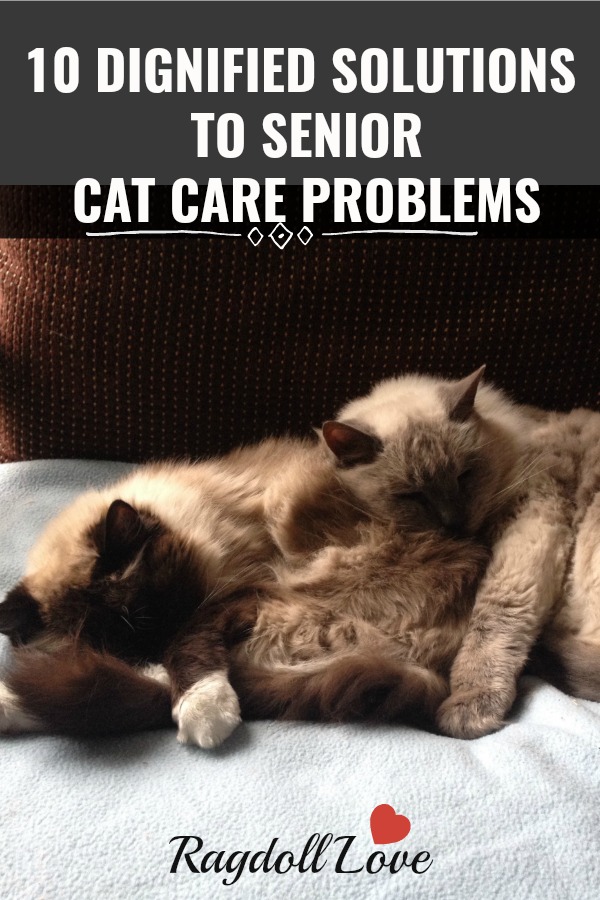 Senior cat care for your beloved aging cat, means making some adjustments and helping him out as his behaviour and capabilities change.
As pet owners, it is up to us to help our older cats adapt to these changes.
The goal here is to make adjustments to help your kitty preserve his/her dignity as they age and assist them in aging gracefully.
Here are 10 common issues experienced by older cats and some easy solutions.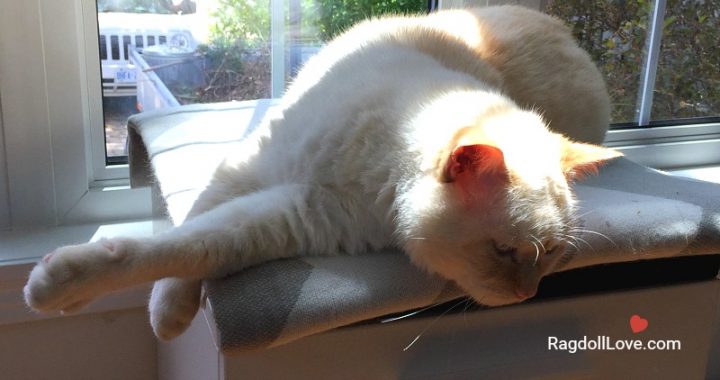 1. Litter Box Aim Not What It Used To Be.
An older cat's aim often isn't on target in the litter box department.
The water hose gets aimed too high and the missiles are often launched outside the actual litter box.
And sometimes, that box is just too darned far away for your senior kitty, so they do their business where it's convenient for them.
Solution
Be sure the box has an 'easy to enter' (low entrance) for your old guy. Stepping up high or needing to hop into the litter box, may take more effort for them. Some older kitties can be arthritic and don't want to or can't jump or step high, to get into their box.
For the high shooters, be sure to have a box with nice high walls so the spray doesn't overshoot the box onto your floor or furniture, but instead hits the walls of the litter box.
Place more litter boxes around your home to give your cat more options close to their hanging out spots.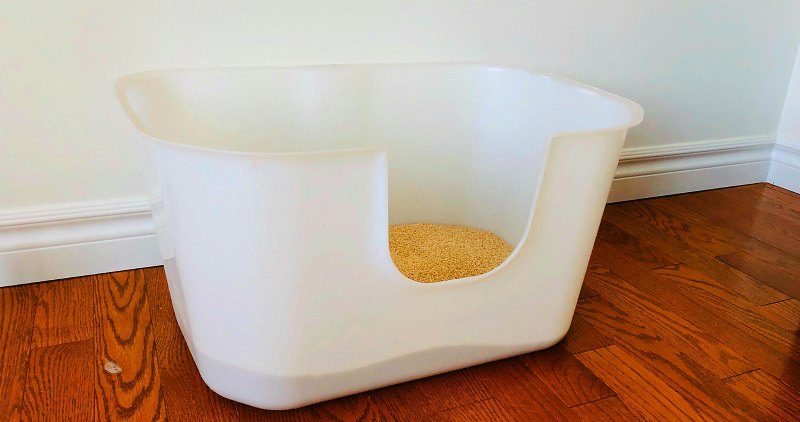 OR
Find a litter box with super high sides at your local pet store
OR
A DO-IT-YOURSELF homemade Litter Box, made from a plastic bin you can pick up at your local dollar store. I've used them and they work just great.
Just cut an 'entrance' for the kitty so they can easily get in the box.
2. Older Cats Move More Slowly.
You may see your cat moving around at a slower pace. You may see their knees quiver when lying down.
Solution
Offer comfy, sleeping spots on the floor, rather than on furniture or where your guy needs to jump up. Walk on and walk off spots are just as attractive to a cat, if they are nicely set up. Some old comforters on the floor, in some select quiet spots around your home, wrapped in a favourite blanket of theirs.
Offer your kitty more places to chill out, so they don't have to walk too far.
Have a stool handy to their favourite sleeping spot so they can access their nest more easily.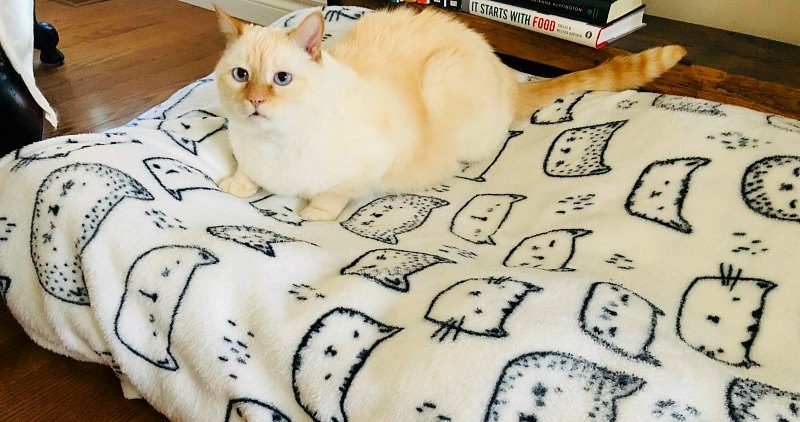 3. Cat Looks Uncomfortable When Attempting to Lie Down.
You may notice your older cat circle more often before lying down. His knees and joints may be hurting and he knows it will hurt when he tries to lie down.
Solution
An electric heating pad with moist heat is a great thing to place on your cat's bed. They are drawn to the warmth from it and the moist heat will nicely help ease the inflammation of sore and aching joints and muscles.
I use an electric heating pad, set on low for my senior cats, for one hour. Even after the pad automatically shut off, the heat lingers for many hours after, enough that the cats would still get benefit from it.
There are heating pads especially for pets, which also work nicely too.
(Or you can use a microwaved heat bag, gently heated and tucked under blankets on your cats sleeping blanket.)
Sunbeam Heating Pad for Pain Relief | Standard Size UltraHeat, 3 Heat Settings with Auto-Shutoff | Light Blue, 12-Inch x 15-Inch
FurHaven Pet Heating Pad | ThermaNAP Faux Fur Self-Warming Cat Bed, Black
furrybaby Premium Fluffy Fleece Dog Blanket, Soft and Warm Pet Throw for Dogs & Cats (Small 24×32", Grey)
4. Even More Hairballs, Upchucks and Stomach Upsets.
You may find more than usual hairballs, throw ups and stomach gurgling, as your cat grows older.
Their digestion may need some extra assistance.
Solution
I like to add digestive enzymes to my guys' meals. It eases the load on their digestive system and makes their food easier to digest, as digesting takes a lot of energy.
Enzymes do some of the heavy lifting in the digestion department for your senior kitty.
This is the digestive enzyme I use for my cats. Recommended by my vet.
Rx Vitamins for Pets Rx Zyme for Dogs & Cats – Help Gastrointestinal Discomfort – Add to Food – 120g Powder
5. Older Cats Get Stressed Out More Easily.
Cats as a rule don't enjoy stress at any time, but it's a particularly good rule to keep the stress level of your older kitties as low as possible.
Solutions
Arrange their sleeping spots where they won't be disturbed by other pets, excess noise or high traffic areas of the home.
Don't let your kids be rough with them. If the cats have physical issues such as arthritis, you may wish to set a rule that young children not pick up the cat.
If you're lucky enough to have a 'mobile vet', this will greatly reduce stressful vet visits. My local vet has a mobile service and I love it!
A pheromone spray, such as Feliway, is my go-to product to use on bedding or as needed in stressful times. Spray a little on the blanket first and let the spray settle for a minute or so.
Calm Cat is also great. It's kind of like a custom cat stereo! I play this music for my young cats and senior cat. A little Feliway spray on their blankets and CalmCat music for any road trips, and they all just stretch out, chill and enjoy.
iCalmCat 5.0 Portable Speaker + 3-hrs Clinically-Tested Calming Music | Through a Cat's Ear is Your Proven Feline Anxiety Solution
Feliway Spray 60 ml Cat Feline Stress Behavior Relief Urine Spraying Scratching
6. Senior Cats May Tend To Carry Extra Weight.
No cat is healthy when overweight, but an older cat can be especially vulnerable to health problems if they are too heavy.
Solution
Since older dudes are typically less active (although not always), fewer calories and smaller meals are in order. Cut back the volume of food very, very gradually. Check with your vet for your cat's ideal weight. They can also recommend the ideal number of calories your cat needs to suit his age and activity level.
Related Article > What You Need to Know About Ragdoll Cat Weight
7. Matted Fur and Dingle Balls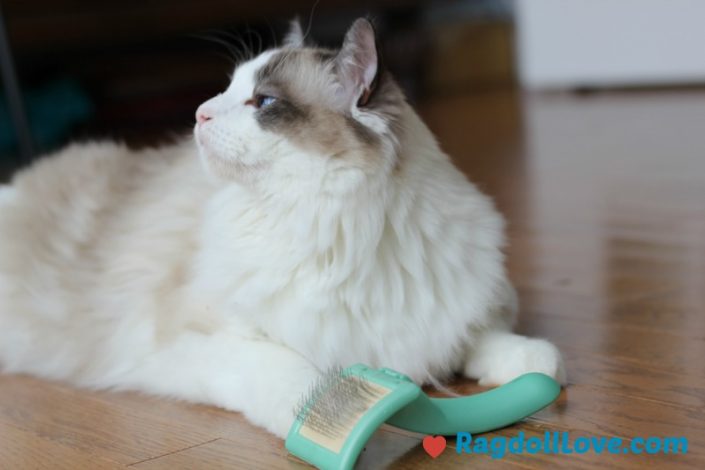 You may notice more occurrences of matted cat fur and dangling butt doo- doo's on your cat. So you may find your cat sometimes need help with grooming.
Common places to find mats on a kitty are the armpits, the belly, his lower unit and butt.
A simple matt remover tool can be very helpful and easy to use, along with a slicker brush.
Hertzko Mat Remover Suitable for Dogs and Cats – Great Tool for Removing Tangles, Mats, Knotted or Dead Hair

Hertzko Self Cleaning Slicker Brush – Gently Removes Loose Undercoat, Mats and Tangled Hair – Your Dog or Cat Will Love Being Brushed with The Grooming Brush

Solutions
Help him out by helping him take care of the mats and knots.
Related Article > Tips & Hacks For Dealing With Matted Cat Fur
8. Difficulty Being a Cat
If your cat was a jumper, a climber and a go-getter in his younger years, he'll be feeling a little depressed about not being able to access his favourite go to spots.
Solution
I like to place small stools and ramps near Jack's fav spots around the house, to make his life easier.
Here I've strategically placed a small step stool beside the cat tower, where he gets a bit of a boost to the second level, which is his fav spot in the tower.
9. Various Health Issues.
It's wise to keep on top of your cat's health in his senior years.
Solution
Consult your vet, conventional or holistic vet, regarding your cat's diet, food type, teeth condition more frequently than when he was younger. Have more frequent wellness checks and blood work for your old furry friend.
Chances are, he won't enjoy the vet visits or blood draws, but these things could catch an illness early before it becomes serious.
Related > Why You May Wish to Consider Holistic Vet Care For Your Cat
10. Your Senior Cat Seems Senile Some Days
You may notice that your older cat does strange things some times. Kind of like us some days.
Solutions
Continue to give him loads of love and understanding: what you normally dish out to him and then some.
Think of How Your Older Cat Feels
Your cat doesn't know he is aging. He only knows he struggles more to do what was once easy for him and his body doesn't perform the way it once did.
Making his life easier allows him to age gracefully and remain dignified in his golden years.
Sometimes some simple adjustments for your kitty can make a huge difference to his comfort level.