This post may contain affiliate links. You can read the full disclosure policy, which is pretty dull, but
here it is.
I've mentioned in previous articles about the importance of a safe space for your Ragdoll kitten. It is by far one of the most effective methods in aiding the transition for your baby into their new home environment.
A safe space is important whether your new kitten will be a solitary pet or will be meeting other animals. It is easy to create and gives your Ragdoll a happy place to relax in.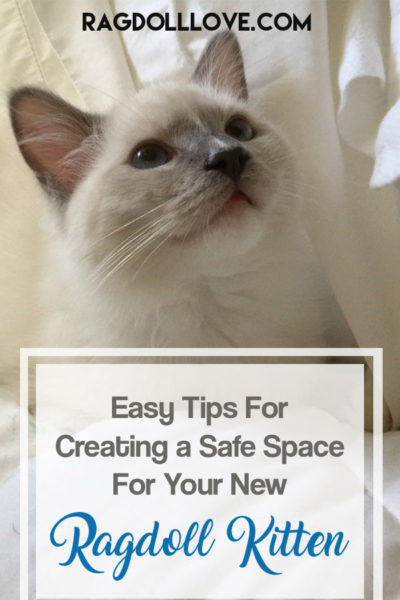 Why Create A Cat Safe Space?
A cat safe space is a key component of transitioning your Ragdoll kitten into her new home. The space is a controlled area that includes everything they need without any of the scary smells, sounds, traffic or distractions that can stress your kitten out.
You can use this area throughout your Ragdoll's life.
I use my safe room when one of my cats needs isolation from the household, such as after dental surgery for a quiet recovery space.
You're helping to create your kitten's happy place!
Creating a Safe Space for Your Ragdoll Kitten
Make your safe space big enough.
You don't want the room too cramped. This is a kitten after all and play will happen whether you're with them or not. A spare bedroom is ideal but a spare bathroom or large pantry will also work.
The safe space is temporary so moving some furniture and junk from a spare room can be a good idea to open up the area.
Kitten-proof the room.
This means no plants, strings, electrical cords, glass, chemicals, sharp or flammable objects. Be certain you use a room that has a secure door. Kittens are smarter than you think! Some will find a way to push open the door if it is not closed well enough.
Reduce distractions.
The ideal safe room for your Ragdoll kitten will be far away from the majority of household noise, traffic, and scents.
A spare unused bedroom or your own bedroom are good choices. Make sure whatever room you use has minimal 'stuff'.
For example, avoid using a sewing or craft room. Not only will this room provide far too many hazards for your kitten, it will also give them too many things to be curious about.
This room also needs to have little traffic. It shouldn't be an area that people need to use all of the time.
This can stress the kitten and increase the chances of her escaping into the rest of the house.
Related > 10 Tips For Keeping Your Kitty Happy In Your Home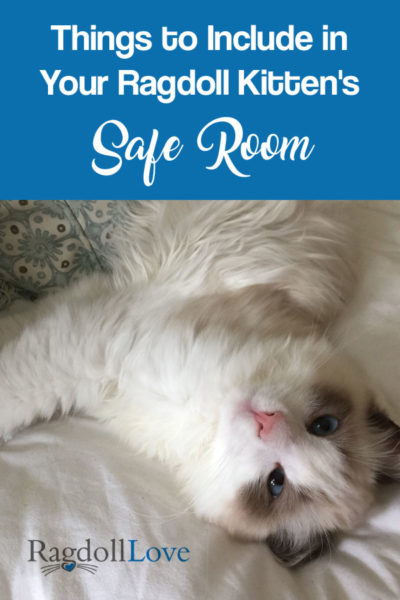 Necessities for Your Ragdoll Kitten's Safe Room
Litter box
Ideally, you should have one litter box per cat. If you have two kittens, either provide them with two litter boxes or be certain to clean it every day. A dirty litter box can lead to bathroom accidents. It's much easier to scoop litter than to clean up cat urine anywhere else!
Related > Establishing Routines For Your Ragdoll Cat
Food & Water
You should start your kitten with whatever food the breeder was giving them. Transition them to your preferred kibble over a week or two.
If you are using a simple water bowl then I recommend putting two in the room. Kittens can be a bit more clumsy than their parents and can definitely knock over their bowl.
Having a second one in the room will give them ample water just in case you're not home to provide them with a refill.
Scratcher
A scratcher is an absolute necessity for a happy cat.
Cats require scratchers to stretch and keep their claws healthy. Putting one in their initial safe space helps begin the process of learning which surfaces are okay to scratch on.
They will begin putting their scent on the scratcher and will hopefully prefer it over your furniture and curtains.
Bed
You don't need a fancy cat bed. Cat's love pillows and soft blankets. They especially love boxes!
Put a soft blanket in a box and voila, you've got their favourite sleeping spot.
Cat Carrier
I recommend keeping the carrier with them in the safe space, at least initially.
Put cozy blankets or a cat bed inside. For some cats, they will begin to associate the carrier with a snug, relaxing area and will be less stressed when they need to go on the occasional car ride.
This is no guarantee though. I left the carriers in the room with my kittens and they weren't the least bit interested, so after I few days I removed them.
Both of mine were not skittish or very nervous, so they didn't seem to have the need for the carrier, nor show any attachment to it.
They preferred hiding under my bed as their secure area.
Toys
This can be a challenge since you haven't learned what your new Ragdoll kitten likes yet.
I gave mine a few simple mouse toys and a small empty cardboard box. They played with these things for long stretches of time. I would sit with them and toss the mouse toys into the box, and they would fetch them from the box.
They would also put the mouse toys into the box themselves to create a game. Simple is usually best. One of my cat's favourite toys was nothing more than a balled up piece of paper.
No need to buy expensive toys at this stage.
Related > 5 Steps to Kitten Proofing Your Home For Your Ragdoll Kitten
Other Kitten Safe Space Tips
Schedule times to spend with the new babies in the room. These should be long stretches of interactive time. Play with them and show them that they are a part of your family.
Check on them often. Kittens are notoriously rambunctious. Even in an empty room, they somehow find a way to get into mischief.
Provide them with lots of toys. My kittens had each other for comfort. I think there were many benefits to adopting two kittens at the same time. They had someone to play with and find comfort in when I could not be there every moment.
Do not introduce other animals to your kitten in their safe space. Bring the kitten out of the safe space and introduce them to another cat or dog in a neutral area.
If you can, trade out both of your pet's bedding. This will introduce the scent of your pet to one another without any threat. Introducing two pets together is a delicate task and one you should do carefully! For now, my main tip is to avoid doing it near or in the safe space.
It's Definitely Worth It To Create a Safe Room For Your Cat
Your new Ragdoll kitten is a curious love bundle waiting to explore every inch of your home.
It can be tempting to let them wander when you first bring them home, because it may seem unnecessary to make a room up JUST for a cat!
However, creating this safe space for your Ragdoll can pay off in the long run.
Not only does it reduce the stress on your kitten by controlling their environment, it also gives them a place that they can feel secure and comforted in for future stressful events such as surgery.
A safe space keeps your new kitten safe and happy until they are ready to start exploring the rest of their new home.
More Articles
Return to Your Ragdoll Kitten Guide