This post may contain affiliate links. You can read the full disclosure policy, which is pretty dull, but
here it is.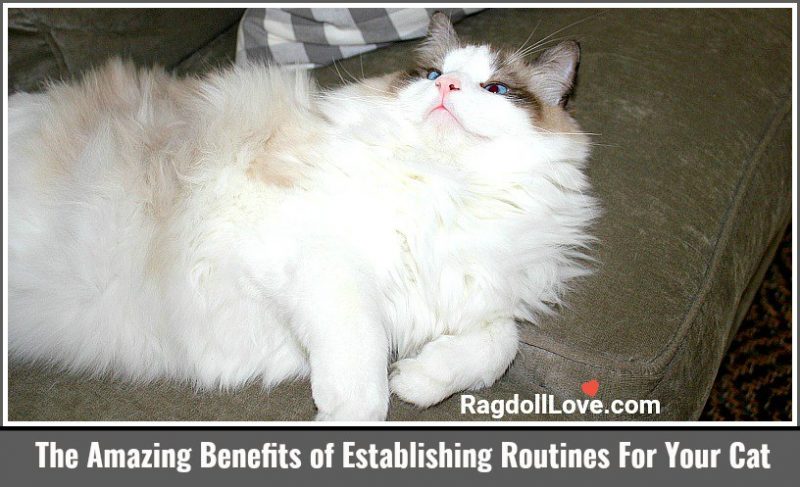 It's a good idea to establish routines for your cat.
If you've recently adopted a cat, are contemplating adopting a kitten or are a new kitten Mom or Dad, establishing a routine for your brood will pay off in the long run.
If you've purchased a purebred cat, there's a good chance you've just invested a large sum of money for your new baby(or babies).
It only makes sense to protect your interests/investment.
I presently have 2 Ragdoll cats. They love love routine. In fact, they anticipate nearly my every move and are usually one or two steps ahead of me at any given time.
The Huge Benefit of Establishing Wellness Routines For Your Cat
Establishing a routine for your cat will help ensure their needs are being met and makes for happy, healthier cats for the long haul. After all, that's what EVERY cat owner wants for their precious faithful, feline friend!
BE PROACTIVE FOR YOUR CAT'S HEALTH.
In our busy lives, we tend to forget about some things. Sometimes we even forget very important things.
Some of these things which we forget, we deeply regret especially when we discover one of our cats is stricken with a serious illness which could have been avoided, if only we had caught it sooner.
Establishing routines for your cat can help catch health issues sooner rather than later. And that's definitely a good thing.
Avoid the 'If only I had….. "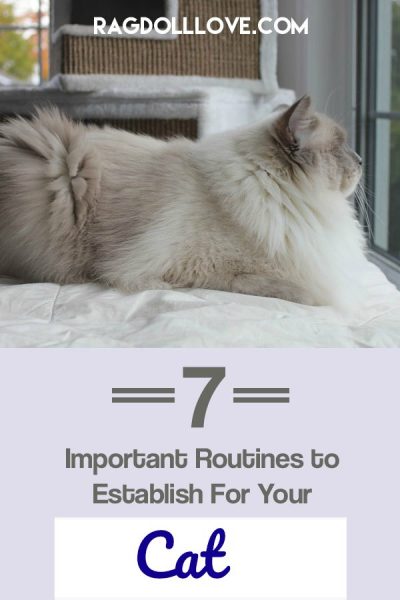 7 Important Routines to Establish For Your Cat
Feeding
Establish regular feeding times, 2 or 3X/day for adult cats and more often for kittens. They come to expect it and hopefully are less likely to be begging for more in between meals. Also, you are then less likely to forget to feed them if that's an issue.
They are more likely to eat their full meal when served if it's served regularly on a schedule.
Cleaning the Teeth
Establish a routine for teeth cleaning. Use a toothbrush and kitty designated toothpaste to clean their teeth, whether 1X/day or every other day. Or if you give them chicken necks or wings to keep the tartar buildup down on their teeth (mine get raw chicken necks daily)…more detail on this in another article.
Related > Want to Buy a Ragdoll? Know the True Cost of Owning a Cat
Trimming Nails
Hopefully you were able to start trimming the nails early in their life, so it's not such a circus act.
My 2 Ragdoll cats are super comatose when having their nails trimmed, as compared to Jack the rescue cat who goes postal when having his nails trimmed.
Keeping a routine, eg every 3 weeks to trim nails, keeps furniture damage to a minimum and kitties are comfortable and not so stressed with the process.
Grooming Your Cat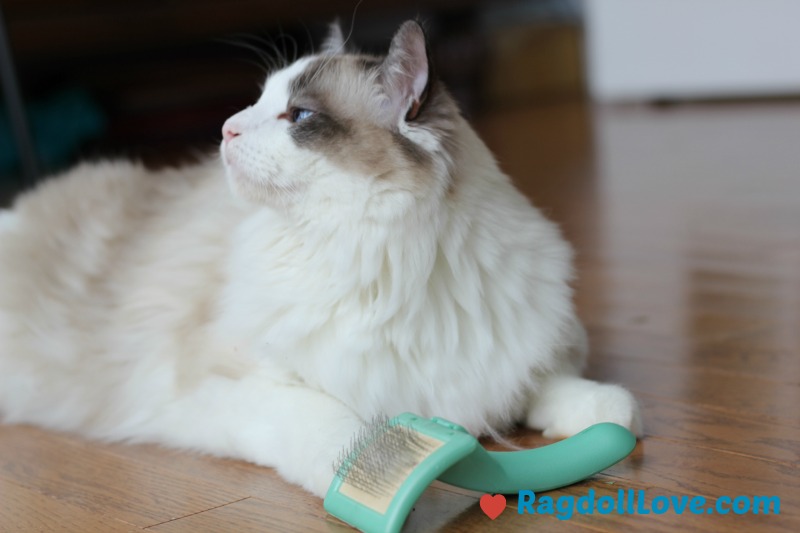 It's a good to brush their long silky coat as often as you're able. I grab the little slicker brush and give them a quick brush several times per week. The more the better, but do try to brush them regularly. Saves fur bunnies from rolling across the floor, fur coated furniture and hair balls being barfed up.
Related > What You Need to Know About Your Ragdoll's Coat
Sleep Time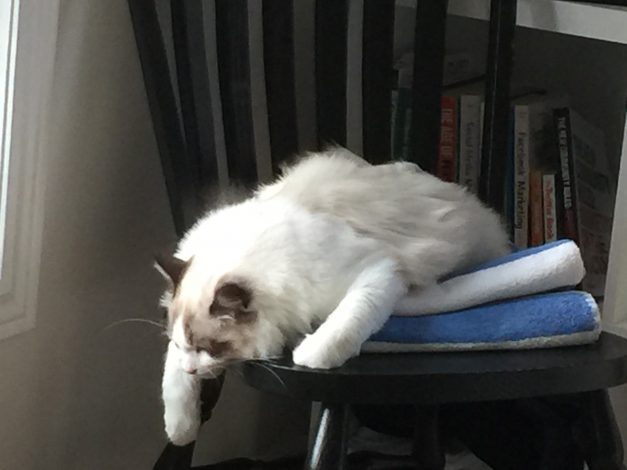 Although not at all necessary, I have an approximate time each night I round up my gang and prepare them for the night.
There's a lot of activity with family going out and coming in the evening, so my cats spend the night in a kitty tent, to keep them safe and from sneeking out the door on someone's heels! They are very aware that I round them up each night. They are not especially fond of being restrained for the night, so when it gets dark, they run away from me and attempt to hide.
However, once they are in the tent together, they chill and go right to sleep, so I think the chase at bedtime is just a game for them. They seem to enjoy the security of the tent for a night's sleep.
This is a routine that hopefully won't carry on much longer, when I can trust them not to try to sneak out the door, when maturity sets in. Some day. Maybe.
Exercise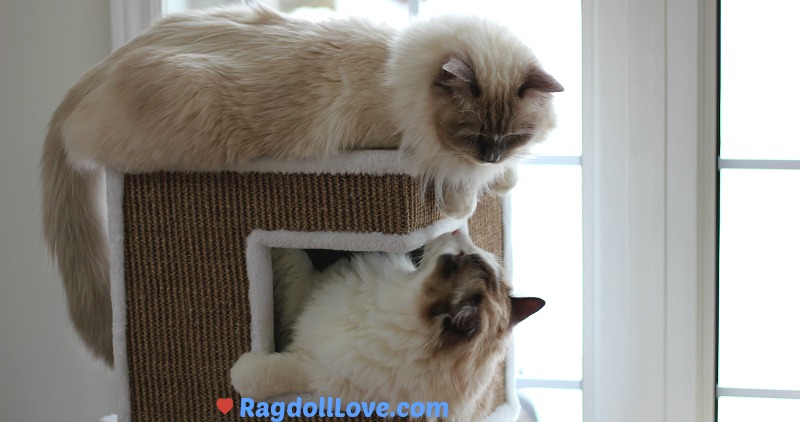 Providing a cat climber/tree is great as well as toys to play with.
Playing WITH your kitties ensures they are active especially with indoor kitties, who can get quite lazy.
Inactivity can lead to health issues, which cat owners should take seriously. They are a large breed which can be pretty laid back and in chill mode, which can lead to being overweight. Keep your cat at a good weight. Exercise will help combat the extra weight gain from being too kind to your cat.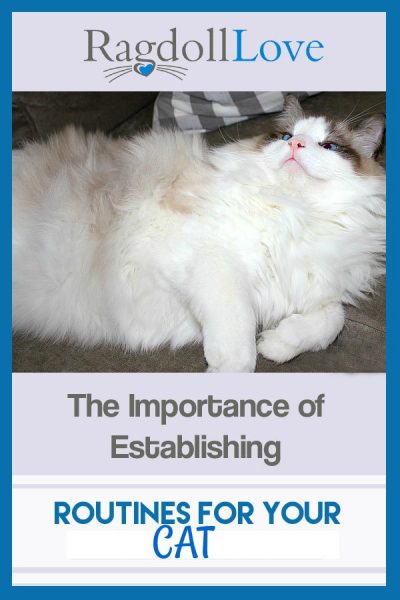 Wellness Checks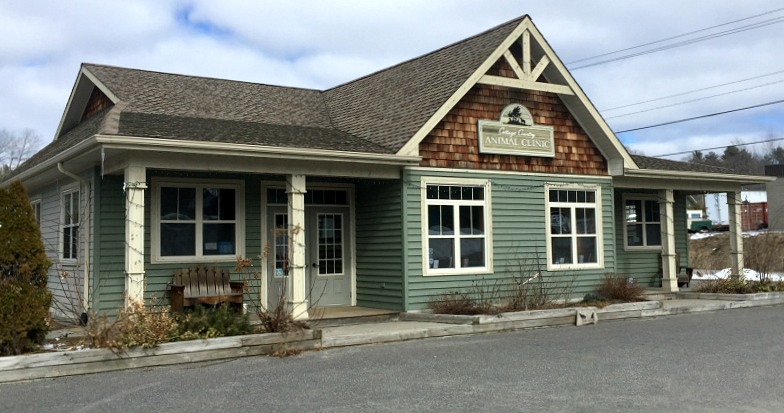 Pencil in routine wellness checks with your vet for your cats. Once a year is good, 2X/year is better.
Related > How to Choose a Vet For Your Ragdoll Cat
If there's anything going on with your cat's health, best to catch it early to combat the issue. Blood work at least annually will give a ton of info as to the health of your cat.
It's easy to forget about checking in with the vet especially if your cat is happy and healthy. Book an appt or two in advance is the best way to establish regular health checkups. (You may be glad you did.:)
I realize life is busy. That will never change, whether you are young and single, married, have children, work 2 jobs or whatever your life style.
Priorities are important and sometimes there are things in your life which require your time and attention and take priority over your cat(s).
But establishing a routine for the care of your cats, will take up less of your time in the long run, in a busy life.
Better to be safe than sorry.
If you work outside the home, doing all of the above may be difficult. Always, always, just do the best you can for your cats.