This post may contain affiliate links. You can read the full disclosure policy, which is pretty dull, but
here it is.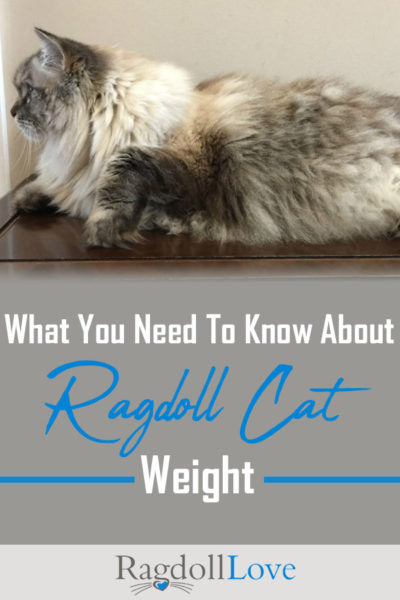 Ragdoll cat owners need to understand the importance of determining and maintaining an ideal weight for their Raggie.
Average Ragdoll Cat Weight
Neutered Males – 12-20 lb
Females – 8-15 lb (about 20% less than the male cats)
I've seen some male Ragdolls weighing in at around 22-23 lb. These bad boys were BIG CATS! Not fat Ragdoll cats, just very large cats!
These are weights of my Ragdoll cats:
MacIntosh (neutered male) – 18 lb.
Bailey (spayed female) – 14 lb.
ZeeZee (neutered male) – 13.8 lb. (at 1.5 years of age)
Duffy (neutered male) – 12.6 lb. (at 1.5 years of age)
Average Weight Domestic House Cat
The average house cat weighs around 10 lb or so. Generally speaking, Ragdoll cats do weigh more than the average domestic cat.
Related >How Long Do Ragdoll Cats Live?
How Ragdoll Cats Become Overweight
Sweet Cat Gets More Food– This breed has a tendency to be overweight. I think that some Ragdoll owners tend to overfeed this loving, passive breed of cat. Too many calories can be equally as harmful to them as underfeeding. Take care not to overfeed your Ragdoll cat. Their sweet faces and hypnotic blue eyes can be hard to resist when they beg for extra treats.
Lazy Cat Can = Fat Cat! They are not an overly active cat breed. They do a lot of loafing around. Therefore, a lesser amount of calories should be fed at meals.
Carb Addiction! Cats generally speaking love carbs. They easily become addicted to carbs. Dry kibble is a source of carbs. This is why many cat owners have a difficult time switching from dry kibble food to a wet canned or raw food diet. Yep, cat's do prefer kibble when that's what they have been accustomed to! Most likely, they are addicted!
Giving Free Choice of Food – Giving your Ragdoll free choice of food may not be a good idea. Portioning meals is always best. Give their digestion a rest.
Related > 5 Rules For Feeding Your Cat To Keep Him Around For a Long Time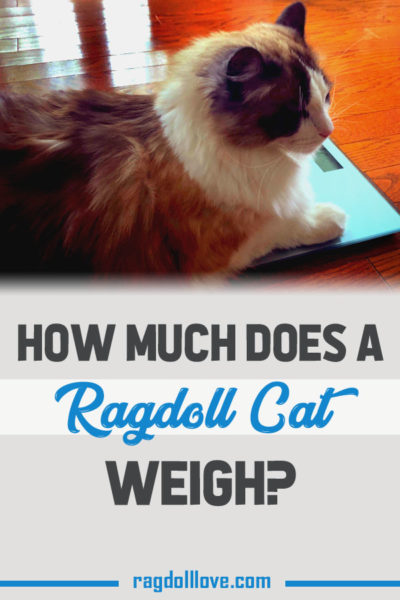 So What is the Ideal Weight For My Ragdoll Cat?
Good question. The ideal weight for a Ragdoll cat depends on who you ask!
Breeders' Opinion on Ragdoll Cat Weight – My experience has generally been that breeders tend to slightly exaggerate Ragdoll cat weights.
For example, if you ask a breeder how much they think a particular Ragdoll kitten will weigh at full growth and size, from personal experience, I have found that most give an unrealistic weight.
I think this is because one of the great features of this breed is their size. They are big cats!
Many people are attracted to the breed for this reason. Quoting a weight that's a bit on the heavy side, gives the potential owner the impression that they are certainly buying a large cat!
Holistic Vet Opinion on Ragdoll Cat Weight – My holistic vet says most of the Ragdoll cat patients she has treated over the years, are overweight. She agrees they are a big boned cat, but that doesn't necessarily mean they need to eat a lot more than the average cat.
Dr. Michelle says, "A cat's ideal weight depends on their body frame and size. It's difficult to tell how much any cat should weigh, unless I have the opportunity to put my hands on the cat and feel their bone structure and frame. Only then can I determine the ideal weight for the cat. "
To state that a Ragdoll cat should weigh a certain weight isn't realistic. Each cat has it's own ideal weight.
TIP — Have your vet help you determine your Ragdoll's ideal weight.
This is important stuff. Weigh and record your Raggie's weight regularly. It's a critical part of keeping your fur baby healthy for life.
The important thing here is not to confuse size with weight. A large cat doesn't necessarily mean a heavy cat. A cat can have lighter bones or be less muscular, so get some professional advice to determine your kitty's ideal weight.
How to Control Your Ragdoll's Weight
The best way to control your Raggie's weight and keep them in the best of health, is to keep their weight as close as possible to your vet's recommendation for your individual cat. Overweight cats are much more prone to health issues. Extra weight puts stress on the cat's organs. Kidney and heart problems are best kept at bay, by keeping your kitty at his/her ideal weight.
Your vet should also determine how many calories your Raggie should be fed each day, to maintain their best weight.
It's WAY easier to keep your Ragdoll cat at his best weight, rather than trying to put your Raggie on a weight loss diet! It may take some tough love to help keep your Ragdoll healthy!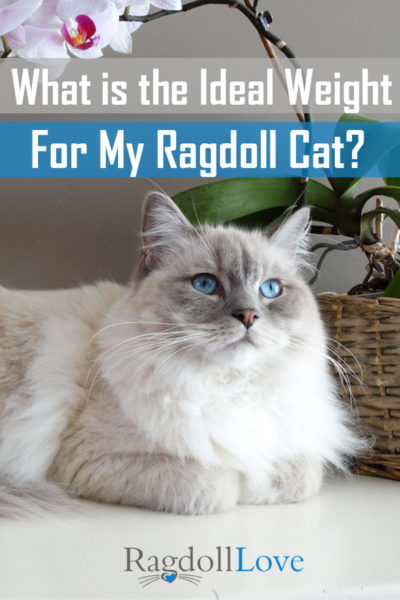 MORE ARTICLES YOU MAY LIKE