This post may contain affiliate links. You can read the full disclosure policy, which is pretty dull, but
here it is.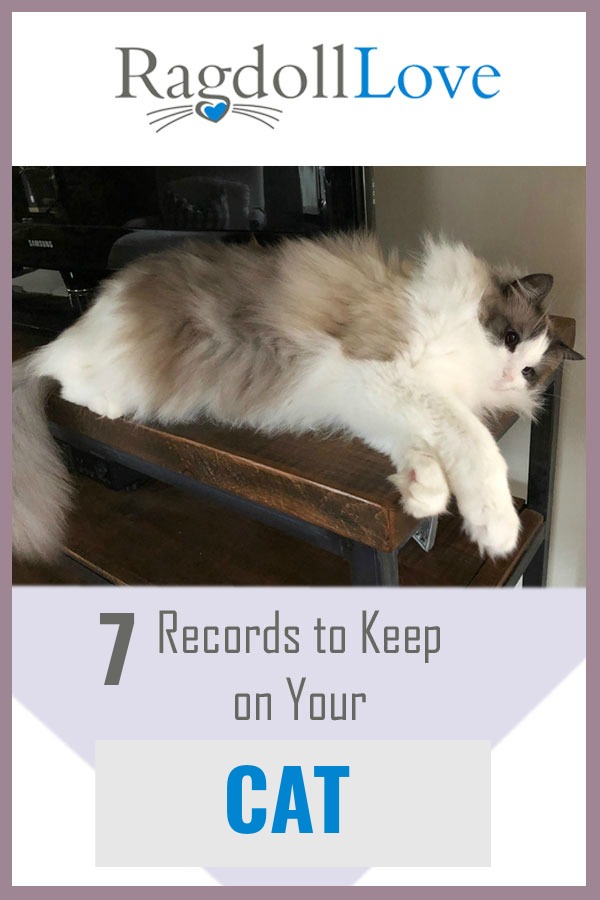 Keeping records for your cat can be invaluable to the well being of your kitty.
I'm sure you kept a baby book for your kids and/or photo albums. Keeping records for your cat is much the same thing for many of the same reasons!
7 Types of Cat Records to Track
Proof of Registration, Breeding and Payment – If you've invested money in a purebred cat, you'll want to have documented proof your cat is indeed a purebred and is registered. These records will confirm their date of birth, their markings, parents names and registration numbers, breeder, litter number, microchip information (if applicable) and more.
Related > Is a Ragdoll Cat Right For You? 5 Things You Need to Know About the Ragdoll Breed
Track Physical Development – Tracking their physical development from kitten to adult can help with suspected health issues later on.
Track Odd Behaviour Incidents – Tracking incidents of barfing, howling and other odd behaviours can help you and your vet zoom in more easily on health issues that creep up from time to time. Records of these incidents, with detail regarding what happen and frequency of the incident, can give a vet a lot of valuable information when attempting to diagnose a health problem.
My holistic vet is especially interested in all of the tiniest of details of behaviour and incidents.
She says that this information can give her important clues and often help confirm a diagnosis, which helps her in recommending the appropriate remedy for my boys.
Track Weight – It's a good idea to weigh your cat regularly. I weigh my boys once per week and record the weight. I am able to see trends of excess weight gain or weight loss which can raise the red flag!
It can be hard to notice when a cat is loosing weight until several months have gone by.
It's important to be able to check to see just how much your kitty has gained or lost in a specific time period. No point in guessing.
When my boys go to the vet for their wellness visits, I take along their weight charts. The vet checks the trends and then analyzes whether or not the cat is at an appropriate weight for the Ragdoll breed, gender and bone structure. (I presently own 2 Ragdolls + 1 Rescue cat)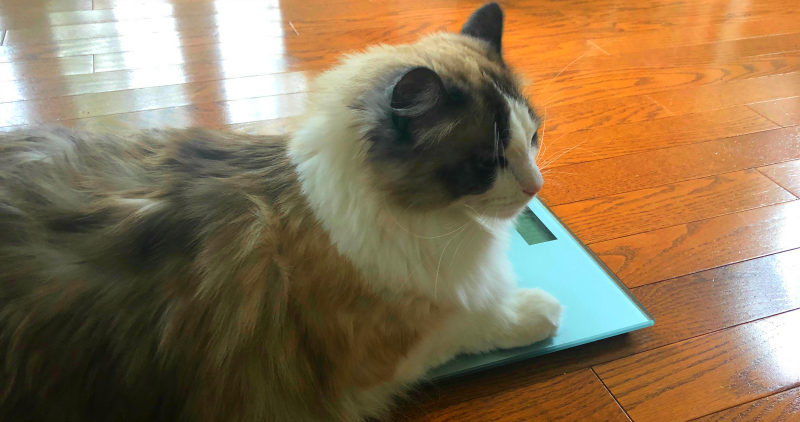 Related > 7 Important Health Inspections Tips For Your Cat
Keep Vet Records – I like to keep vet records, including vaccination records, notes and receipts together for each of my cats. It's very handy when I need to refer to the records from time to time.
I also make a few notes about any discussions I've had with the vet in person or over the phone as sometimes valuable information is relayed which I don't want to forget. Your vet may make verbal suggestions which you will want to refer to in future.
If you vaccinate your cats, it's a good idea to take note of any reactions they may have had as a reminder for precautions to be taken at the next vaccination session.
Related > How to Choose a Vet For Your Cat
Ages & Stages – As silly as it may sound, I keep some notes on my cats on their development through various ages and stages, just as you would a human child!
This can especially be handy if you adopt another kitten or cat at any time and want to check up on expected behaviours.
This can easily be done with photos. You can take a quick photo and name the photo and/or add a brief note to the photo. Not absolutely necessary to do, but it can be handy in the future.
Photo Brag Book – Do keep a brag book or an album on your phone with photos of your kitties.
They are such magnificent looking cats you'll want to keep oodles and oodles of photos to show friends and family!
Related > Ragdoll Cat Characteristics – 10 Reasons I Fell in Love with the Ragdoll Breed
Your Cat Folder
I keep separate folders for each of my cats.
They are inexpensive folders with inside pockets from the dollar store, with their names labelled on the front.
Whenever I have a document, receipt or a note pertaining to my cats, I slip it into the folder. Periodically, I take some time to keep the folder neat and organized by date, so if I need to refer to some information, it can easily be found.
It may seem like an unnecessary task that you just don't have time for. If that's the case, at least keep a folder and just toss in receipts and documents into a folder, so at least your 'cat documents' are together, should you need to refer to them in the future.
This method of record keeping has paid off many times over in the past years.
Other Articles You May Like