This post may contain affiliate links. You can read the full disclosure policy, which is pretty dull, but
here it is.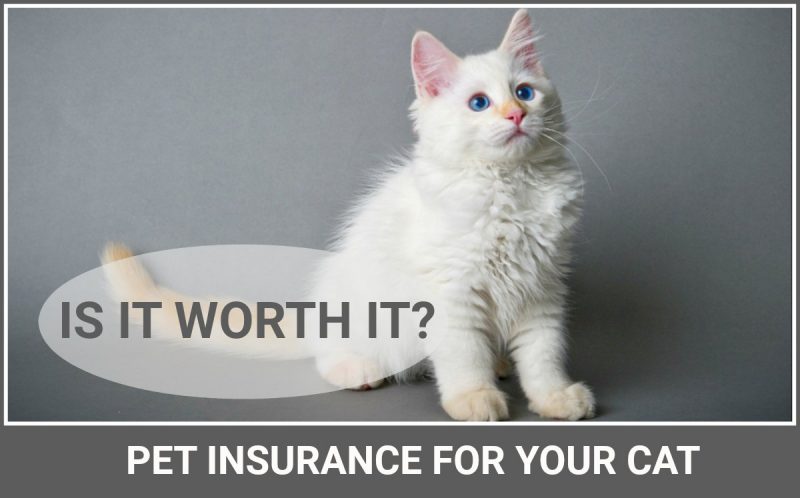 No matter how we pamper our fur babies, accidents still happen. Even indoor-only cats somehow manage to catch an unexpected illness, disease or injury.
We all want to have the peace of mind that we can give our beloved cat the veterinary care that he or she needs in case of an emergency.
For some pet owners, this means considering pet insurance. This definitely isn't the only option and the pros and cons of pet insurance should be weighed before signing up.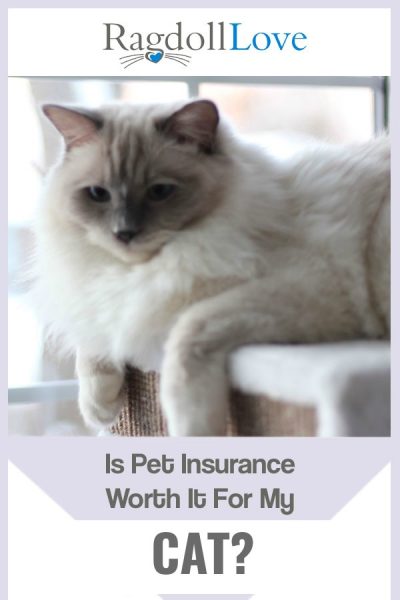 Do I Need Pet Insurance For My Cat?
Deciding whether or not to get coverage for your cat can be a tough decision. You should consider your finances, the existing health of your cat and their lifestyle.
It's common for breeders to offer temporary pet insurance after adoption of one of their kittens.
My breeder supplied coverage with a pet insurance provider for 6 weeks, starting from the time I picked up the kittens from her.
The purpose of the coverage she provided, was a little promotion the insurance company was providing the breeder. They hoped that new cat owners would retain the coverage. I wasn't one of them.
To be honest, up until one year ago, I never had insurance for any of my pets. I tried it with my rescue cat Jack – which wound up being a disaster.
For one, they said the only way I could know if he was eligible for coverage was to enrol him in a plan, pay one month's premiums and their underwriter would decide if Jack was eligible for complete coverage.
One month went by with no reply from the underwriter so I had to pay for a second month of premiums. They then decided that Jack could be covered under their plans but excluded for several conditions due to the fact that:
i) he was overweight by their standards
ii) he had a dental issue at one time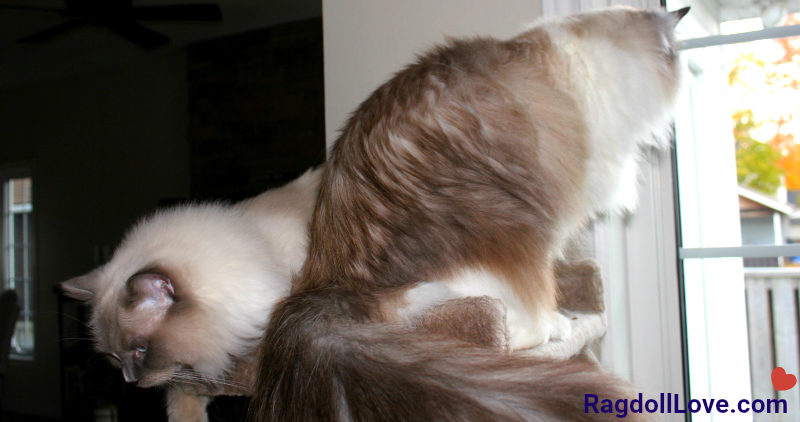 Basically, he wouldn't be covered for dental until he had one whole year of no dental issues.
This is a major factor in vet costs – as dental issues are common in cats. I would also pay much higher premiums because of these "pre-existing conditions". The coverage available for the premium costs weren't justified in my opinion. So, I dropped the coverage.
Unfortunately, cats that actually need health insurance are often denied because they have conditions that need care or your premiums will be high.
The most successful cases of getting pet insurance are when you maintain the insurance from the time you first adopt your new kitten. You will get a better premium and having coverage will encourage you to get regular checkups that may prevent future illness. This doesn't mean you should stick with the insurance provided with your kitten. Shop around and make sure it suits your needs.
If you can, find an insurance company that offers fair premiums for decent to average coverage, to help take the sting out of vet bills.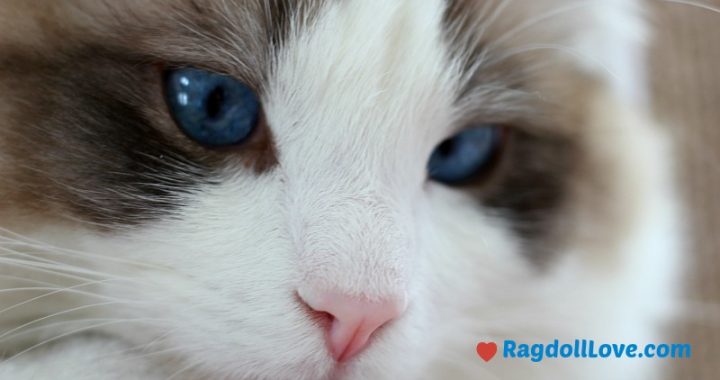 Related > How to Find a Great Ragdoll Cat Breeder – Questions to Ask
What Does Pet Insurance Cover?
The type of coverage you get depends on the health history of your cat, their age, and the type of plan you select. Obviously, existing health issues will influence whether or not they will be covered for those issues.
Likewise, you can expect some exclusions if your cat is older. Finally, coverage depends on the type of plan you choose.
When I researched pet insurance, I found there were many things a basic plan didn't cover.
Unfortunately, the comprehensive plans were very expensive. Given my cat history, I didn't see the point in spending money on an insurance plan which may not cover the issues my babies would have.
Of all the companies I investigated, I found all of them had plans which were not explained in a very straightforward manner. They seemed unbearably complicated, with lots of loopholes and exceptions.
In order to find out exactly what your insurance covers, be sure and ask them the following questions:
Do you cover vaccinations and regular checkups?

Do you cover emergency visits? Emergency surgery? Emergency veterinary clinics?

Will you increase premiums or deny coverage if a lifelong disease is found such as diabetes or cancer?

Do you include medications in your coverage? Such as de-worming, flea treatment, etc.?

What percentage of the cost is covered?

Is there a cap on my coverage?

What is my deductible?
This should give you a basic idea on what the insurance plan will include. Deductibles and premiums will vary depending on the type of coverage you want.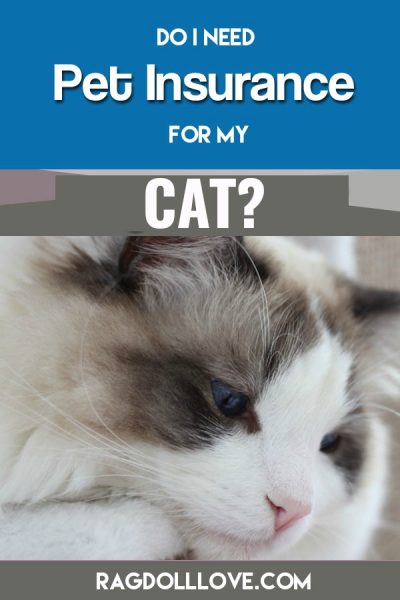 Is Pet Insurance Worth the Cost?
The average cost of pet insurance is around $16 per month; however, these will vary greatly depending on your cat's age and health. Expect premiums to be much higher if your cat has a pre-existing condition or is older.
This doesn't sound like too high of a cost but you cannot forget that you need to meet the deductible, that some costs may not be covered, and that only a percentage of expenses may be covered.
Pet insurance does not work necessarily the same as human health insurance. Typically, you pay your vet bills upfront and then submit your claim to your pet's health insurance company afterward.
Depending on your policy, you will receive between 20 to 100% of your costs back. You will need to meet your deductible before coverage kicks in and be capable of paying the upfront cost before reimbursement.
As far as deciding if it's worth the cost, you should evaluate whether or not your cat is at high risk for expensive veterinary care.
Factors that might increase your need for pet insurance include:
Having other pets (especially dogs)

Having an indoor/outdoor cat

Having young children

Living in a second story building or two-story home

Growing potentially toxic plants in your home
A serious injury that could make the cost of insurance worth it.
Be sure that your insurance will cover the emergency expense or choose a plan that includes "catastrophic" events in its coverage.
Related > 7 Types of Cat Records All Cat Parents Should Track
Beware of These Pitfalls With Some Pet Insurance Providers
Some insurance policies have a limit on how much you can claim per year. This can be devastating if your pet really needs extensive medical care such as surgery.
Pet insurance probably won't save you any money on average but it could allow you to choose your pet's health first in case of an emergency.
Whether you have insurance or not, you need to have a safety net of savings to cover the deductible.
If you are worried about the event of a serious injury then having insurance can help give you peace of mind and may be worth it. It never hurts to get a quote and find out if it's something you could afford.
Related > What You Need to Know About Ragdoll Cat Weight
Crunching the Numbers…
One reason I never considered pet insurance in the past for my cats is my vet costs have always been very low. I personally did not find the cost worthy of the coverage offered.
There didn't seem to be any such thing as complete coverage without astronomical premiums… and the premiums for my cats would be X 3! AND, no matter what, there were STILL out of pocket costs or deductibles.
I believe that there must be good companies out there. If so, I'd love to hear about them, so I can post the information for the benefit of others looking for pet insurance coverage for their cats.
However, I still opt out for my fur babies.
What I had decided to do was start up a simple savings account and accumulate funds designated specifically for my cat's care. That way too, the money can be invested or gather at least some interest in the right kind of bank account. If I need it for cat care it's there.
I know that they're covered in the case of an emergency and that money will cover ANY expense I need, regardless of my cat's "pre-existing conditions".
Also, I've added up my vet costs over the years to get an idea of the overall cost of my veterinary bills. I think this helps add a lot of perspective on if insurance is worth it. These were my total costs for my first Ragdoll cats.
Lifetime Vet Costs for 2 of My Cats (Each lived for 17 yrs) **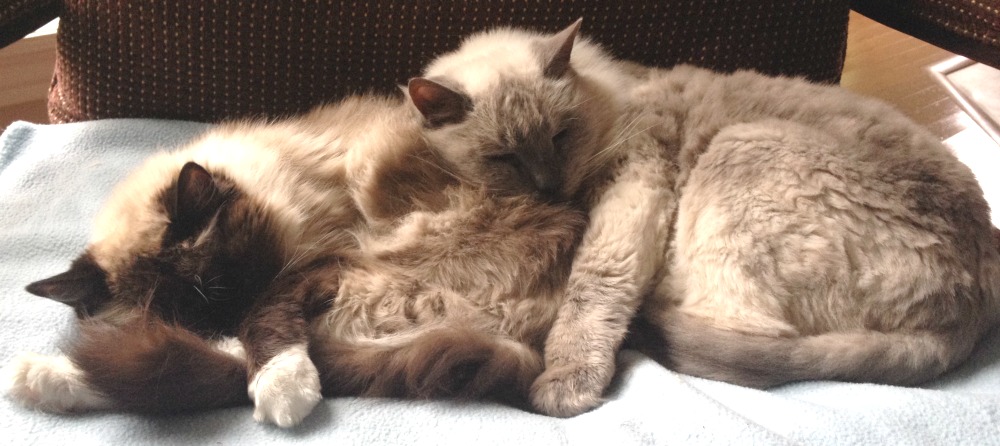 MacIntosh (PICTURED ON THE RIGHT) – Blue Point Male Ragdoll – Lifetime health costs of $3150 (includes neuter, few wellness checks, teeth cleaning and a few teeth removed, surgery for urinary crystals, applicable taxes)
Bailey (PICTURED ON THE LEFT) – Seal Mitted Female Ragdoll – Lifetime health costs of $2080 (includes spay, few wellness checks, surgery for teeth cleaning a few teeth removed, applicable taxes)
(** Note the above costs do not include vaccinations, as I do not vaccinate my cats)
If I were paying the minimum of $16 per month for their lifetime then I would have paid $3168 per cat BEFORE paying the deductible.
This doesn't allow for changes in their premium or non-covered services. At minimum, I would have paid $6336 which is $1103 more than I actually wound up spending. To me, that's just not worth it. I'd rather have that $1000 in an emergency savings account.
Tips For Choosing Pet Insurance for Your Cat
If you're set on getting health insurance then make sure you compare the costs and coverage of each insurance company. Ask them outright if certain services are covered and if you can get it in writing. There is nothing more frustrating than finding out that they refuse to cover a much-needed procedure after the fact

Read reviews for companies before signing up. Use comparison sites to quickly compare various pet insurance companies.

Don't be afraid to get a quote from each although I do recommend using a different email address than your personal one – expect junk mail!

While I personally prefer having a savings account dedicated to my pets, I think that making sure your pet is protected should always be your main concern.

Do whatever will give you the peace of mind that you need to ensure that your cat receives the care they need in case of emergency.
More Articles You May Like