This post may contain affiliate links. You can read the full disclosure policy, which is pretty dull, but
here it is.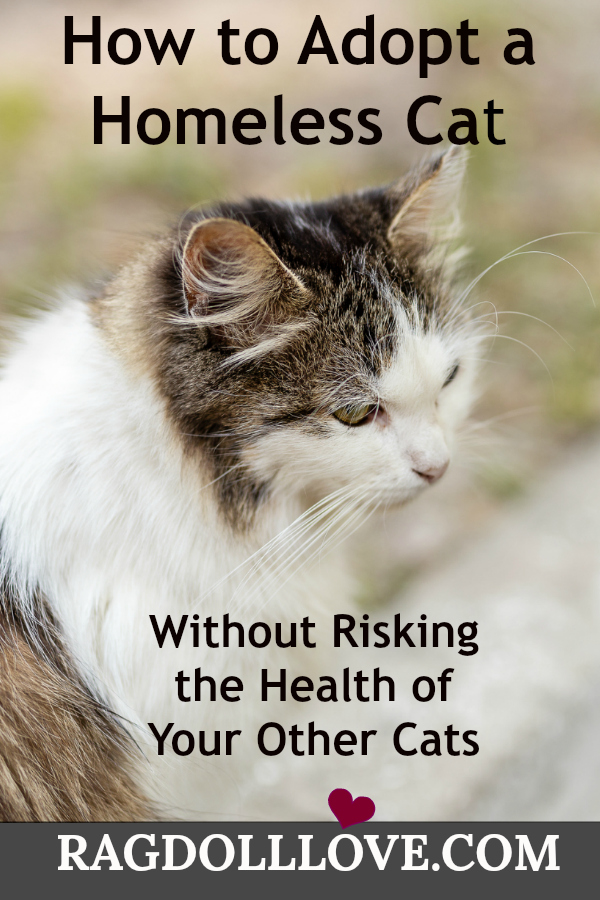 If you're bringing a homeless cat into your Ragdoll cat household, there are some things you need to consider first BEFORE taking in a stray cat or a shelter cat.
Cats with unknown health history and origins are a risk to your Ragdoll cats at home (or any other cats or pets at home for that matter.)
Also, if you're getting ready to bring a new Ragdoll kitten home and you have other cats at home, there is something you need to consider before doing this.
Keep in mind, I am a very cautious person and go to great lengths to keep my Ragdoll cats and other cats, happy, health and safe.
The Risks of Adopting a Homeless Cat
Don't get me wrong.
There's NOTHING more noble and heart warming to be in the position to give a homeless cat  from the local shelter or one you find on your doorstep, a loving home.
However, there are definite risks to mixing homeless cats with unknown origin and health history, with your cats in good health (where you know their health history).
You've already gone to great lengths to keep your cat(s) in good health, right?
By introducing a newbie cat with an unknown health history to your perfectly healthy cat(s), you could introduce a deadly disease to them.
Mixing cats is something you should not rush into.
A cat with unknown health history can be a definite threat to your kitties, if the situation is not handled properly.
Cats can carry certain diseases and germs which they don't show outward signs of.
They can also have worms, parasites and fleas, too, which can be passed on to your kitties and be a really big nuisance too.
Related > A Guide to Natural Cat Health and Wellness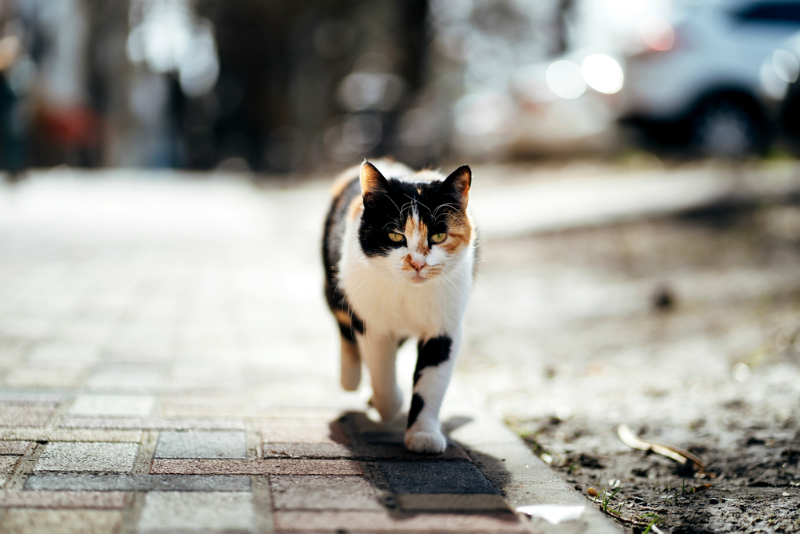 How to Adopt a Homeless Cat (Without Being a Threat to Your Cats at Home)
If you are planning to:
bring home a new Ragdoll kitten and you have cats at home
bring a rescue cat into your Ragdoll cat (or any cats) home
there are some things I highly recommend you do.
1. TAKE THE CAT TO THE VET.
First thing to do BEFORE bringing another cat into your existing household of cats, is take the 'cat with unknown health history' to a trusted vet.  Be aware that some vets are prudent in doing extensive testing for diseases for cats, and some are not.
From my past experiences with cats, I would suggest the following when you visit the vet:
Physical Exam at the Vet –  A thorough physical exam of the cat by your vet, to catch anything obvious going on.  (Ear mites, fleas, lumps and bumps etc.) This is a very standard routine thing with most vets, either conventional style vets or holistic vets.
Complete Blood Work – Your vet may or may not suggest this. ASK for a complete blood profile which may show anything that may be already going on with the cat. This will give pretty good insight into the state of health of the cat.
Testing –  I highly recommend testing for FIV and FELV. They are the most common of the contagious diseases that can be super serious. They can be the underlying contributing factor to other diseases. THEY are the biggies.The blood samples for these tests will probably need to be send to an outside lab for the results. Turnaround time is usually pretty fast, either next day or 2 days.
Ask for blood work and further testing. Be aware that your vet will not necessary suggest anything beyond a standard physical exam. Do ask them to test further and order a full blood panel and disease testing.
Related > What You Need to Know About FIV and FELV in Ragdoll Cats
2. ISOLATE THE CAT.
It's important to keep the new cat in isolation until the test results are received.
Keep him somewhere where he will not have any contact whatsoever with your household cats.
If the tested cat has a disease which is contagious, you'll run the risk of it being passed on to your cats!
And that's the LAST THING you want!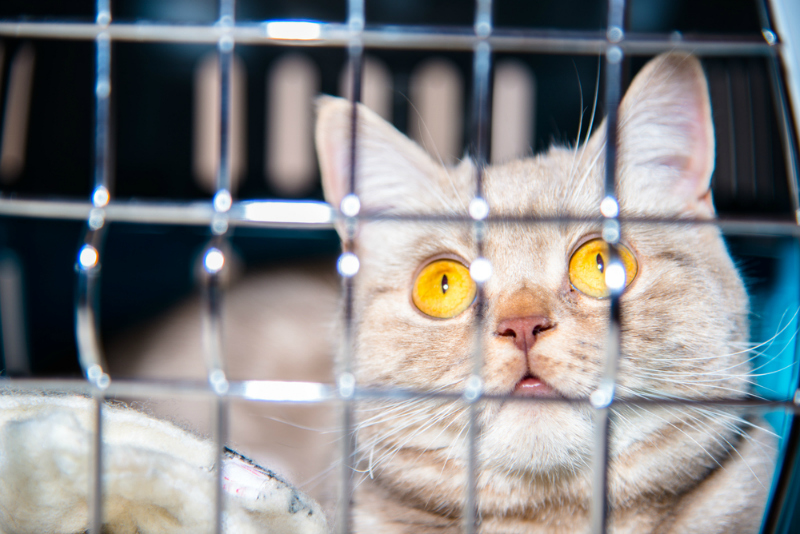 3. DEAL WITH THE TEST RESULTS.
If your cat is clear from the diseases you are testing for, that's great.
BUT. Now for the hard part.
You may discover that the cat you are rescuing or your 'home cats' have
i) a disease such as FIV and FeLV which is contagious. This may mean that potentially your healthy cats are at risk if you mix the cats.
ii) a disease where one of the cats is a carrier of a disease where the risk of spreading to the other cats is low.
iii) treatable issues such worms, ear mites and fleas. The offender can be treated accordingly. Truly, the cat should still be isolated until even these minor issues are cleared up, in order that these pests aren't passed on to the healthy cats.
Have a heart to heart conversation with your TRUSTED VETERINARIAN of choice on how to handle the situation.
You Learn You Have an Unhealthy Cat: Now What?
If you discover your cat is quite ill, you may need to make a very hard decision.
I can't advise you on what to do if you find yourself in this position.
But, your vet can advise you. They have the details of the situation. They can advise you about the risks and treatment if any for the sick cat, given your cat's state of health and your specific situation.
My Personal Experience
Recently, I had decided to adopt two Ragdoll kittens.
However, I had one 6 year old healthy, 100% indoor rescue cat at home. I knew most of his health history, but certainly not all of it.
Now that I was preparing to bring two newbies into the fold, I wanted to be sure that Jack, my rescue boy, didn't have FIV or FeLV or anything else that would threaten the health of my new baby Ragdolls.
I scheduled an extra wellness check for him as well as requested a complete blood file. Tests were ordered for FIV and FELV.
Both (phew) can back negative.
Note: I had arranged for Jack's vet check and testing in advance of committing to adopting the Ragdoll kittens.
Related > 10 Dignified Simple Solutions to Senior Cat Care Problems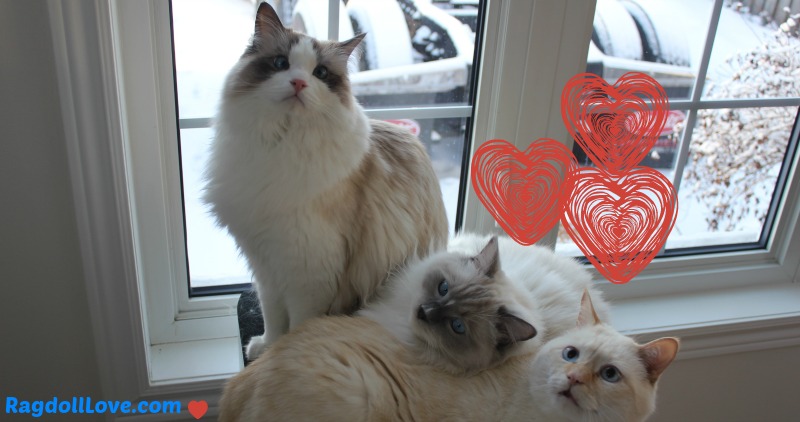 ALWAYS ASK YOUR VET FOR THE FOLLOWING FOR THE CAT WITH UNKNOWN HEALTH HISTORY:
A full physical exam
Full blood work
Testing for FIV and FeLV
Anything else your vet suggests. Discuss vaccinating as well.
It is money well spent. Better safe than sorry.
Related > How to Choose the Right Vet For Your Cat
Testing Your Existing Cats
You should already know whether or not your home cats have any infectious diseases. They are probably vaccinated for most of the serious diseases.
If they are indoor cats and you're able to control their environment, then you'll be aware of their health status.
If they are outdoor cats, that's another issue in itself. Outdoor cats can spread disease period. They are a threat to indoor cats.
Talk to your vet about testing for FIV and FELV in the cats in your home.
Talk to your vet about vaccinating your cats. I cannot give advice about vaccinating. This must come from a certified and trained veterinarian.
The Number One Take Home Point
So here's the thing……..What would I have done if I found out Jack was a carrier of a deadly disease and had already brought these vulnerable kittens home and exposed them to this?
Honestly I don't know. But I do know I would have been in a horrible pickle!
PLEASE PLEASE…Do the footwork and the testing BEFORE mixing stray or homeless cats with unknown health history with your 'already healthy cats'!
By bringing a sick cat into your home, or healthy cats into your home where you discover your present cat(s) have a contagious disease, you could be risking the welfare of the entire gang!
I have personally known of situations where folks rescued stray cats before taking them to their vet for testing and the diseases spread to all the cats.
I'm sure you can guess what happen. Let me tell you, the results were gut wrenching.
Don't think that giving a stray cat a home, in a healthy cat household is ALWAYS the right thing to do. You must consider the risks to your healthy fur babies.
Do NOT bring stray cats UNTESTED or know disease carriers into your home.
This is a recipe for disaster and heart ache.
Yes rescuing cats in need of a home IS the right thing to do, BUT not at the risk of passing deadly viruses on to your furry buddies already at home.
Do the necessary footwork FIRST. Be a highly responsible pet parent.