This post may contain affiliate links. You can read the full disclosure policy, which is pretty dull, but
here it is.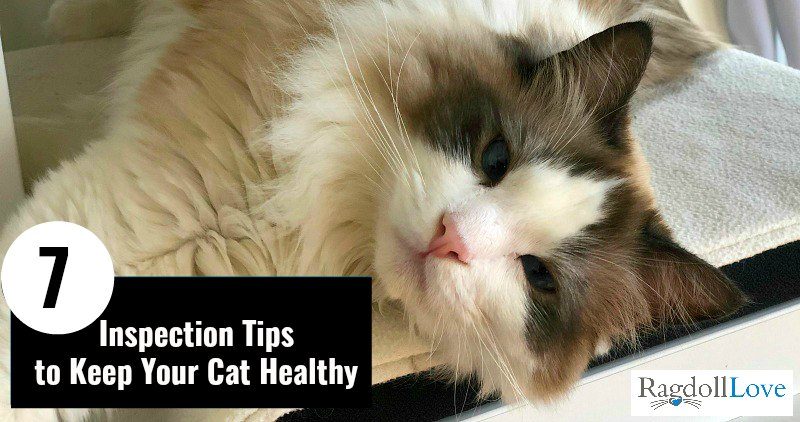 Health inspection tips for your cat will go a long way to prevent surprises and keep your cat in good health.
It's up to you to know if something is wrong with your cat. They can't tell you.
Discovering issues before they become severe or chronic is key to keeping your your feline friend in tip-top shape.
Taking the time to inspect your cat can be invaluable. It can also save you money by preventing future long-term health issues when catching things early.
I recommend you get organized and set aside some time for these routine inspections, so they'll never get missed – it's too easy to forget about these things in our busy lives.

In this post, we'll cover some simple tips for the best long-term health and longevity of your kitty.
Keeping your furry friend in the best of health won't take long. I promise.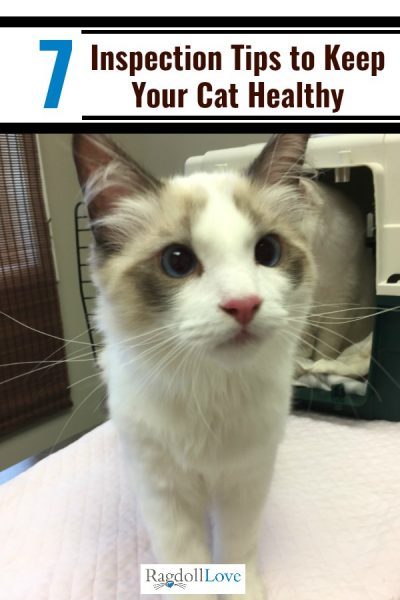 Safety and Health Inspection Tips For Your Cat
Tip # 1. Check Weight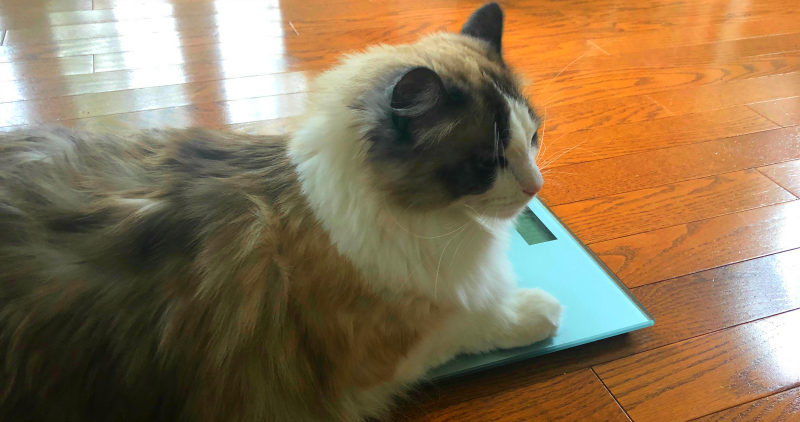 Check your cat's weight regularly – I weigh mine every Saturday morning.
To do so, simply weigh yourself and record the weight. Then weigh yourself holding the cat.

 YOUR WEIGHT+CAT WEIGHT TOGETHER – YOUR WEIGHT = CAT WEIGHT

Check your scale with the scale at the veterinarian – I have just a cheapo digital scale, and it was within .1 lb of the vet's scale. So pretty good.
This simple task can prove to be super-handy to keep your feline in good health. Be sure to take this information of your cat's wellness visits to your vet for review.

To get a good baseline of your cat's initial weight, take your kitty to the vet and have the technician weigh her (should not be a cost involved). Then you'll know how close your home scale is to the vet's scale.

By recording the weight, although it may not be entirely accurate, you will certainly get an idea if your fur baby is overweight, underweight, or maintaining.
You'll also be able to see 'trends' such as rapid gain, or rapid loss.

If the cat is losing a lot of weight in a short time, you can get her to the vet sooner rather than later – underweight isn't always a problem, but it could be.
If she's gaining too much weight, you know her food volume needs to be cut back. Do this gradually. Be sure she gets more exercise, as well.

An overweight cat is not cute. A cat that is too heavy can develop;

heart issues

kidney problems

diabetes

joint issues/arthritis

It's also wise to find out from your vet what the ideal weight for your cat should be.
From this, your vet can tell you the number of calories your cat should be taking in per-day to either lose, gain or maintain his/her ideal weight.
Related > What You Need to Know About HCM in Ragdoll Cats
Tip # 2. Regular Brushing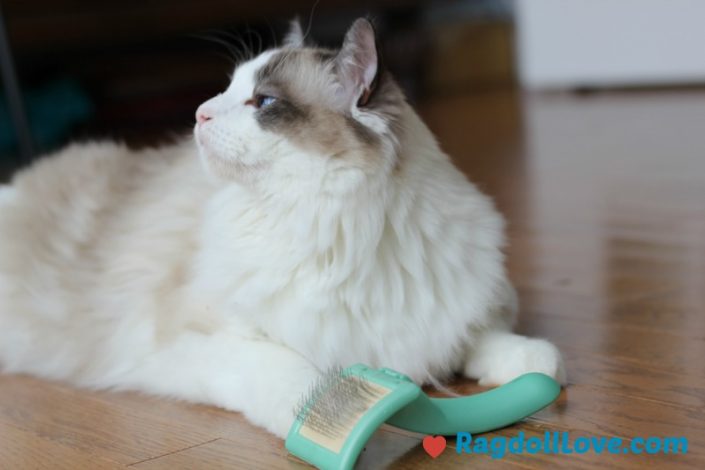 Do a regular inspection/brushing (weekly/biweekly or monthly).
Check for fleas, sores, cuts, bald patches, flaky skin, dandruff.
Check each toe and nail for injuries.
A quick check of the ears may show a mite infestation.

All of these things are very uncomfortable and even harmful to your cat.
Any of these things means your fur baby requires some intervention from you and possibly, your vet.
Related > Things You Need to Know About Your Ragdoll's Amazing Coat
Tip # 3. Check Teeth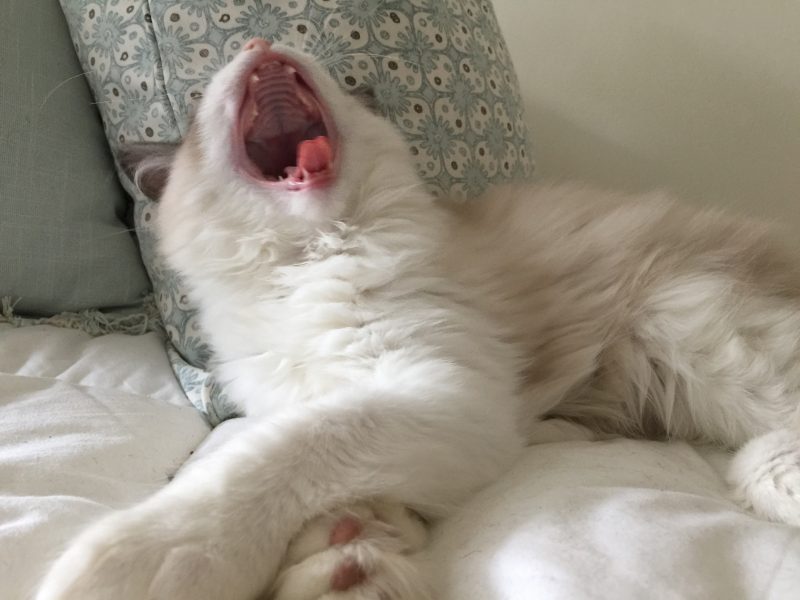 With clean hands, take a look at all four quadrants of your cat's mouth.
Look for changes such as areas of tartar buildup, brown spots, decay, red gums, bleeding gums, loose or broken teeth.
By doing this on a regular basis, you can avoid costly dental bills (just like people).
If you spot an abnormality, take your cat to the vet ASAP.
You will also want to have a cleaning program for your cat's teeth to avoid unnecessary surgery, pain, and related health issues.
Related > Your Complete Guide to Dental Care For Your Ragdoll Cat

Tip # 4. Snoop In Their Poop
No. The title was NOT a typo.
As gross as it may seem, snoop around in the litter box from time-to-time and pay attention to 'what' is in the litter box.
Are the stools covered with mucus?

Are they super-hard?

Is there blood on the stool or is there no poop in the box at all?
If you have one cat, this is easy to determine. If you have more than one cat,
it can be a challenge.
You will also want to check the urine.
Is it SUPER strong and stinky?

Is there a low volume of urine?

Strong urine or low volume urine could signal problems.
Again you may need to divide to conquer this one, to see who the offender is.
If you do spot something unusual upon inspection, you can then investigate further and perhaps isolate one cat at a time to find out which of your babes has the issue.
I recommend separating them to zoom in on one cat. Maybe place him/her in a spare bedroom with a fav blanket and toy for a while, visit him often, feed him there until he uses the little box.
Also at least annually, take in a poop sample for a worm testing. I like to treat ONLY if needed.
Spend the extra money to test, so you don't treat unnecessarily.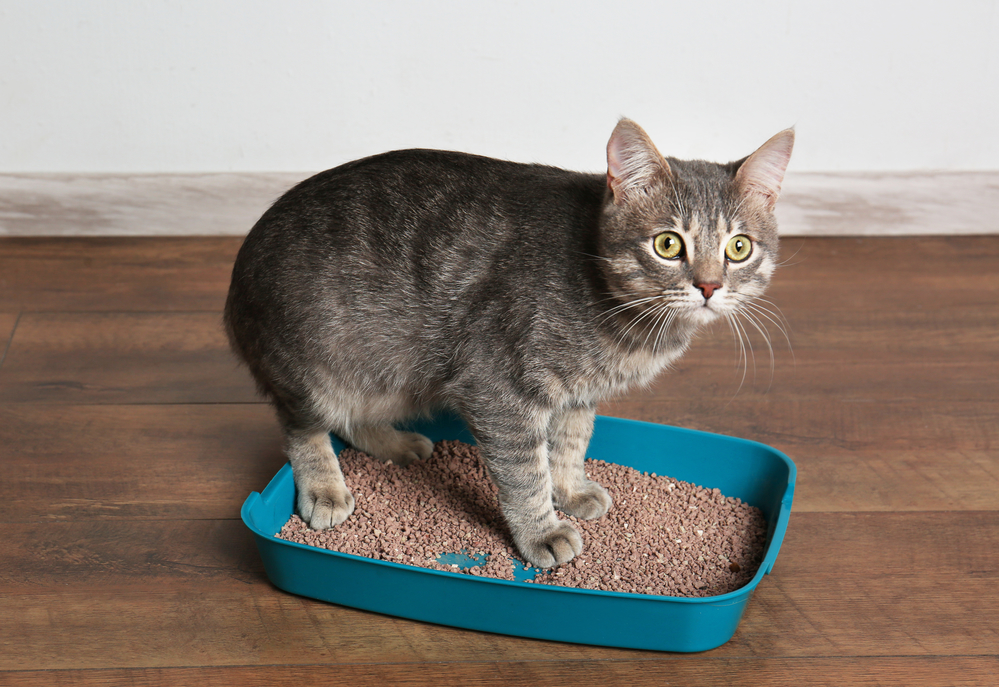 Tip # 5. Check Toys & Towers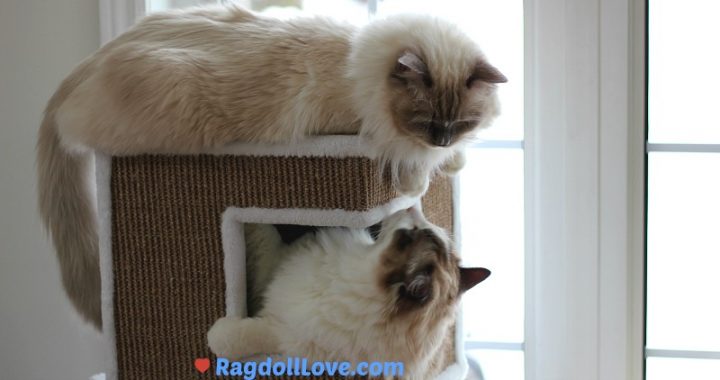 Gather together all your cat's toys to have a close look to see if they need to be tossed out.

Check for missing parts, loose strings or fibers.

Anything cracked or broken, get rid of it.
Cat toys are cheap, so throw out the damaged and broken ones and replace them as needed to keep your babies safe.
Check scratching posts for loose sisal rope. Check your cat towers and condos to be sure they are stable. Keep them repaired and in excellent condition.
If you don't make a specific effort to look for these things, it's easy to miss signs of potential problems or safety issues.
Tip # 6. Review Your Cat's Diet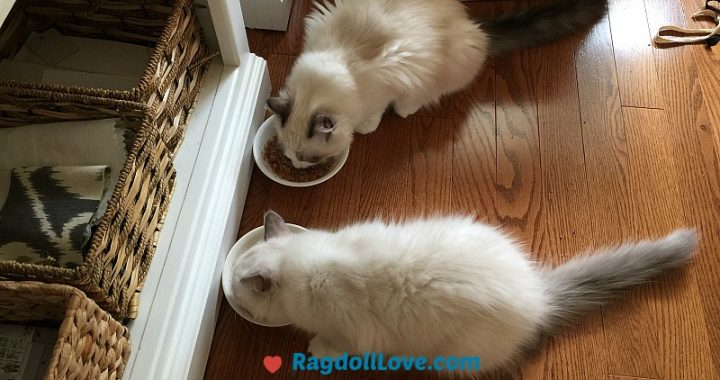 It's a good idea to review what you are feeding your cat.
This helps keep them in tiptop shape and avoids chronic health problems.
Months and even years can go by, feeding your fur baby the same old thing.
If your cat is exhibiting constipation, diarrhea, or itching, it may be caused by what you are feeding your pet. This could be a sign that it's time to rotate your cat's food for something else.
Cats can develop allergies (just like us) by eating the same thing over and over again.
Rotating foods can help to ensure the cat;
gets a variety to avoid boredom

help prevent allergies

gets a variety of the benefits of several different foods (some foods can be higher in some nutrients than others).

Think of yourself. Would you like eating the same thing for months or years? This is not healthy for your cat.
Is your cat overweight or underweight? This can be due to diet.
Sometimes the amount of food your cat is getting daily needs to be adjusted. Older cats and less active cats need less food than a kitten for example.
Do not harshly cut back your cat's volume of food. You can cause severe problems for him.
It can even tax the liver.
Best to speak to your vet or vet technician for advice on how to safely cut back your cat's daily intake. They can tell you how much to reduce it and over what period-of-time.
I consult with my holistic vet periodically and supply her with my cat's current weight (if I suspect the weight is of). She will then advise me on how to adjust safely.
If you find yourself overweight, you would hopefully adjust your diet. Same goes for your cat.
Related > What You Should Know About Ragdoll Cat Weight
Tip # 7. Have Your Vet Inspect Your Cat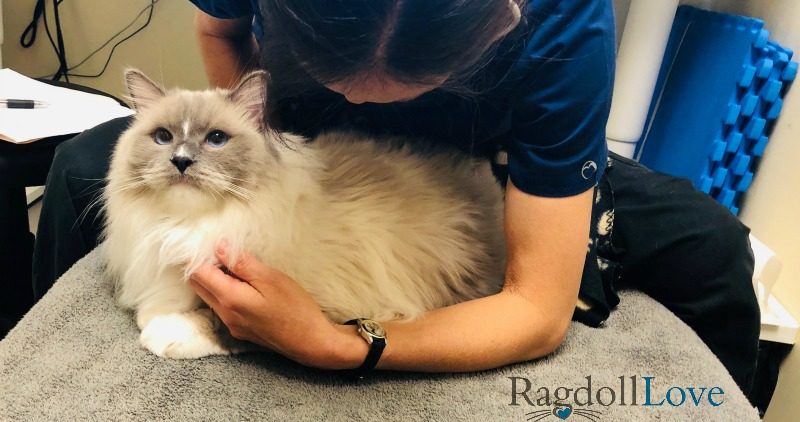 Have your veterinarian perform a wellness check on your feline.
The gold standard seems to be annually for a cat.
However, I like to do a wellness check two times-a-year (if all else seems ok with my boys).
By doing this wellness check (along with blood work to look for the biggies with cats, such as diabetes, kidney, liver issues) things can be caught early and hopefully healed, or at least slowed down.
Just think, if you had your cat checked twice each year, the vet could catch something going on six months earlier, rather than if you waited to do it annually, or longer if not annually.
For example. If the blood work shows kidney issues just starting, your kitty could have early intervention.
Health issues are always easier to treat, and usually more successful if caught early.
Blood levels and urine testing can give an in-depth look at how your kitty is doing overall.
Kidneys, liver, infections, and dietary adjustments are all very important and worth the investment. It can even stop the disease progression sometimes.
Related > How to Choose a Vet For Your Ragdoll Cat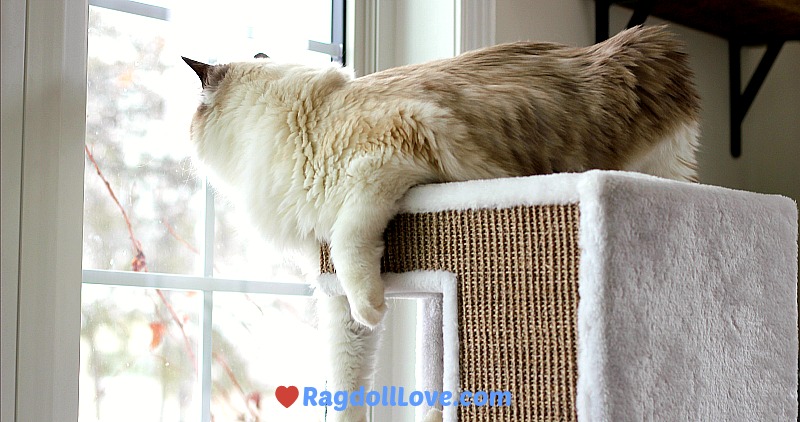 Make Inspections a Habit
None of these things take time if you work them into your schedule so don't skip it.
Record a reminder to do this regularly by entering these routine checks on your phone (find a good app for that).
I can't stress the importance of these routine inspections enough for your cat.
Owning a cat is not just a matter of bringing your cat home, plunking a bowl of kibble down every morning, scooping the litter box and then reaping all the benefits from your loving furry companion.
Give her the time, care and attention she needs. You will never regret it.
She will pay you back huge over and over again with love, affection and companionship for a long, long time.
Oh, and don't forget to tell your cat, "you're welcome."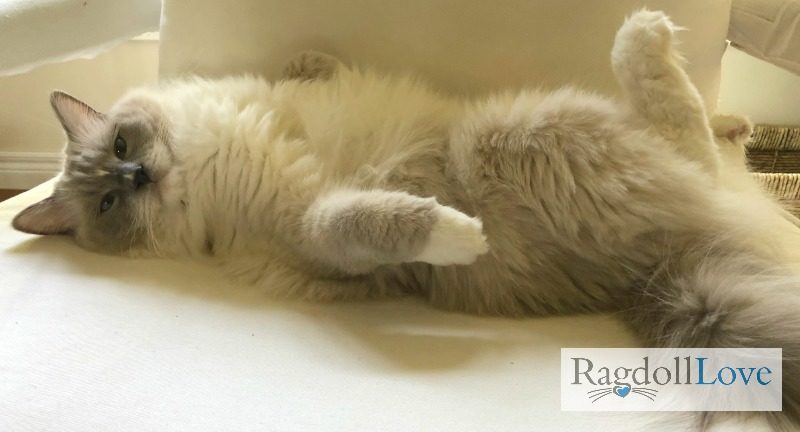 More Cat Articles For You