This post may contain affiliate links. You can read the full disclosure policy, which is pretty dull, but
here it is.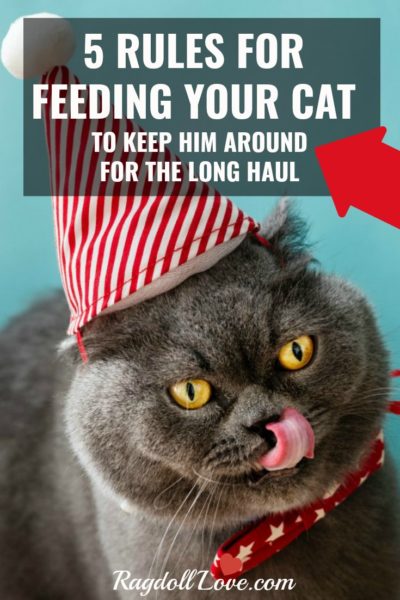 Part of ensuring your cat stays healthy is knowing how to properly feed it.
Getting this right could mean that you keep your fluffy loved one with you for many years to come.
There are 5 main things to consider when establishing rules for feeding your cat, in order to give him the best diet possible.
What food you feed your kitty – Raw diet or canned food are notably best.
How often you feed your cat – Only 2 X day preferably
Quantity – Varies according to your cat's needs, not too much food.
Food temperature – Fridge chilly is a big 'NO NO'.
Variety of food – Switch it up to avoid allergies, boredom and get the best nutrition.
DON'T BECOME THE ENEMY!
If you don't know how to properly feed your cat to keep them healthy, you can be their worst enemy.
To avoid this, take a look at the following five rules I personally apply to the care and feeding of my own cats after decades of documented success and long living, healthy cats.
These tips are intended for a healthy adult cat, not a kitten (which has different needs and higher calorie needs) or a sick cat which may have special nutritional needs.
RULE 1 – Wet Food
Feed canned cat food or a raw diet. Feeding your cat wet food is a wise idea to keep your kitty's kidneys in good working order. Canned food or a raw diet would be considered wet food, as opposed to dry kibble which traumatizes a cat's kidneys over time.
i) Raw Diet – 1st choice
Cats are obligate carnivores, meaning their digestive system requires that their diet should be mainly or entirely made up of animal tissue.
Their bodies are not designed to digest grains, fruits, and veggies as humans or even dogs can. A cat's digestive tract is short, simple, and cannot readily break down the cell walls that plants are made of.
Evolution has made it possible for cats to get not just the nutrition they need, but also the water their bodies need, from the consumption of animal tissue.
A diet consisting of raw meats like chicken, fish, and beef, or at least a commercially-made wet canned food, gives cats the water content needed as, by nature, they are not water drinkers.
Also, a raw diet best meets their nutritional needs when the one chosen is formulated for a properly balanced diet.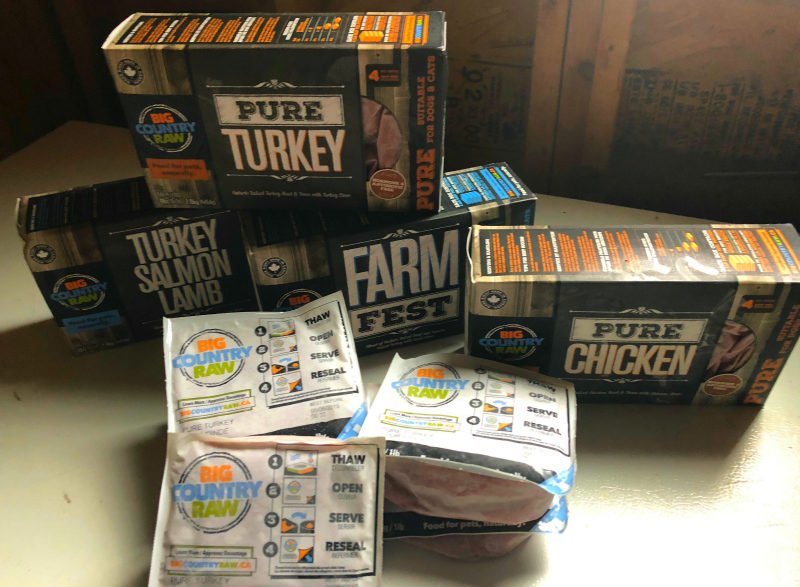 ii) Canned Cat Food – 2nd choice
Feeding canned may be the best alternative if your schedule doesn't allow for feeding raw to your cats.
Feeding your kitty a canned diet is a viable alternative to a raw meat diet. It's the water content in the food that is key and a canned diet can provide that essential water content.
Check out the contents of the best canned cat foods you can find. An inexpensive canned cat food is still superior to a dry kibble diet for your cat's kidneys and all over health.
TIP – Feeding canned to your cat? It's a good idea to top up that canned food with a high quality supplement to add back some of the necessary vitamins and minerals missing from the canned diet (cooking destroys some nutritional value).
Related > How to Add Precious Years to the Life of Your Cat
RULE 2 – Serve Room Temperature Meals
Make sure you are feeding your cat food that is at room temperature.
When the food is room temperature or slightly warm, the food has more flavor and the cat will really dig it!
But there's another important reason. Cold food interferes with a cat's digestion.
In Chinese medicine, cold food is said to have a negative effect on the kidneys, so the last thing you want to do is challenge your cat's kidney health.
Whatever you do, don't microwave or otherwise heat their food as doing so breaks down the food and destroys important nutrients your cat needs to stay healthy and have lots of energy.
Here are some tips on how to easily or quickly warm food that has been chilled:
Tip #1 – Place your cat's food in the bowl it eats from. Place that bowl in a larger bowl of warm/hot water in the sink (in case of overflow), stirring occasionally. The food will warm up from the water through the container.
Tip #2 – Measure out the cat's meal and tuck its bowl in a cupboard, set a timer for 15-20 minutes. This should be enough time to take away the "chill" from the fridge.
Tip #3 – Pressed for time? You can also stir their food vigorously as this action will help warm the food.
RULE 3 – Use Food Rotation
Switching up your cat's food is a good thing. Feeding the same thing day after day, month after month, can cause allergies – just like in people.
Rotating a selection of food also prevents your cat from becoming bored by or addicted to a particular type of food. Either can lead to an extremely picky eater which you don't want.
You need to be able to rotate the cat's food as doing so gives the cat nutrients that may be in some foods, but not others – creating an overall good balance for them.
RULE 4 – Control the Time of Feeding
Yes, you love your cat, but don't provide a 24-hour, "help yourself" buffet.
It's a common misconception by owners that cats need constant access to food.
We do it to be kind, so they don't go hungry. But really, we're killing them with this kindness.
Cats in the wild are quite accustomed to going long periods without food.
This fasting is part of their nature…historically, they've spent long periods between meals as they hunted for their own food.
The unavailability of food also gives their system a rest. When cats are constantly smelling their food as it sits out, their digestion isn't as effective.
Much like humans where part of the digestive process is based on the aroma of the food (sensing food aromas stimulates digestive juices and enzymes) a constant aroma will decrease the digestive power of a cat.
RULE 5 – Portion Control
There is a lot of damage that can be done if you don't control the amount of food your cat consumes each day.
Obesity in cats can happen easily and quickly and yet, once they are overweight, getting that excess weight off can be difficult. Extra weight stresses the cat's organs and joints and can lead to many more complicated health issues.
To find out how much your cat should be fed, consult with your cat's veterinarian who should be able to make recommendations about caloric intake and translate that to actual feeding amounts on a daily basis. (It's complex to figure on your own, so ask!)
If you are using commercially-made food, you can also refer to the label on the cat's food and at least start with the manufacturer's advised portion to feed.
A cat's health is also greatly dependent on them not becoming overweight.
Think about this – The Association for Pet Obesity Prevention shows that one extra pound on a cat is like 15 pounds on a human.
Controlling their weight is easily accomplished by both eliminating that 24 HOUR/DAY BUFFET!
Related > What You Need to Know About Ragdoll Cat Weight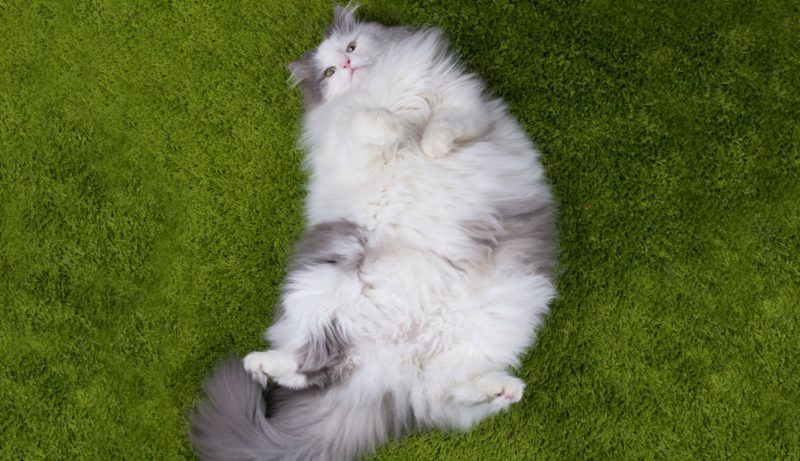 MY EXPERIENCE & RECOMMENDATIONS
Personally, I feed my boys a particular brand of raw diet and switch up their foods between about 10 different pure and mixed meat combos.
Some of the raw meals are higher in fat than others, so I tend to feed them slightly less of the higher calorie meats (e.g.: beef and duck are higher fat and calories, while rabbit and turkey are lower calorie meals).
Here's how you can get started controlling what your cat eats and when:
Talk to your cat's conventional or holistic veterinarian and ask for their recommendation on what raw diet to feed to maintain a healthy weight for your cat

Have your veterinarian do the calculations on how many calories your cat should be fed in a day. This will then give you the amount of food the cat should consume daily. Even if you have your own raw food diet already picked out, they can do the calculations for you if you tell them the foods you are feeding, whether dry kibble, canned or a raw diet.

Divide the calculated amount by two. This gives you the amount to feed per meal.

Feed only the recommended amount of food to maintain a healthy weight for your cat.
All Day Buffet = Fat Cat!
Remember, an all-day buffet can lead to an overweight kitty and, well, a fat cat just isn't cute.
Also remember that being overweight puts undue stress on the kidneys, liver, and other organs – potentially leading to long-term or even life-threatening health issues.
STICK TO THE RULES!
Your cat's health is dependent on YOUR ability to follow the rules.
Overall, these feeding rules will go a long way to keeping your cat healthy. They will help to prevent any unnecessary stress on your cat's organs, especially the kidneys which see the most common health problems for cats.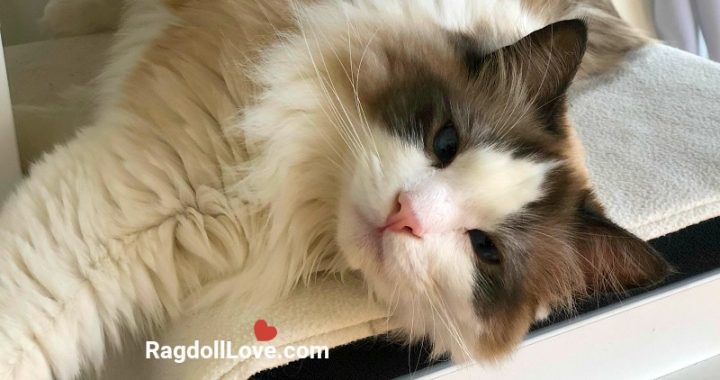 More Related Articles