This post may contain affiliate links. You can read the full disclosure policy, which is pretty dull, but
here it is.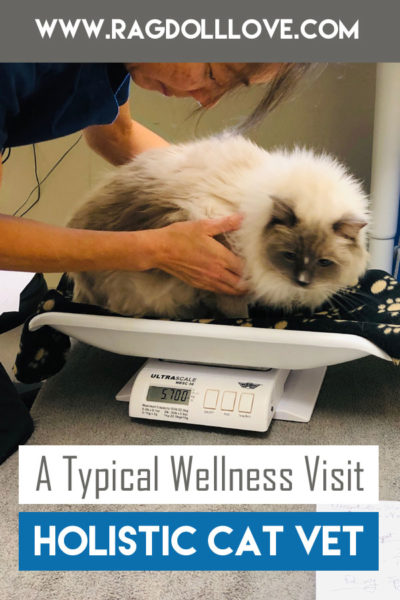 Cat checkups at a holistic vet are quite different than a vet checkup for your cat with a conventional style vet.
I was pleasantly surprised at the very first visit I ever had for my cat with a natural pet care vet.
In order that you know what you can expect from a wellness visit for your cat with a holistic cat veterinarian, I'll give an account of a recent typical checkup appointment with my holistic vet.
A Typical Wellness Visit With Dr. Michelle, Holistic Vet
Intake Form – Lots of Detail About the Cat
Several weeks prior to the appointment, Dr. Michelle sends out an intake form by email.
This form is completed by the cat parent. It requires answers to a multitude of questions about not only the cat's health history, but a history of behaviours, vaccinations, medications, supplements, diet and weight.
It's interesting to note that the intake form states to include even minute details for each of the questions asked as it is very important to her, from a Chinese medicine approach to treating your kitty.
The Wellness Visit – The Introduction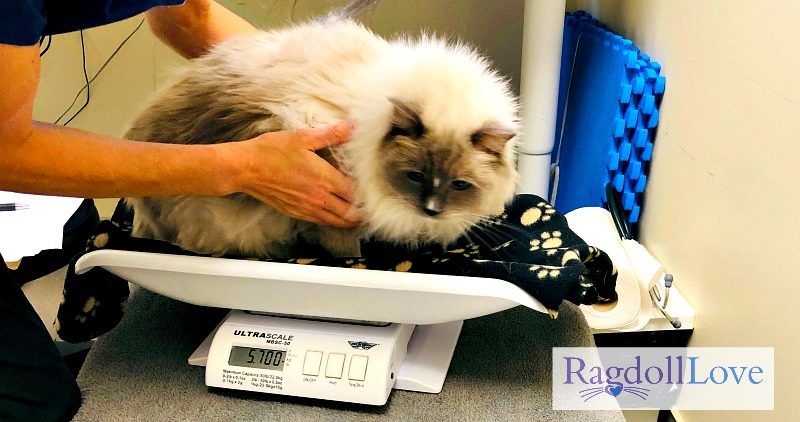 Dr. Michelle comes out to the waiting area to welcome us with our cat(s). She usually takes the cat carrier from me and carries the cat into her office while I follow along.
I'd like to note that Dr. Michelle has a very gentle and calm nature. She approaches her patients and treats them with that wonderful gentle approach that I love. She's such a natural with pets.
The very first meeting I had with her was with one of my Ragdoll cats, Bailey.
Bailey didn't wish to exit the carrier in the office. I proceeded to pick up the cage and tug at her to coax her out of her carrier.
Dr. Michelle insisted that I just leave her be. She'd exit the carrier when she was good and ready and it was up to us to respect her wishes.
Wow, I thought. That's pretty cool. I was so impressed how much respect she had for Bailey.
In the mean time, we talked about Bailey's health history while Bailey got comfortable enough, to leave the cage and explore the office.
Dr. Michelle then got onto the floor at Bailey's level to start the checkup. Again, I was impressed.
She had placed a blanket and mat on the floor which she used to sit on when interacting and examining Bailey.
Related > How to Choose a Vet For Your Ragdoll Cat
The Examination and Assessment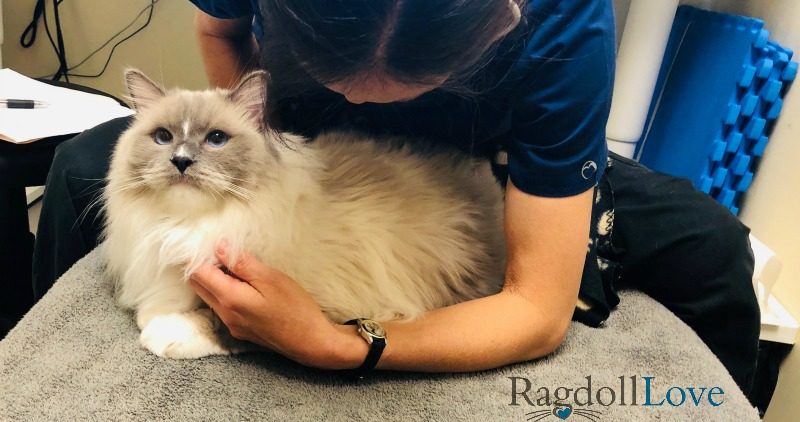 She proceeds to chat with me and examines the cat at the same time asking questions and diving deep into various details about her findings. She also interjects with tidbits of insightful, valuable health education to help me better care for my cats.
I love this. I'm always interested in learning better ways to care for my cats and building up my knowledge bank of cat care info.
She does a great deal of hands on assessment with the cat: a thorough assessment of kidneys, liver, heart, and other important organs.
She thoroughly inspects the mouth, the teeth, the tongue and the cat's pulse as well (which is important in Chinese medicine).
There is a blood draw done to assess the lab results of blood values. Always well worth the extra cost considering the mounds of information it can provide.
Related >Pet Insurance For My Ragdoll Cat – Is It Worth It?
Diet Assessment and Analysis
We typically discuss diet in detail. She assesses in detail the nutritional value of what I'm feeding my cat, in order to be certain that the food chosen is providing all of the necessary nutrients that cat's need.
We discuss the cat's activity level, his weight history and life style in order to tweak the diet for the best possible outcome. It's kind of like a visit to a personal life style coach for my cat!
Dr. Michelle is a fan of a raw diet for cats. However, she'll make suggestions if she thinks there are changes which need to be made to combat any health issues.
Fortunately, my boys are all on a raw diet, so only small tweaks to portion size is needed. My boys tend to run a little heavy on the scales! She sets up a slow weight loss diet to get my cat at his optimum weight.
She discusses the importance of adhering to an optimum weight, as overweight kitties are much more prone to various health issues. I turn a little red, knowing all of my boys are a little heavy.
Her advice is solid. I commit to slimming down my cat on her advice.
Related > How to Add Precious Years to the Life of Your Ragdoll Cat
Acupuncture Treatment For The Cat
During the examination, she does an acupuncture treatment on the cat.
One would think that the cat would get super hyped and angry with being poked with needles.
However, my cats have never really expressed anger or are upset with the acupuncture treatment.
She's very good at it and the treatment is pretty subtle. She says she often hits a point or two which relaxes the cat, so that helps make the treatment more relaxed and controlled.
There is much benefit to the cat from an acupuncture treatment. It helps the cat with any health issues, by improving the cat's flow of 'chi' or energy, in the body.
Health Issues Addressed, Remedies and Solutions Recommended
She then summarizes and discusses changes and solutions to improve the cat's health.
Dr. Michelle is knowledgeable in both Western and Eastern healing herbs and treatments — definitely the best of both worlds.
Related > How To Choose a Ragdoll Breeder For The Kitten of Your Dreams
Post Wellness Visit
Even after the visit is over, there is still communication between us.
I forward a few questions which I have about a few things I needed further clarification on, regarding the checkup.
She promptly answers my questions and in great detail.
Benefits of a Wellness Check With a Holistic Cat Vet
All information about the cat client is considered important. The cat's physical and mental states are considered, along with behaviours. No one size fits all with holistic treatment.
More time is spent with the cat for assessment. A typical holistic wellness visit runs from 2-3 hours. A typical conventional vet visit runs about 15 -20 minutes. The extra time spent getting to observe the cat is valuable time.
Thorough checkup. The extra time spent for a wellness visit results in a more thorough inspection of the cat, and that can only be a good thing, when the cat's health is being assessed.
Detailed diet analysis. A good balanced diet for a cat is so important, to keep disease and illness at bay. It also is the best answer for long term health for a cat, as necessary nutrients all cats need are suggested for inclusion in their diet.
Other treatments available. I like the fact that other treatments are available to support the cat's health, such as chiropractics, acupuncture, reiki etc. The more ways to combat health issues, in my opinion, the better.
Gentle. One of the very best things I like about the holistic approach to veterinary care, is the gentle non-aggressive approach to the health of the cat. Personally, I think this is very important when dealing with a chronic, long term health issue. Holistic treatments are remedies are personalized and geared toward long term gentle healing of the cat.
Empowered. Holistic care for my cats, supported by a holistic vet, makes me feel more in control of their health and well being. The approach focuses on preventative care. I can feel good about following through on recommendations by the vet to prevent and heal illness and problems. Holistic care for my boys has been a good fit for me as it gives me a feeling that I'm doing the very best for my boys that I can do.
My Personal Recommendation – Holistic Cat Care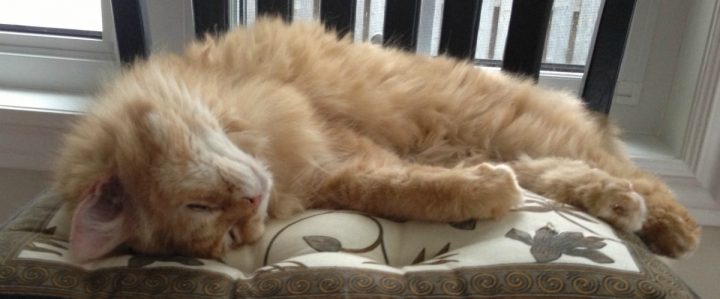 My first experience with a holistic vet was back in the early '90's.
I had a young 2 year old rescue cat which I found out from my conventional cat had some bladder inflammation, infection and kidney stuff going on.
After treating her with antibiotics a few times, I could see that this treatment was working so well.
There were no natural cat care vets in my town but I had located one, about 160 miles away.
I could see this issue only getting worse, so I made an appointment and took her to the holistic vet.
After the assessment, the vet recommended a very inexpensive Chinese herb for her.
I gave her the tablets as recommended.
The remedy healed her bladder/kidney issues and the issue never reared it's ugly head ever again.
I decided to discontinue her vaccinations after this visit and never used chemical flea treatments on her.
She never ever had another vet visit in her life.
She died at a ripe old age of 22 years.
And this is just one of the reasons, I've been a firm believer in natural cat care.