This post may contain affiliate links. You can read the full disclosure policy, which is pretty dull, but
here it is.
Ragdoll kittens are bundles of curiosity, energy, and spaz!
They want to smell, bite, lick, and play with everything.
That's why you must kitten-proof your home for your Ragdoll to ensure that these adorable little fluff balls don't destroy your stuff (or harm themselves).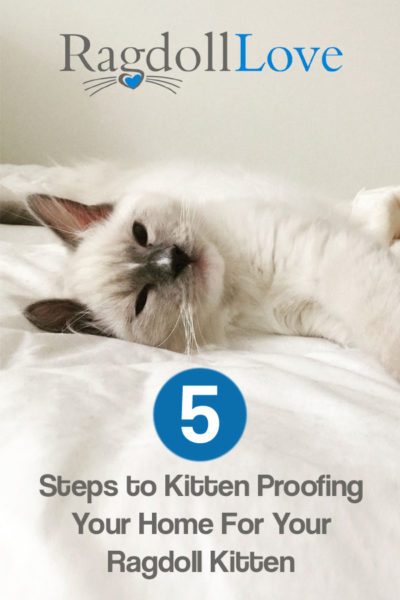 Kitten Proofing Your Home for Your Ragdoll Kitten
Step #1: Make a Safe Space For Your Ragdoll
Always start with a safe space. You can create one by following my Safe Space Guide. Once you move your kitten out from her safe room, you need to make sure your home doesn't have any of the major no-nos for your Ragdoll kitten.
As you get to know your Ragdoll kitten in her safe room, you can get an idea for the toys she's most interested and can watch for these potential problem areas.
You can also use the safe space to help establish a routine for your Ragdoll. Cats love routines for feeding and play. Establish a play time near the end of the day to help reduce their likelihood of getting into trouble overnight.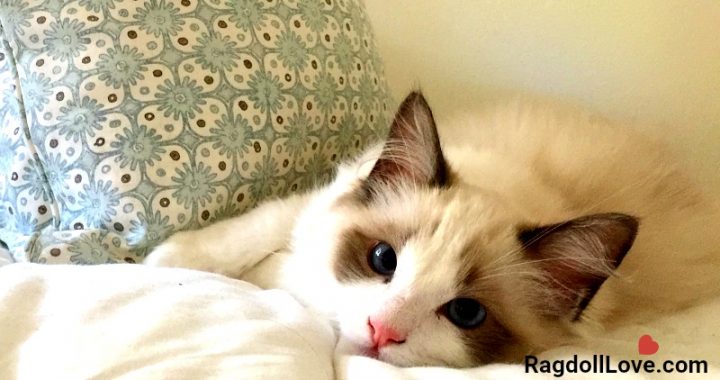 Step #2: Remove These Dangerous Items
Everything is a toy to a Ragdoll kitten. There are many seemingly inconspicuous things around your home that could harm your kitten.
Here are a few of the top contenders to watch out for.
String – Shoelaces, curtain cords, and other types of string are like heaven to a kitten. Unfortunately, they will inevitably try to eat them. This can be very bad for their digestive system. Pick up shoes, tie up curtain cords and tuck away any sewing string.
Plants – I love my houseplants but some are potentially toxic to cats. My last Ragdolls NEVER touched my plants. Duffy and ZeeZee however, will NOT leave plants alone. IN FACT, when I bring home flowers to brighten the rooms, I forget that these little rascals want to play with the flowers. ZeeZee will grab the stems and drag the flowers around the house.
I tried placing a bouquet of tulips up high on a shelf where they wouldn't notice the flowers nor could they reach them. ZeeZee saunters by, stops, looks up and looks right at the tulips. He sensed the flowers immediately, so I had to remove them.
I now keep flowers in rooms with doors which are out of bounds for the boys. Little rats.
Medications & Cleaning Supplies – Most kittens won't get through child-proof jars. Glass jars can be easily knocked off a counter and plastic bags can be easily chewed through. Kittens don't necessarily have a refined palate and won't notice if something doesn't taste right. Even a taste of some medications or cleaning supplies can spell disaster for your Ragdoll kitten so tuck them away.
Toilet Seats & Washing Machines – Toilets can be tempting because they are big bowls of water. Kittens may be able to jump up but cannot easily escape from a toilet bowl. Likewise, washing machines or dryers can be fun places to investigate but can be dangerous places to hide. Keep the lids and doors of these closed when not in use.
Seasonal Decor – I understand snow globes have antifreeze in them for the liquid and if they break, it only takes a little of the substance to be deadly to a cat. I've given away all of my snow globes. Be aware.
Left Over Foods – Although seemingly harmless, some leftover foods could be harmful to a nosey kitty. I had wondered why Jack and ZeeZee were packing on the pounds recently. I discovered they adored leftover pizza crusts my son would leave after a late night pizza feast.
Pizza crust would upset their digestion but also cause a weight gain. Duffy remains the perfect weight, but he's a fussier eater than his two bros. Although pizza is probably relatively harmless, some foods or cooked meat bones could be deadly for them.
One of my boys had put on a little bit of weight over the course of a few weeks. It took me a little while to learn that he had gotten into my bacon grease jar. He LOVED that bacon grease. No wonder he was looking so tubby! Clean up food leftovers. Period.
Related > What Your Ragdoll Kitten Needs: 10 Tips For Keeping Your Kitty Happy in Your Home
Step #3: Remove Precious Items
Now that you've removed dangerous items that could harm your Ragdoll kitten, it's time to remove fragile and precious items that your kitten can harm! This is a crucial step when kitten proofing your home for your Ragdoll. It saves your sanity!
Fragile Objects – Fragile objects like glassware, porcelain, ceramic, and lamps are all at risk of being pushed off of a shelf. Do your best to remove or secure these items.
Cords – One of my boys like to chew on cords. I have since learned that a Macbook power cord is $90! Ugh… But more importantly, I was lucky that it wasn't plugged in when he decided to turn it into a chew toy. Power cords are not only an expensive thing to replace but can also be dangerous to your kitten.
Furniture – I preemptively put double sided tape on areas I didn't want them to scratch. They learn very quickly that they don't like these spots. I also put a lot of scratching posts around. You can buy nice upright ones or cheap cardboard ones. Frankly, my cats love both equally.
You shouldn't skimp on this step. You'll be surprised at the number of things that a kitten can get into. I found it was best to just buckle down and put everything away that was either harmful to them or they could potentially wreck or break.
Related > Pet Insurance For My Ragdoll Cat – Is It Worth It?
Step #4: Block Hiding Spots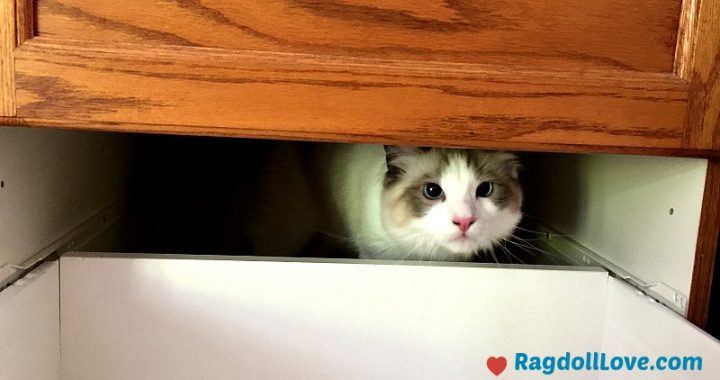 Kittens love to hide and enjoy napping in secure areas. This can often mean that you won't have a clue where they are.
I highly recommend blocking all potential hiding spots when kitten proofing your home for your Ragdoll.
Make sure furniture is pushed back against walls. Secure cabinets with child-proof plastic locks. Keep closet doors closed. Also, make sure your outside doors are secure and cannot allow your kitten to escape outside.
Step #5: Be Patient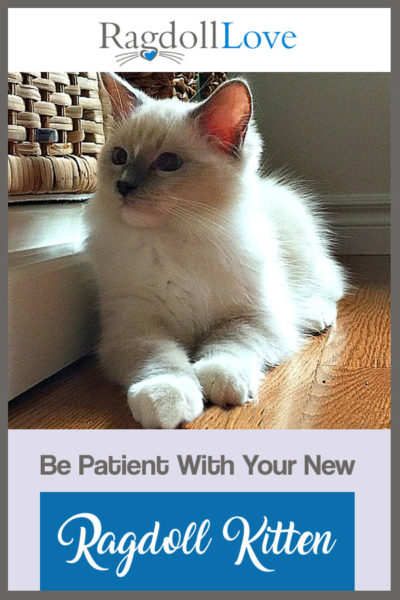 You may discover new things every day that your kitten has decided is a plaything. Kittens are
curious but never malicious. Sometimes it can be frustrating when you feel you have to put everything up or away but in time your kitten will lose interest in most of these things. They have a lot of pent-up kitten energy.
As adult cats, much of those treasures I stored away I could bring out and the Ragdolls were not the least bit interested in them anymore.
So, when kitten proofing your home, I highly recommend keeping your patience. They're kittens for such a short time! Enjoy it while it lasts.
More Articles