This post may contain affiliate links. You can read the full disclosure policy, which is pretty dull, but
here it is.
Bringing a Ragdoll kitten home, can be intimidating for both the new kitten and the new Ragdoll owner. Some practical tips to help ensure a smooth transition for all.
Congratulations! You're adopting your first Ragdoll kitten.
This is as exciting for you as it is for your floppy bundle of love. It is important to keep in mind that this is also a very intimidating time for your kitten.
They are leaving their siblings and the familiar environment of their foster home.
Not to mention, they are potentially going on a long car ride or even a flight to their new home.
The smells, sights, sounds, and stress can be very overwhelming.
That's why you want to give them a warm, inviting, and Ragdoll-friendly place to come home to.
Even if you are a seasoned Ragdoll owner, I have a few helpful tips that can help the transition when you are bringing a new Ragdoll kitten home.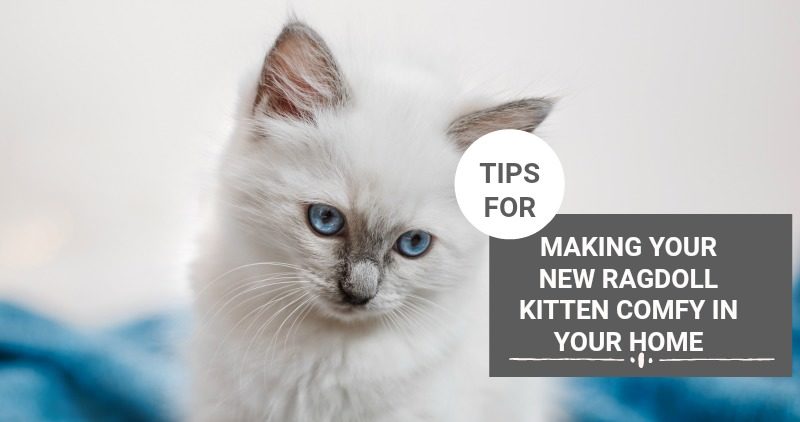 Caring for a Ragdoll Kitten – Bringing Your Floppy Cat Into Your Home
The name of the game is to keep your new baby Ragdoll happy.
Setting up a spare room that is safe for your cat is crucial to ensuring a happy transition. If you don't have a spare room, then your own bedroom with the door closed off from traffic and noise will work.
No matter what room you choose, when setting up a space for your new floppy cat, make sure the room follows the five FLOPS criteria:
Fun
Loving
Open
Pleasant
Safe
Related > 5 Steps to Kitten Proofing Your Home For Your Ragdoll Kitten
FUN
The space you choose should have plenty of things to keep your kitten engaged.
This is especially important if you need to leave them alone for longer periods of time (such as when you go to work).
A bored cat is often a destructive cat. Set up the space with plenty of kitten-friendly toys.
LOVING
Choose a room that is close to your own living space.
This way you can regularly check in on your new kitten. Set aside time to play with her or him and make sure they get a lot of cuddles and love.
Ragdolls are people cats who need a lot of attention. They get easily depressed if they can't spend time with their human.
Put LOVE at the top of your list of necessities for caring for your Ragdoll kitten.
Cats love vertical space. Even a smaller room can feel more open to a new cat if you provide them with a cat tree or designated shelving.
These high areas also help cats feel more comfortable and safe. If you are using a spare bedroom, make sure there isn't too much clutter that your cat feels cramped.
Related >What Your Ragdoll Kitten Needs: 10 Tips For Keeping Your Kitty Happy in Your Home
PLEASANT
Some kittens like music. Some will spend hours looking out a window. Some want a nice fuzzy bed.
There are dozens of little touches that make the space as pleasant as possible when bringing a Ragdoll kitten home.
Provide the necessities in the kitten's room. Use as much of the same equipment and food the breeder was using to ease their anxiety.
Create a feeding station with food (hopefully same food he/she was eating at the breeders), plenty of water, a nice clean litter box with the same litter as the breeder, a scratching post, cage/carrier with familiar blanket, a few toys, an extra big cushy blanket or pillow for lounging.
Creating a "familiar" space helps the kitten feel comfortable and happy.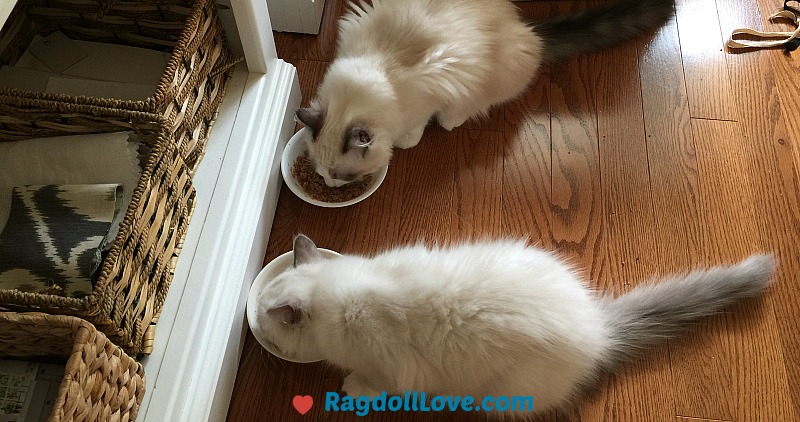 SAFE
Whether you have other animals in the house or not, you need a separate room in your house where the new kitten will stay at first.
You want to give your babe a small, safe place where they feel comfortable and cozy, without any threats.
Keep in mind, even seemingly innocuous things like a mirror or dishwasher can feel threatening to a kitten, so choose a quiet "kitten safe" room.
Not sure how to make your room safe for your new Ragdoll kitten? Check these tips.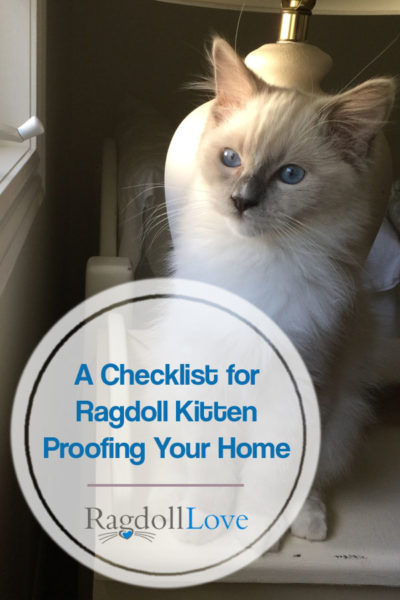 A Checklist for Ragdoll Kitten-Proofing the Home
Kitten-proofing is much the same as child-proofing.
Think of the things that are "no-no's" for kids such as where they could get hurt, or swallow little things, etc.
If you think kids can be mischievous then prepare yourself for the never-ending curiosity of a kitten.
Remove Your Valuables
Put that Ming Vase away. To your newly adopted Ragdoll kitten, it's just a fun thing to scoot off the counter. I have made the mistake of attempting to train my kittens to leave certain valuables alone. Unfortunately, they weren't very good students…or maybe I wasn't a good teacher. Result? A few broken valuables. Lesson learned, on my part.
Check Your Plants
Many plants are toxic to cats, so to be sure, put them up where the little one can't access them. I have mine on top of a very tall cabinet. If you don't have a high enough space, then put them in a separate room. If this isn't an option either, then consider trading out your dangerous plants for non-toxic ones. The ASPCA has a

comprehensive list of toxic plants

so you can be sure if yours is a potential no-no for your new Ragdoll baby.
Cover Wall Sockets & Electric Cords
You can get cheapo plastic plugs to install in the outlets. I still have several in outlets in my home from when my children were young. I just left them in because, unless I was using the outlet, there wasn't a reason to remove them. Electrical cords are also attractive to cats to play with. You can't unplug everything of course. Make sure the cords aren't frayed and are sturdy. You can also consider tying up excess cord so the babes aren't so tempted to play with them. There are plastic or cloth tube-like coverings which can be installed to cover the cords. Kittens risk electrocution if they chew through the wrong cord so buying a cheap cover and taking the time to wrap and hide cords is worth the trouble.
Put Away Household Cleaning Supplies & Miscellaneous
While hiding bottles of chemicals seems intuitive, even natural green products aren't safe for cats. Also keep in mind any pills and medications, house decor (which is tempting), money, small office items such as elastics, staples, paper clips, or bathroom counter supplies. I can't say how many times I've caught my cat chasing a q-tip down the hallway. I don't even know how he gets them. I have to store them in a plastic tub with a lid because he always finds a way.
Windows
Windows MUST have screens. Again, windows MUST have screens. I've made the mistake in the past of only opening a window a tiny crack, only to learn that cats can squeeze through the tiniest spaces. It's a sick feeling not being able to find your indoor cat, indoors!!! When you bring home a Ragdoll kitten, making a nice space by the window for them is encouraged. However, don't underestimate how smart your cat is. Some cats can teach themselves how to open windows. So, keep your windows closed & locked or have screens.
Doors & Cabinets
Close doors to control where the kitty roams. Be sure to CLICK the door to ensure it is indeed closed. One of my Ragdolls is able to open doors and closets. He is so strong, he does not work very hard at. He just hooks the door carefully and pulls it open, when the latch isn't engaged. If you have a smarty pants Ragdoll kitten, you may need to place gadgets on cabinet doors to keep them out. You can also pick these up at the Dollar store.
Adopting a New Ragdoll Kitten – My Experience
I've had cats around for my entire life, so I didn't have much to cat proof when I adopted my floppy love bundles. I also work from home so I am able to keep a close eye on them.
Even as an experienced Ragdoll owner, you still need to beware.
It only takes one incident of carelessness on our part to cause a very dangerous situation for a cat. For example, if your newly adopted Ragdoll finds a sewing needle and thread on the floor, plays with it and tries to eat it. This could be a very serious issue.
It is important to have plenty of toys for them to play with. This keeps them distracted away from human things.
Luckily, over time, kittens mature and aren't really interested in the exploring every little thing in the house.

A Smooth Transition Takes Time and Patience
One of the most important things I learned about caring for a new Ragdoll kitten is that cats need time to adapt to the new surroundings; the scents and sounds of their new home.
When I adopted my most recent fur babies, I brought home two Ragdoll kittens together.
They had each other and found a great deal of comfort being together. So, the experience wasn't quite so traumatic for them. I think this is a distinct advantage where two Ragdolls are better than one.:))
When I adopted my Ragdoll kittens, I also owned another cat.
My cat, Jack (a rescue cat) was 7 years old. It is notoriously difficult to introduce old cats to new kittens. This is something you need to be aware of before bringing home a Ragdoll kitten. 
Choosing a nice space to keep my new Ragdolls separate from Jack for a time helped to ensure a life-long healthy relationship with Jack and the kittens.
Dumping two strange newcomers on a long-established loner cat would be chaos.
Not only would Jack feel threatened by the presence of two newbies in his territory, but the newcomers would be overwhelmed and possibly traumatized if Jack decided he was going to 'take them down' or be aggressive.
The same is true for young kids, who can be just as threatening as another cat.
A quiet, remote room is a good idea if you're able. It helps give your kittens time to adapt and you can introduce them to new things one at a time.
Related > How to Introduce Your Ragdoll Kitten to Your Other Cats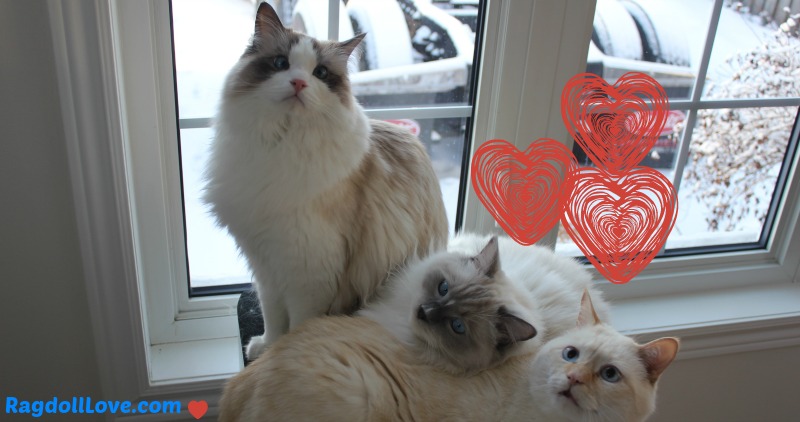 How long should your newly adopted Ragdolls live in a separate area?
The simple answer: As long as it takes for them to adjust.
This will vary per cat and depends on a number of factors including if you have other cats, how large your home is, how old your kitten is, if you have children, and many other things.
Your new Ragdoll kitten should live in the room for as long as it takes for them to get comfortable to their new environment.
So, before bringing a Ragdoll kitten home,  make sure your room is kitten-safe and follow the five FLOPS criteria.
Take your time. This ensures that your baby will transition well and be happier for it.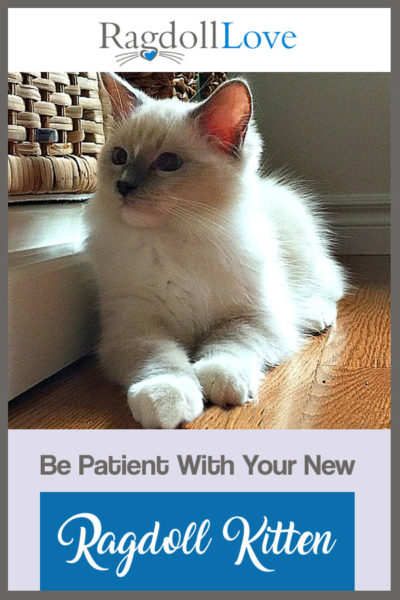 More Articles